Kale, apple and orange juice
If you didn't think you liked green juices, think again! With tangy orange and apples, this green juice is sweet and fruity.
Alfalfa sprouts may be tiny, but they are power-packed with nutrients. They contain around 3.8% protein and 870mg of potassium per 100g, as well as a good supply of B vitamins – making them a great addition in juices for vitality.
Kale features in our green juice recipe and is also something of a wellbeing wonder. Containing high levels of vitamin A (in the form of beta-carotene) and vitamin C, kale is excellent for our immune system. These essential vitamins help us to stay feeling healthy and keep the bugs at bay, as well as keeping the linings and connective tissues of the body healthy and strong.
Liz Earle Wellbeing and The Healthy Juice Company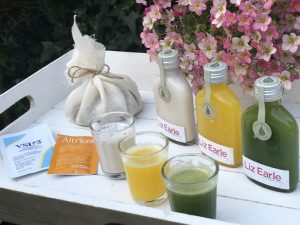 We're so excited to announce the launch of our collaboration with The Healthy Juice Company. The Liz Earle Wellbeing Shot Box+ is a carefully curated collection of immune-supporting and gut-friendly juices and supplements. Sign up for a one- or three-day option and you will receive a collection of three different juices, along with immune-supporting and gut-health supplements to help support your wellbeing.
Find out more about the Liz Earle Wellbeing Shot Box+
Discover more juice recipes
Ingredients
1 orange, roughly peeled
2 apples
3 handfuls kale
1 small handful alfalfa sprouts
1/2 tsp barley grass powder
Method
Juice all the fruit and vegetables, then stir in the barley grass powder. Serve immediately.
Recipe taken from Juice by Liz Earle, published by Kyle Books, photography by Georgia Glynn Smith. Buy your signed copy here.