Meet the Maker: LBB Skincare
LBB Skincare was founded in 2019 by Nnenna Onuba. The brand centres around streamlined products that use quality ingredients to provide effective skincare. It is a brand with busy, on-the-go women at its heart and was inspired by Nnenna's experience of working as an investment banker in the City. Here, Nnenna talks to us all about her brand, how she sources her products and the challenges of launching in the middle of a pandemic.
What was your motivation behind the brand?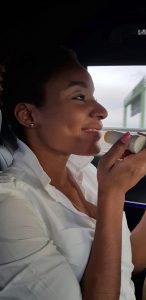 Working as an investment banker, I was often stretched to my limits. I was working 15-hour days and was always scrabbling around for time. Coupled with this, I was travelling to meetings throughout London and all over the world. Quite often the only time I'd have to get ready would be in the back of a cab. In the role that I had, it was important for me to appear confident for my clients. Skincare wasn't something I wanted to compromise on, but I didn't have time for a seven-step skincare regime.
When you start to look, there's actually very little in the way of quality skincare that is suitable for on-the-go women. I'd end up decanting my products from home into smaller travel-sized jars to take with me. It wasn't sophisticated. I wanted grown-up skincare that was multi-tasking, hygienic and portable.
I really loved the idea of a balm and began experimenting in my kitchen with different sticks and formulations of natural oils. I remember as it was a time when The Great British Bake Off was on TV. My colleagues were in the kitchen baking cakes, but I was experimenting with skincare! It was from here that my first product, A-Game, began.
Tell us more about your products
I think of A-Game as my original product and it's a bit of a hero of mine! It's a hydration balm that melts onto the skin to provide long-lasting moisture. I wanted a balm that has everything I need in it. It contains hyaluronic acid, ceramides and potent oils that are rich in vitamins, antioxidants and omegas. It has a base of moringa and marula oil, which I chose for their lightweight, anti-inflammatory and antibacterial properties. It also contains kahai seed oil, which is rich in vitamin A and acts as a blurrer.
A-Game is a real multi-tasking product – you can use it on your face but also your hands, lips, knuckles, elbows and ankles! I always have it on my desk at home to help restore moisture throughout the day.
The second product in the collection is Take Off – Touch Down and I say it's the ultimate cheat sheet. It's a rich cleansing cloth that works deep to pull out dirt and sebum, leaving skin feeling amazingly clean. Each is individually wrapped to help with convenience and to lock in moisture. I wanted it to be the best wipe we could make, but then there were the environmental concerns too.
We sourced a material that provides a quality, thick cloth, but that is also biodegradable too. You can use the cloth on your face, but then it also acts as a flannel for the rest of your body. You can get a good cleanse and, with a pre- and probiotic used in the cloth, it helps to soothe stressed and inflamed skin while protecting the microbiome.
The final product in the collection is Flight Mode. This is a soothing aromatherapy oil. I really wanted this in the collection, as it's important that busy people have a chance to breathe. Flight Mode is a blend of nine essential oils – including chia, marula, eucalyptus and lemon – that help to promote calm. It's handbag size – perfect for on the go.
The whole collection is a simple on-the-go ritual. Even when we're busy, it's important that we look after ourselves. Our skincare ritual is sacred, but having a busy modern life doesn't mean we have to compromise on that.
Where do you source your products from?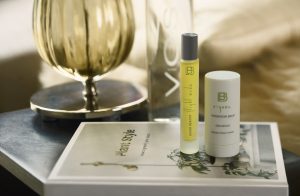 When I was launching LBB, I was very conscious that I wanted an ethical brand. I met with small growers in Africa and now ensure that we source from suppliers that employ sustainable practices. Each product in the collection is PETA certified too.
It hasn't been without its challenges though. We try as much as we can to limit our environmental footprint – there's been a fine balance to strike between being green and being practical. Many people want brands to be sustainable nowadays, but it also needs to be supported. It takes significant investment to create innovative, green packaging, so we hope people will appreciate the efforts we've gone to and continue to support our goals.
A-Game, for example, is a hot-fill balm. This means that it goes into the packaging as a hot liquid before cooling in the container. The barrier around it needs to be resilient so that it doesn't leak into the product. It definitely limits options – for example, we couldn't use recycled plastic in this way. We've done a lot of testing to get to where we are and are currently looking at refillable options in the future.
We also used this approach for our face cloth, Take Off – Touch Down. The cloth is made from plant-based fibres – mainly sustainably-grown bamboo,
How has it been launching during lockdown?
On the face of it, it couldn't have come at a worse time for us. Everything was put on pause overnight. With my experience in banking, I've spent a lot of time looking at budgets and current trends. We had to come up with a different plan to what we were originally expecting, but results have actually exceeded our expectations!
People are finding different ways to enjoy the products. Because we're all washing our hands more than ever before, A-Game has really come into its own as a soothing and protecting ritual. I had a customer contact me saying how soothing it has been for her child's hands after so much handwashing. It's been so handy for restoring moisture in a way I never imagined.
The pandemic has been a challenge, but it's forced us to be creative. In a way, it has also levelled the playing field, as a lot of brands are in a similar situation. We're building resilience at such an early stage – this can only be a good thing.
Enjoy 15% off at LBB Skincare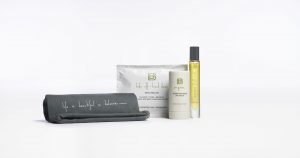 Exclusive to Liz Earle Wellbeing readers, you can enjoy a stunning discount on LBB Skincare. Receive 15% off your entire order when shopping at lbbskin.com. Just use the code LIZLOVES at checkout.
Read more articles like this
Please note, on some occasions, we earn revenue if you click the links and buy the products, but we never allow this to bias our coverage and always honestly review. For more information please read our Affiliate Policy.