Easy DIY rosewater lip scrub
Ingredients
4 tablespoons granulated sugar
2 tablespoons groundnut oil (or any other light oil)
1/2 teaspoon rosewater
Small glass container with lid (mini jam jars work well)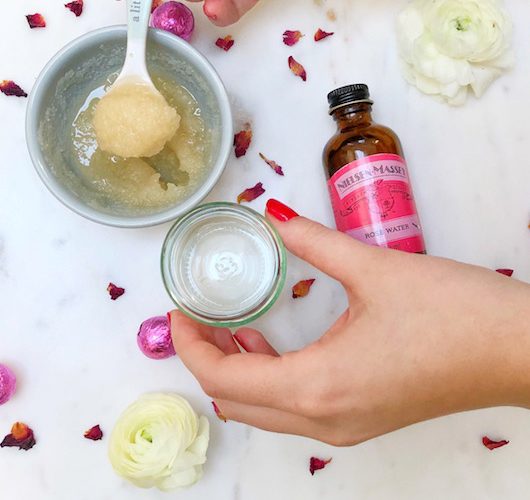 Wave goodbye to chapped lips with this homemade smoothing and soothing rose water lip scrub. Made with ingredients you may already have in your kitchen cupboard, this super simple recipe only takes a couple of minutes to put together and lasts for up to 2 weeks in the fridge.
Discover more about the beauty benefits of rose water.
Method
Mix all the ingredients together until thoroughly combined.
Spoon mixture into a small glass container.
Rub in circular motions on lips for 1-2 minutes before rinsing with warm water.
Store in the fridge for up to two weeks.
Loved this? Now read:
Wellbeing Wisdom
Although the rose water commonly available from chemists is more frequently made with synthetic fragrance extracts, not real roses, genuine rosewater is available from herbal and aromatherapy suppliers and contains up to twenty per cent pure essential oils. The anti-inflammatory and antioxidant qualities of rose water means that incorporating this fragrant flower into our beauty regimes can also help our complexions bloom.