Meet the Maker: STUDIO10
We go behind the scenes to meet Grace Fodor, the founder of STUDIO10 – a makeup brand that creates formulations for mature skin. Here, Grace explains the inspiration behind the brand, discusses her PRO AGE movement and shares her top makeup tips for menopausal skin.
What was your inspiration behind the brand?
When I hit my late 40s, I found myself labelled 'middle-aged'. I didn't feel represented in adverts for the brands that were meant to be communicating with me. I was just inundated with 'anti-ageing' messages.
I also realised that many makeup products just weren't designed for mature skin.
Instead of accepting the negative rhetoric around age, it inspired me to create STUDIO10 makeup. I have a background in branding and marketing and I went on to co-found my own agency, where I worked with the celebrity makeup artist Jemma Kidd on her Makeup School range for Boots. Then I thought, 'Why not create my own range – an independent beauty brand that's pro age rather than anti-ageing?'.
I wanted 'quick-fix' solutions formulated for mature skin, with the best skincare ingredients, that were easy to use.
How are your makeup products different?
A key consideration in producing the products is that the formulas, textures, finish and colours are specifically for mature skin.
I wanted my products to address three essential areas – firming, hydration and free-radical damage. With this in mind, the three key skincare and active ingredients I like to work with are:
Suberlift™, a clinically proven botanical instant tensor. It improves skin suppleness and elasticity, providing lift and firming the skin.
Nyamplung Oil™ to stimulate cell repair and limit the oxidative stress responsible for premature ageing.
Hyaluronic acid to help plump and soften while providing long-lasting hydration.
What are your favourite products from STUDIO10?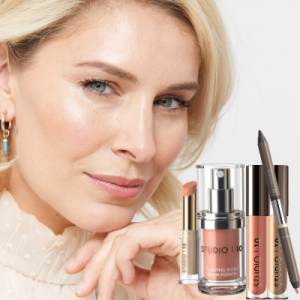 My philosophy is that you don't need masses of products to create a great makeup look, so I tend to stick to just a few key products.
I love a good hydrating foundation that adds a veil with healthy colour to boost the complexion. Our foundation is like a liquid in the convenience of a compact. It's creamy on the skin and very slightly dewy, so it gives the skin a lift. Because it's got such good coverage and is ultra-light and creamy, it doesn't sit in fine lines and you don't have to worry about concealer. I'm not a big fan of powder as it can look dry on the skin and, at a stage when skin is much drier, it's not a great idea.
I add shape and definition to frame my face with a good brow pencil to fill out my brows. I think of it as Spanx for the face! Our Brow Perfecting Liner is perfect for recreating lost definition. Use short hair-like strokes in an upward motion, to fill in eyebrows and frame your face.
In order to create balance, I also like to use a lip liner to create filler looking lips. Our double-ended Age Reverse Perfecting Lipliner mimics the colour of your lips to look ultra-natural and with a 'halo' nude tone to highlight, lift and plump.
How can menopause impact our makeup choices?
Menopause brings with it certain changes in our skin. For example, mature post-menopausal skin tends to be drier, as it becomes less able to absorb moisture.
A primer after you've moisturised will even the texture of your skin, helping to smooth fine lines and enlarged pores, while locking in moisture. Our Youth Lift Glow-plexion is amazing, giving a natural radiance boost to your skin. It contains hyaluronic acid, which is a moisture magnet, plus a binding agent to help your makeup last longer.
Hot flushes are a common symptom of the menopause so this is where waterproof makeup can be your friend. The formulas for waterproof products are far more sophisticated now and give us foundation, mascara and eyeliners that will stay in place all day. I designed our Liquid Foil I-Radiance and double-ended I-Lift Longwear Liner to be smudge-, draught- and tear-proof.
Rosacea can also be triggered by the menopause. A light wash of a green colour corrector to your face before your base and foundation can go a long way to toning down any redness on your skin. Our Age Defy Skin Perfector palette includes a feather-light green colour concealer packed with antioxidant-rich, strengthening and firming actives.
Tell us more about your PRO AGE movement
The negative rhetoric used by mainstream media and anti-ageing ads, and the paltry representation of older women sends a clear message: in order for us to stay relevant, we must look young.
A recent study of 2000 women revealed that, by the time they reached the age of 51, many believed they had become completely invisible. Only 15% of these women felt that they had high or very high confidence in any areas of their lives, and 46% thought no one understood or addressed women ageing.
That's why I want women to join my PRO AGE movement and challenge society's outdated stereotypes – and often our own – that diminish our beauty, value and confidence. True beauty is ageless – our achievements and experiences have real value, so let's celebrate our age and wear it proudly. It's time to own our years and unite to create a voice that gets us the recognition we deserve. We've got to change how we talk about ageing as a society.
On our social media channels, including Instagram and Facebook, we discuss all issues around ageing – so please get involved! It's time to be seen and heard.
Enjoy 20% off  at STUDIO10!
Liz Earle Wellbeing readers can enjoy an exclusive 20% off when shopping at STUDIO10. Simply use the discount code LIZLOVES at checkout to receive your discount.