The best plant oils for your skin
From restorative rosehip to multi-talented lavender, we explore the skin-saving botanicals that have been smoothing, plumping and healing skin for generations. Here's how to incorporate plant oils into your skincare routine.
Rosehip (Rosa rubiginosa)
To restore…
The benefits of rosehip oil for your skin are many and varied. It is famed for its restorative powers, which is due, in part, to its high fatty acid content: namely linoleic and (more unusually) alpha-linoleic acid. Perfect for ageing skin, these lipids play an essential role in the defence and regeneration of skin cells. Rosehip oil also contains anti-ageing vitamin A in the form of trans-retinoic acid. While less potent than prescription and over-the-counter retinoids, there is evidence to suggest that rosehip oil can help to reduce the appearance of scarring, age and sun pigmentation, and even soften fine lines. Look out for cold-pressed varieties: this means the rosehip's goodness hasn't been degraded by heat during the extraction process.
How to use rosehip oil: To restore skin while you sleep, apply rosehip oil directly each night to fine lines, pigmentation and scarring.
Calendula (Calendula officinalis)
To protect…
Calendula's skin-saving benefits are thanks, in part, to its high carotenoid content. Responsible for the calendula's bright yellow flower, this pigment is also a potent antioxidant that helps prevent epidermal damage by reducing the effects of free radicals (or pollutants) from the environment, on our skin.
How to reap the benefits of calendula oil: As part of your skincare routine, add a drop of calendula oil to your morning moisturiser for a pollution-protective boost.
Argan (Argania spinosa)
To hydrate…
While argan oil most commonly used in the UK as a hair oil, in its native Morocco, argan oil is relied upon to protect the skin from the dry desert winds. Rich in the hydrating and skin-smoothing natural form of vitamin E (d-alpha-tocopherol), argan oil protects sensitive, redness-prone skin from the cooler elements of autumn.
How to use argan oil: From the face to the cuticles, liberally apply this lightweight oil to any areas of commonly exposed skin.
Lavender (Lavandula angustifolia)
For beauty sleep…
While lavender oil is most often cited for helping heal infections and inflammatory disorders, one of its most precious beauty benefits is its sleep-inducing properties. While we would never recommend putting lavender oil directly onto your skin (it stings!), the real trick to radiant skin is getting a good night's beauty sleep – and this multi-functional oil can certainly help with that. Clinical studies have demonstrated that lavender oil can increase and decrease the percentage of slow-wave and REM (rapid-eye movement) sleep respectively. This not only results in vigour the next morning, but also in the brighter, plumper and more rested-looking skin.
How to use lavender oil for sleep: Sprinkle a few drops of lavender oil onto a tissue and tuck into your pillowcase for a restful night's sleep.
Loved this? Read on here: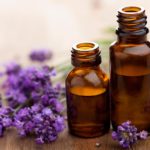 – The best herbs and essential oils for sleep