Does CBD improve sleep?
CBD stands for cannabidiol (can-na-bid-i-ol). A natural extract of the hemp plant that is legal and non-intoxicating.
CBD is derived from legally grown hemp in the UK and contains no trace of THC. THC will get you high. CBD won't get you high, but could provide a number of helpful benefits, based on scientific and anecdotal evidence. It's that simple.
Is CBD good for sleep?
Everyone understands the importance of a good night's sleep. Not only does it help your body recover after a long day, establishing a healthy sleep cycle can do wonders for your mood. Easing into a deep and peaceful sleep will help your mind and body get what it needs for the day ahead.
Whether CBD could help you sleep may depend on why you are unable to sleep in the first place. If you're feeling stressed or anxious your body will often remain in a state of 'high alert', leaving you unable to wind down or have difficulty staying asleep. Others may experience aches and pains that prevent the body from relaxing. Unfortunately, these can all cause a vicious cycle where tension and anxiety are often exacerbated by a lack of sleep.
How does CBD improve sleep?
CBD may help encourage relaxation into the restful state of mind and body that is usually required to gently drift off for the night and maintain a positive sleep cycle.
CBD has become a popular bedtime supplement, potentially helping with both the quality and quantity of sleep. To date, not enough research has been completed to make CBD a recognised treatment or 'cure' for sleep problems, but scientific studies show promising results.
One study found that a CBD dosage of approximately 160mg improved short-term sleep duration. It's worth pointing out that this study was conducted in Canada. In the UK, the Food Standards Agency (FSA) advise that healthy adults do not exceed a daily dosage of 70mg of CBD. While this is by no means conclusive, the future of research into the calming properties of CBD appears positive.
Tips for taking CBD before bed
CBD is best taken as part of daily rituals, and bedtime routines are no exception. Dedicating regular time to self-care can be highly beneficial and may work wonders for your sleep cycle.
But, incorporating CBD into a bedtime routine is also about taking a holistic approach to whatever may be preventing you from getting the sleep you deserve. Here are a few recommendations for taking CBD before bed:
Find the right flavour
Some people report experiencing a sharp and unpleasant flavour when taking some other CBD Oils – which isn't likely to help right before bed! Grass & Co. REST 5.5% | 500mg CBD Oil Drops blend premium quality CBD oil with naturally delicious flavours including hops, lavender and bergamot. Wake up feeling ready to embrace the day ahead.
Target the source
It's important to consider exactly what you believe is preventing you from getting a good night's sleep. For example, many people find that sitting at a desk all day not only affects their posture, but leaves them feeling sore and stiff before bed. If you this case, you may want to try applying the Grass & Co. REST 300mg CBD Body Balm to specific areas of tension before bed. This nourishing balm is lightly scented with rosemary, frankincense and geranium to help your body to relax and unwind before bed.
Light exercise
According to countless studies, including this one from Johns Hopkins, exercise is one of the most important ingredients for falling asleep quickly, promoting restful slow-wave sleep, and improving the quality of your night's rest. It also releases endorphins, which help ease stress and anxiety. A peaceful walk, gardening, yoga, or swimming are all great exercises to try, especially when combined with CBD before bed.
Ready to try CBD? Meet Grass & Co.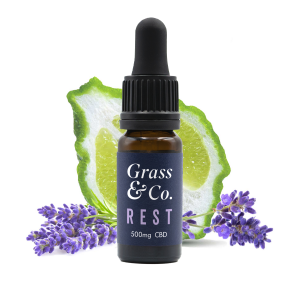 Grass & Co. is an award-winning, premium CBD range that infuses the highest quality CBD with naturally delicious botanical and vitamin-packed blends.
Find the right product for you
Tired of not sleeping? Try REST 5.5% | 500mg CBD Oil from Grass & Co. before bed to help prepare your mind and body for a satisfying sleep. Each drop blends the highest quality CBD with great-tasting botanicals bergamot, lavender, hops and vitamin B5 to reduce tiredness and fatigue. *
Enjoy 25% OFF the complete REST, CALM and EASE ranges with code BESTREST25 at grassandco.com. For a better night and day.
* REST: Contains Pantothenic Acid (Vitamin B5) which contributes to the reduction of tiredness and fatigue.
Grass & Co. and its materials are not intended to treat, diagnose, cure or prevent any disease. The information and products presented are not intended for medical use nor do they make any medical claims. Always seek the advice of your healthcare provider for any questions you have regarding a medical condition, and before undertaking any diet, exercise or other health related programme.