Escape to the romantic Black Moon in St Ives, Cornwall
Black Moon, a romantic cottage in St Ives, Cornwall, is something of a hidden gem. Our Editor-in-Chief, Liz Earle, explains why it's the perfect escape for couples or those looking for some quiet, well-spent alone time.
Black Moon – a romantic cottage break in Cornwall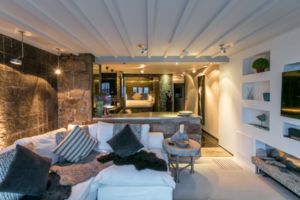 Looking for an extra special beside-the-sea mini break for one or two? Black Moon in St Ives is pure perfection. Sleeping two in an extra-large king size bed, this compact but perfectly formed apartment is so close to the sea you can almost touch it.
Its opulent, open-plan design includes a small kitchen area, dining bar facing towards the sea and extremely comfy, slouchy sofas close to the large, wide-frame windows that open towards the sea. Wildly romantic, the décor is all black stone walls, mother-of-pearl furnishings, mirrors and cleverly placed soft lighting. At night, the walls glitter with multi-candlelight.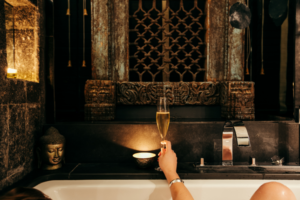 Although small, the place packs in a lot of useful amenities – I loved the neat bathroom (with its thoughtfully placed candles beside the bath for a relaxing, evening soak), walk-in power shower and separate loo (discretely located along the entrance corridor). There's a Nespresso machine with masses of pods, toaster, oven and hob, dishwasher and fridge with a small freezer, just enough for the ice! A large TV screen offers Netflix and the wi-fi works reasonably well, considering it's the Cornish coast.
Escape to seaside views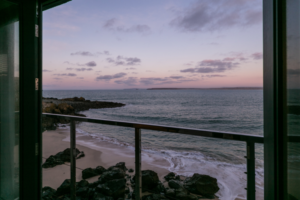 Without doubt, the centrepiece of this petite pad is its mesmerising view. With the windows open wide at high tide, you could easily imagine yourself afloat on the sea, it's that close. There's even an Enid Blyton-style trap door in the floor with steps leading down to a small cave lined with cushions and furry rugs. It's the perfect spot for curling up with a loved one.
For those who love a spot of sea swimming (or just a bracing early morning dip), there's a small, sandy cove a minute's walk away. It's so close, I went daily dressed only in my swimsuit, dressing gown and slippers!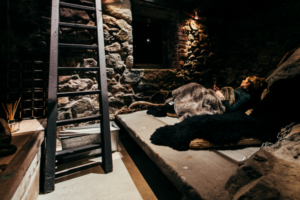 Although a long way from most of the UK, there's a good train service almost direct from London to St Ives and the local station is a moment's walk from the bustling town centre, so you don't need a car. If you do drive though, there's a handy parking space for Black Rock residents. Highly recommended for a romantic break or very special spot of solo solace.
From £305 per night.
Book Black Moon Cottage, St Ives, Cornwall
Photography by Nick Isden.
Read more reviews by Liz Earle Wellbeing