V or V restaurant review – a plant-based celebration
Vegetarian dining doesn't get much better than this, as our Head of Digital, Amy Moore, explains in her restaurant review for V or V.
It's not often that you come across a restaurant that celebrates vegetables in all their glory, but V or V, a Sheffield-based vegetarian and vegan eatery, is doing just that.
The restaurant, launched in 2019 by brothers, Matt and Nick Burgess, is located within Sheffield's Kelham Island. The former industrial heart of the city, Kelham has been transformed in recent years to become a hotspot for one-of-a-kind restaurants, quirky microbreweries and trendy bars.
While you won't struggle for veggie-friendly fare in Sheffield, there are few places that offer anything more than ultra-processed, faux-meat junk food.
It's refreshing, then, to arrive at V or V and be greeted with a menu that's teeming with fresh, seasonal and local ingredients, showcasing the versatility of plants. You can relax in the knowledge that you're in for a good night, with friendly staff, laid-back surroundings and a tempting array of tapas dishes.
"We've had customers who have been vegetarian or vegan for over 40 years," explains Matt. "They tell us they're not used to having so much choice when it comes to eating out. It's a real compliment."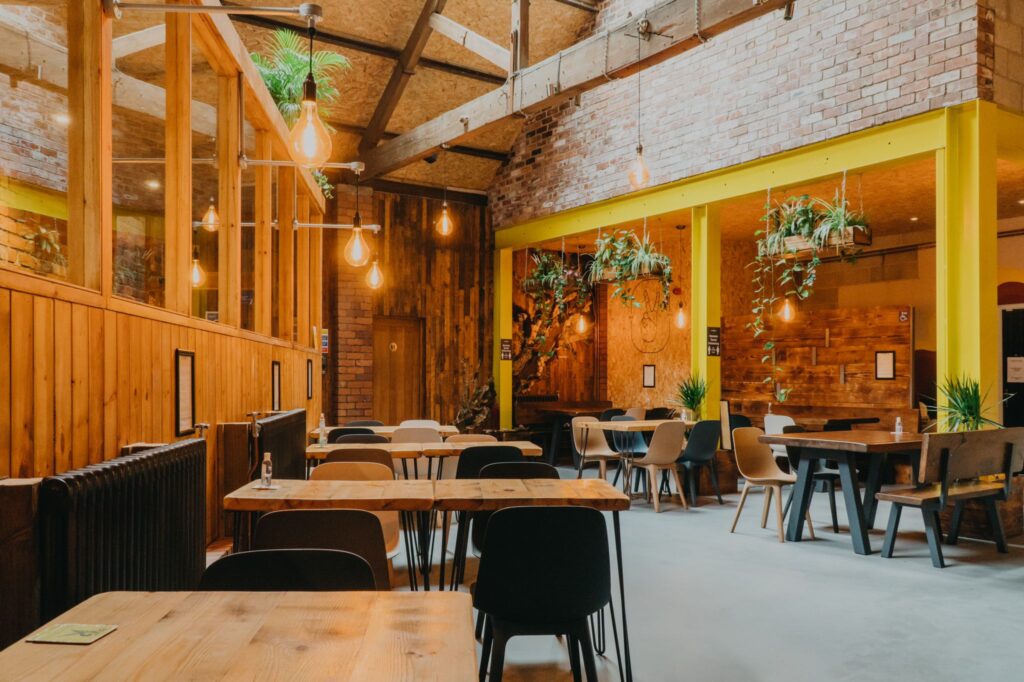 The perfect ingredients
Veggie or not, choice is something you're sure to be spoilt with at V or V. There's plenty to suit every occasion, with brunch, lunch and dinner menus available. In fact, the array of dishes becomes even more impressive when you learn just how much the restaurant relies on its local producers.
"We did a lot of work in the beginning finding suppliers that worked sustainably," Matt says. "For instance, one of our suppliers delivers mushrooms that he handpicks in the Peak District. We also use herbs grown locally underground in Kelham."
Matt goes on to tell me how, even for items that can't be sourced locally, every care is taken to ensure they are as sustainably sourced as possible.
"The coffee we use is grown and harvested in Guatemala," he explains. "The profits from the coffee go towards sending local children in Guatemala to school, and paying for adults to become teachers."
Food, glorious food!
We sampled the autumnal dining menu during our visit to V or V. The menu is updated regularly to match the season's bounty. You can be sure there's always something different to discover.
"Our chef is a specialist in vegetarian food, and developed the menu himself," explains Matt. "We change three dishes every four weeks – it means our regulars can try something new each time they visit."
To kick things off, we opt for black sesame crisps, served with wild garlic salt and sorrel nam prik noom. This fiery, Thai-inspired dip sings with chillies and fresh flavours, and is the perfect accompaniment for our poppadom-esque crisps. Moreish and utterly delicious, we have to refrain from stuffing ourselves silly before the main tapas dishes arrive.
It's not long before our table is laden with plant-based dishes in every colour of the rainbow. Yorkshire grilled corn on the cob, layered on top of a Peruvian-inspired Huancaina cheese salsa is a particular highlight, as are the tandoori-flavoured oyster mushrooms, served with aubergine raita, tomato chutney and tangy pickled grapes (surprisingly delicious!). One particularly beautiful dish was cauliflower served with pickled walnut, fresh green peppercorn, grilled pear, kumquat, and leaves of Castelfranco. The mixture of textures, colours and flavours was a true autumnal triumph.
As a self-proclaimed cheese addict, my favourite dish was the wood-grilled whole Manouri cheese. Incredibly indulgent, this Greek cheese was made all the better with a generous helping of fresh watercress tzatziki. I must admit, I saved a little of this one to take home for lunch the next day!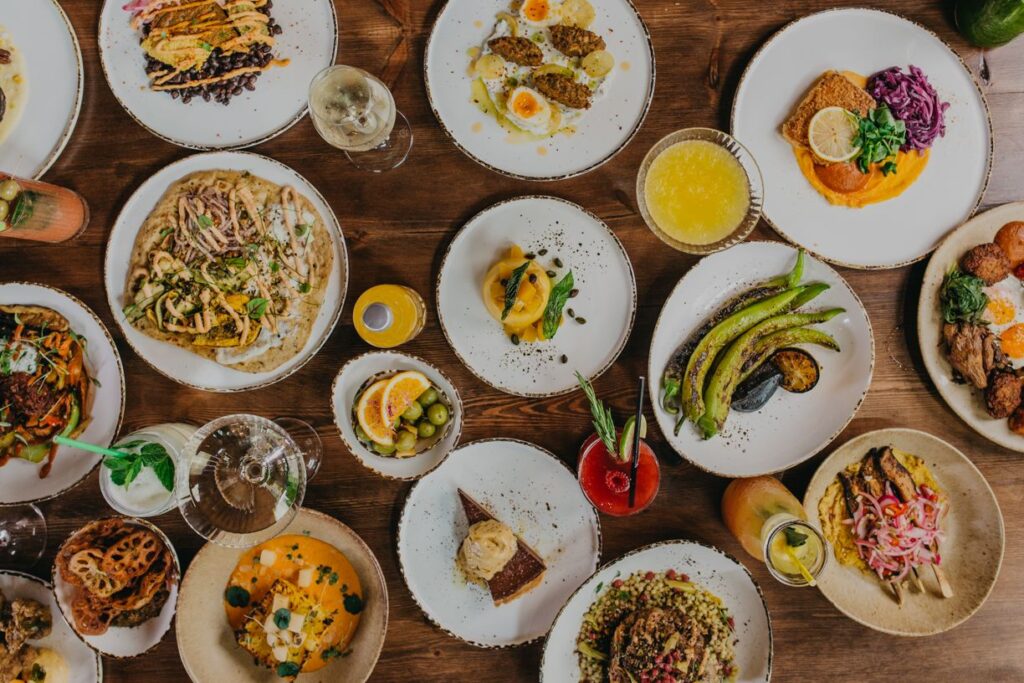 To finish things off
Those with a sweet tooth won't be left disappointed at V or V either. The restaurant's seasonal pudding menu provides the perfect ending to the meal.
We opted for pumpkin pie served with Bullion chocolate cream (Oh. My. Goodness.) and pumpkin seed brittle. While its wellbeing benefits can be drawn into question, this rich and indulgent dish was what pudding dreams are made of. The pumpkin seed brittle was utterly delicious too – providing the perfect amount of crunch before melting in the mouth.
Having been a lifelong vegetarian, I was blown away by the dishes served at V or V, with my meat-eating companion giving it his stamp of approval too. Finally – something we can both agree on!
Read more features like this