Sustainable ways to enjoy Bonfire Night at home
Keen to make your Bonfire Night festivities more sustainable this year? The classic British event marks the foiling of the 1605 'gunpowder plot' and typically involves fireworks, as well as large bonfires used to burn effigies of Guy Fawkes.
Unfortunately, several Bonfire Night practices can be detrimental to the environment. With the need to have quieter, more intimate celebrations at home this year, having a greener evening is a little bit easier!
We've put together some tips for a more sustainable Bonfire Night at home.
How to enjoy Bonfire Night sustainably and safely
Rethink your bonfire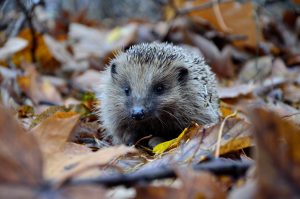 It's controversial to suggest no bonfire on Bonfire Night, we know. But there are a lot of benefits to abstaining this year!
According to Defra, our celebratory bonfires produce more emissions in a few short days than the country's waste incinerators do in a year. As well as disproportionately impacting air quality, bonfire smoke causes irritation to the lungs and nose when inhaled, meaning it's much safer avoided!
Bonfires are dangerous to wildlife too. Hedgehogs and other hibernating animals are particularly at risk, as they tend to nest beneath logs and leaves, meaning they can get trapped within. Ash that gets into rivers and lakes can also alter the pH, impacting water quality and the local ecosystem.
But, if you think you'll miss a roaring fire, we've got you covered. A cast iron fire pit makes for an excellent alternative which, as a bonus, will keep you warm through the winter. To ensure the air remains as clean as possible, steer clear of manmade materials and only burn small amounts of paper, leaves, wood and cardboard.
Get creative with your firework display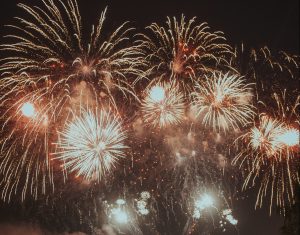 Unfortunately, fireworks cause issues for the environment, too. The reaction responsible for the brilliant explosion releases metal particles, harmful chemicals and the greenhouse gas ozone into the atmosphere. Some fireworks also contain plastic. This results in particles in the air being polluted with particles that don't biodegrade.
Normally, attending a public display would be a great way to celebrate more sustainably. While doing so in person isn't possible in the same way this year, there are alternatives – and still lots of fun to be had!
Luckily, drive-in fireworks displays are ensuring the show can still go on (safely!) despite social distancing requirements. For locations, see here.
It's also becoming a lot easier to watch fireworks from the comfort of your home, so keep an eye out for live streams. One to watch is Light Up Dudley, which will see the West Midlands city lit up with a seven-minute 'extravaganza' in honour of NHS and frontline workers. Locals can stand on their doorsteps, while anyone else can tune in via social media.
Alternatively, why not put a video of a past fireworks display on-screen and dim the lights? For maximum nostalgia, choose an event with special significance.
If taking fireworks off the table absolutely isn't on the agenda, then consider only using white ones, which contain fewer harmful chemicals.
Eco-friendly sparklers
Sparklers pose similar environmental problems to fireworks, albeit at a much smaller level. Yet, whereas environmentally-friendly fireworks are tricky to source, you have a few options here.  
When choosing your sparklers, opt for bamboo rods instead of metal, and go for gold over other colours, since they contain the lowest volume of chemicals. These Bamboo Eco Sparklers tick both boxes.
Traditional recipes to try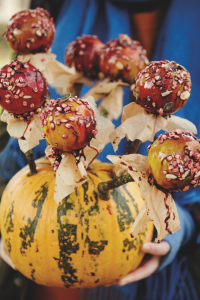 The good news about celebrating at home is you can spend longer crafting special recipes together.
We traditionally use bonfires to cook potatoes and sausages wrapped in foil, as well as to heat up soup. Recreate the mood with our fiery Bonfire Night sage, squash and sausage traybake, or roasted carrot soup.
Parkin cake, a gingerbread sponge that originated in Yorkshire, is the traditional desert of Bonfire Night. Made with oatmeal, ginger, treacle and syrup, it's definitely worth trying your hand at!
Alternatively, toffee apples with nuts and seeds are another fantastic autumn favourite. Healthy yet indulgent, the whole family are sure to enjoy this sweet treat.
Hot chocolate is a staple for Bonfire Night, and especially delicious when homemade. Or, those with less of a sweet tooth can make a warming spiced apple punch instead.
Outside-the-box indoor activities
With most festivities moved inside, it's a great time to revive traditional Bonfire Night games.
Learning to recite 'Remember, remember the fifth of November' is a good place to start. Nursery rhymes aren't just helpful for young children's development, they're also fun for the whole family to practice – and this one adds context about the holiday that is often forgotten. A win-win for everyone!
Making your own 'Guy' was once a hugely popular November activity for children. An effigy of Guy Fawkes is made out of old clothes, fabric and newspapers, and then paraded around the local area, sometimes being added to the bonfire. We suggest just taking him on a circuit of the house, and saving him as a scarecrow for your garden instead.
We often associate apple bobbing with Halloween, but it's actually an old Bonfire tradition too. Fill a large basin or tub with water and add apples, which should float to the top. The objective is for players to retrieve an apple using only their teeth.
Lastly, kids missing fireworks can get into the spirit with their very own firework art. Chalk pens and black paper work well together. And, if you want everyone to have a dose of fresh air, use washable chalk on any outdoor paved areas.
Read more features like this
Words: Tilly Alexander