Wellbeing New Year resolutions from Liz and the team
Have you made any resolutions for New Year? The arrival of January 1st offers a fresh start and is the perfect time to set good intentions for the coming year.
Here, Liz and her team of Wellbeing Warriors share their resolutions for New Year – ideal if you're in need of a little inspiration!
Wellbeing New Year resolutions
Liz Earle, Editor-in-Chief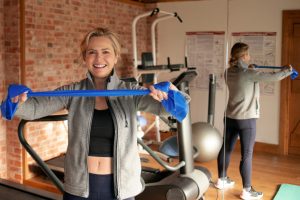 This year I'm doubling-down on my fitness goals having seen the rewards this year (and even starred in an underwear campaign to prove it!). I'm going to lift heavier weights and make 200 skips my norm, up from 100 this year.
Small changes that will make a big difference. I'm also going to diarise taking at least 15 minutes out of each day for a proper mind switch-off, with a focus on breathing, meditation and other forms of mental health time-out.
Download Liz's guide, A Stronger, Slimmer You
Polly Beard, Managing Editor
I've just bought a fantastic pair of waterproof running shoes that keep my feet completely dry even if I end up splashing my way through puddles or jogging across very muddy fields on slippy footpaths. So, no more walking the dog in wellies, which really are the worst footwear to try to run in.
I'm hoping to be 'jogging the dog' instead in 2022, however bad the winter weather gets. My goal is to run my usual 5k Race For Life in the summer without being quite so hot and breathless at the end of it.
Ellie Smith, Health and Beauty Editor
Day-to-day busyness and the lockdowns of 2020 and 2021 have meant I've not seen enough of friends and loved ones in recent years. Many are scattered across the country or overseas and need a little bit of extra care and planning to arrange a get together.
For this reason, my New Year's resolution is to sit down with my calendar each quarter and pencil in a few weekends for hosting or going to visit the important people in my life. It's my hope that at the end of the year I'll have made plenty of lasting memories and will feel less wistful while writing my Christmas cards!
Sara Munds, Non-executive Director
This year I would like to stick to my yoga schedule (not make excuses and cancel at the last minute), do more walking in the outdoors and invest in a sparkling water machine to put a stop to buying plastic bottles.
If I keep taking NMN from Youth & Earth – my favourite supplement discovery of 2021 – this should all be very do-able, and I will skip into 2022.
Enjoy 20% off Youth & Earth with the code LIZLOVES at checkout
Betty Beard, Affiliate Marketing Manager
My resolution this year is to "stick with it". From regular HIIT exercise that made me feel stronger physically and mentally, to keeping topped up on my vitamin D, I finally felt I had found a routine that worked for me in 2021. It's now time to keep at it!
I also hope to get stuck in to trying out new recipes from the many cookbooks I have collected – so I can share these feasts with my nearest and dearest in 2022.
Rachel Andrews, Social Media Manager
I want to try to travel more in the New Year and make the most of my weekends following lockdown after lockdown over the past 24 months. That said, I'll be doing most of my exploring around the UK rather than jetting off to far away places as I want to keep my carbon footprint down.
Working with Liz and the Wellbeing Team has also made me want to up my supplement game to help me feel my best – my one-a-day multivitamin doesn't seem quite enough now!
Amy Moore, Head of Digital
I'm keeping things simple this New Year – drinking more water and upping my exercise. The dark, winter days have made snuggling up indoors with a hot chocolate too easy!
I'll be dusting off my gym membership and also making more of an effort to explore the countryside on weekends. I'd also love to give wild swimming and paddle boarding a go – although I may wait until it gets a little warmer!
Read more articles like this
Please note, on some occasions, we earn revenue if you click the links and buy the products, but we never allow this to bias our coverage and always honestly review. For more information please read our Affiliate Policy.