Hugh Fearnley-Whittingstall: Why we should eat more veg
Since rising to fame with his River Cottage TV series almost 20 years ago, Hugh Fearnley-Whittingstall has put his name to many worthy campaigns. Now, he's focusing his energy on getting the nation to eat more vegetables: "I think the vegetable has been sorely underrepresented so far in our food culture. I'd like to showcase all the delicious ways we can cook with all this wonderful, diverse produce we have available to us."
This isn't the first time Hugh has delved into the Vegetable Kingdom, as he calls it. His book and TV series River Cottage Veg Every Day was the result of a stint as a vegetarian, and offered an inspiring introduction to veg-centric cooking. However, Hugh feels his work isn't done and that now's the time to be having honest, hard conversations about the way we eat as a country: "There are so many different forces working against the simple fact that cooking with vegetables is cheaper, healthier and better for the planet."
More than just a side dish
Hugh explains why we, as a nation, fell out of love with vegetables. "Somewhere along the line, vegetables have been sidelined. The industrial production of meat post WWII was partly to blame, as it brought with it the opportunity for everyone to be able to afford to eat it." But, more than that, Hugh notes that vegetables don't hold the status they do in other cuisines. While being revered in Italian and Mediterranean cooking, they have historically been relegated to side dishes in British cuisine: "How many of us grew up eating meat and two boiled veg, hidden away under gravy?"
It's a difficult mentality to shake off. "It can be hard to recalibrate our eating habits," Hugh says, "especially as adults, and so often the worry is that eating a plant-based meal means you won't be satisfied or full." Hugh hopes to change this, with a chapter on hearty mains to ensure you won't even notice the missing meat, fish or dairy.
How many of us grew up eating meat and two boiled veg hidden under gravy?
Despite this, Hugh doesn't claim to be a vegetarian. Rather, he eats meat and fish, as he puts it in his book: "Discerningly, I hope, with the welfare of our farm animals, and the environment, in mind." Perhaps it's this that helps make his message so accessible. He's not preachy, but does hope to encourage us to eat meat more consciously. "We certainly shouldn't be looking to increase meat production on the planet – a third of all cereal crops are fed to livestock already. Eating more veg is about the environment as much as it is about our health."
Battling big business
The problem, however, goes deeper than whether we eat meat or not. In a new BBC TV series, Hugh investigates the national obesity crisis that is crippling the UK. For Hugh, the blame doesn't lie with individuals, and it's important not to demonise: "Unhealthy eating is embedded in our culture and goes beyond the personal – it's far more systemic." Hugh thinks the key lies in education and policy change rather than with individuals: "The government at the moment is not willing to impose regulations on big businesses." While public pressure goes a long way to influencing big businesses, calling into question their misleading labelling practices and encouraging the inclusion of more fibre and vegetables in pre-prepared foods, the fact remains that eating habits are hard to alter.
Pass it on
Hugh believes that the potential for real change lies with the next generation. "Parents who want to have their kids eating well need to be feeding them veg, even if they are fussy eaters. If they are introduced to an array of vegetables at a young age, they are more likely, long-term, to eat well. We also need to teach children in school how to feed themselves properly."
Knowing how to cook, even basic recipes, is a fundamental life skill: "Vegetables may be cheap, but to eat well on a budget, you need to be able to cook – it's as simple as that." The joy of Hugh's recipes is that they are both delicious and, most importantly, doable. What matters now is that people go ahead and cook them. "I recognise that books like mine are typically bought by those who already like cooking, but I hope they reach further than that, because everyone should have the tools to cook simple, inexpensive, healthy food – every day."
Loved this? Read on here: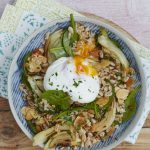 – Our seven favourite vegetarian meals
– How to make your food shop more sustainable