Our 7 favourite vegetarian meals
A new study has suggested that well over a quarter of all evening meals are now vegetarian. With the rise in meat-free menus, we have collected some of our favourite vegetarian recipes to expand our veggie repertoires. These flavoursome dishes include plenty of fresh vegetables, and ingredients such as cheese, lentils, and tofu for protein, so there's no need for meat!
Salt and peppe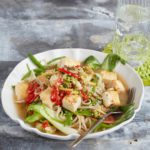 r tofu with brown rice noodles and miso soup
Tofu is such a versatile alternative to meat and is a rich source of calcium, iron and amino acids. This Asian-inspired, vibrant vegetarian dish with healthy brown rice udon noodles is simple to cook and is a nutritious way to sate any cravings for a take away.
Carrot spi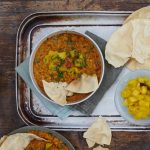 ced dhal with homemade mango chutney 
Just as the weather seems to have warmed up and we are treated to longer, brighter evenings, there is guaranteed to be an evening when the skies cloud over and torrential downpour moves in. But fear not, because we have vegetarian recipes suited to all weathers. This warming carrot spiced dhal is the perfect antidote to a miserable evening, while the fresh, zingy mango chutney is a reminder that sunnier days will soon return.
Plum tomato and fennel lingui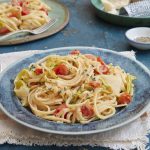 ne
The perfect use for a glut of tomatoes, a mouthful of linguine with plum tomatoes and fennel is almost enough to transport you to the warmer climes of Italy. To ensure this is truly vegetarian, use a non-branded hard cheese rather than Parmesan, as this is set with rennet so is not suitable for vegetarians – check the label if you are uncertain.
Asparagus, leek and goat's cheese tart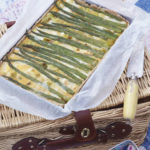 This tart is perfect served cold for a picnic or packed lunch but is equally easy to rustle up as a satisfying supper with a big bowl of dressed side salad. British asparagus is a real treat and has a short harvesting season, so enjoy it in the late spring/early summer months as often as you can.
Homemade butternut squash gnocchi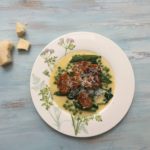 Although delicious, potato gnocchi can sometimes be a little too heavy on a warm evening. Substituting the potato for butternut squash gives the gnocchi a delicious, more distinct flavour as well as providing a good source of beta-carotene which can help to promote healthy, youthful-looking skin. This recipe is also suitable for those on a gluten-free diet as it makes use of buckwheat flour rather than regular wheat flour. As with the linguine recipe, be sure to use a vegetarian hard cheese substitute for Parmesan.
Buckwheat pancakes with spinach and r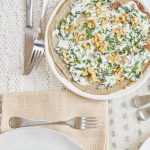 icotta
It seems such a shame that pancakes are viewed as a brunch food, and only given a proper spotlight on Shrove Tuesday. The French crêpe and galette are such versatile vessels for all sorts of toppings, both sweet and savoury. We think that buckwheat pancakes topped with spinach and ricotta and finished off with a pine nut brittle make a healthy and delicious vegetarian meal.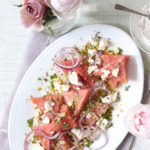 Watermelon, feta and pistachio salad 
As soon as the weather is warm enough, we recommend enjoying a meal outside, and out of all the recipes in our archive, this is possibly the most refreshing for a hot sunny evening. Drizzled with a rose water vinaigrette and topped with rose petals, this watermelon salad embodies the heady aromas and flavours of summer. Pop on a pair of sunglasses, head out into the garden and wash the salad down with a crisp glass of rosé or your chilled drink of choice. Bliss.
Loved this? Read on here:
– Get your mouth watering with our favourite vegetarian starters.