Homemade cleaning products – how to make your own
Homemade cleaning products can be an easy and inexpensive way to keep your home looking and smelling fresh.
We've created three easy household cleaners to help keep your whole home spotless – from a multi-purpose spray to a scrub that's perfect for sprucing up the bathroom.
Essential oils make it easy to choose your own scent too. We've made a few suggestions to include in your homemade cleaning products, but don't be afraid to experiment!
How to make your own homemade cleaning products
Lavender, lemon and peppermint multi-purpose spray
Vinegar is a staple in many green cleaning products because it's cheap and makes simple work of cutting through grease and dirt. It does have a particularly pungent smell though! If this sour scent turns your stomach, add extra essential oils and rest assured that vinegar is odourless when dry.
Adding leftover citrus rinds is another great way to reduce waste and infuse your sprays with a delicious scent.
NOTE: To avoid staining, only use white vinegar. This spray is not suitable for porous natural surfaces such as granite, marble or stone.
Ingredients
How to make a multi-purpose cleaning spray
Carefully pour the vinegar, water and glycerine into your spray bottle. Secure the lid and shake to mix thoroughly.
Add 30 drops of essential oils to create your perfect blend. We've gone for a fresh mix of lavender, lemon and peppermint, but do use up any scents you may have lying around.
Deep-cleaning grapefruit scrub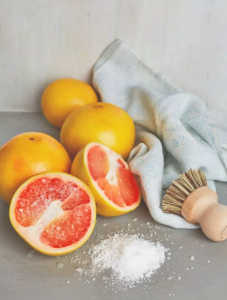 Got a bath or sink in need of some TLC? This natural duo will do the trick. The grapefruit tackles grease, while salt scrubs away stubborn scum. You'll be left with a squeaky clean surface and bright, citrussy scent.
Note: Do not use citrus fruits on granite, marble or stone
Ingredients
1 grapefruit
6 tbsp course salt
How to make a bathroom cleaner
Cut the grapefruit in half and sprinkle with a few tablespoons of coarse salt.
Apply water to the cleaning surface (i.e. bath or sink) and start scrubbing with your salted grapefruit. You may need to pause every so often to add more salt to your fruit.
Particularly grubby areas may take another grapefruit half or two.
Carpet deodorising powder
Though kind on bare feet, carpets and rugs tend to store odours, particularly if we have much-loved furry companions. This super-simple, two-ingredient powder can refresh a room in seconds. Simply sprinkle all over, leave for a few minutes, then vacuum away the stench.
Note: Any essential oil will do. Lavender can aid sleep so is perfect for a bedroom, while cinnamon works a treat in the winter. Neroli is super for a springtime scent.
Ingredients
1 and a ½ cups of bicarbonate of soda
10 drops of essential oil (we like lavender)
Empty jar/shaker
How to make carpet deodorising powder
Add the bicarbonate of soda to a large bowl, along with the essential oil. Stir well to ensure it's all evenly distributed.
Carefully spoon the mixture into a shaker and sprinkle liberally over carpets and rugs. If you don't have a shaker, sprinkling from a spoon works just fine.
Wait 20-30 minutes, allowing the powder to absorb any odours before vacuuming up.
Read more articles like this