Easy eco-friendly swaps for a sustainable Christmas
Looking to have a more sustainable Christmas this year? With an estimated 114,000 tonnes of plastic packaging thrown away each Christmas, the festive season can have a significant impact on the environment. While it's rightly a time for indulgence, our celebrations don't need to cost the earth!
From choosing reusable crackers to renting your festive outfits, there are plenty of easy ways to make your Christmas Day sustainable. We've put together our top tips for ensuring your festivities are as eco-friendly as possible.
How to have a sustainable Christmas
Choose your tree wisely
A Christmas tree is a key feature in most British households. While many of us are wise to the potential environmental issues surrounding this festive staple, we often disagree about what makes the most sustainable tree.
Although reusable trees are sometimes touted as the greenest option, this often isn't the case. It's estimated that you'd need to reuse your tree for 20 years to make it better than a real-life fir!
If you're on the hunt for a tree, we'd recommend a real one, ideally from a local farm. Or, even better, rent a living Christmas tree. Take a look at our guide to finding the perfect tree to learn how.
Deck the halls sustainably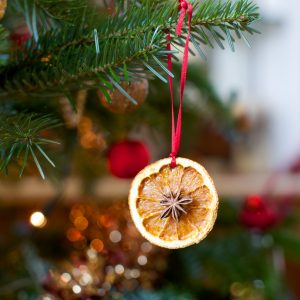 Decorating the house ahead of Christmas is a much-loved festive activity. Who doesn't love turning on the tunes and getting started on the tree? A few small tweaks to decorations will easily green up your celebrations.
Using LED lights instead of incandescent ones can reduce energy usage by up to 80%. Although they're more expensive, they won't add nearly as much to your energy bill, so they'll end up paying themselves off.
In terms of baubles, the most sustainable option is using what you've already got. However, making your own decorations can give your tree a new lease of life. Take a look at our step-by-step guide to making decorations out of dried orange slices for some inspiration.
If you do want to buy new decorations, choose ones crafted from natural materials such as wood or glass. We love these silver and gold starfish decorations designed by Geronimo Jones for Liz's charity LiveTwice. They're a luxurious decoration that gives back.
Give plantable Christmas cards
Christmas cards are a lovely way to let people know you're thinking of them. Plantable versions of the festive staple let you give back to the environment at the same time.
This 10-pack is illustrated with Christmas cheer and printed on seeded paper, which can be planted once read. Plant within two years for a blooming garden and happier bees!
We also love the recyclable cards from Wildflower Favours. This eco-friendly brand is committed to saving the bees. Each card comes with a packet of British wildflower seeds, grown without pesticides.
Treat yourself to organic wine
For many, getting a little jolly is one of the joys of the festive period. Opting for an organic wine is a fantastic way to treat yourself and the environment this Christmas.
Organic viticulture and farming has a wealth of benefits for the planet. Many mainstream winemakers use chemical pesticides or fertilisers, which can ruin the PH balance of the soil, impact biodiversity and infiltrate nearby waterways. Organic winemakers avoid these substances, meaning their practices can actually increase soil microbe levels, encouraging flora and fauna to flourish. They're also less impactful on soil and more carbon efficient.
Liz has collaborated with award-winning organic drinks supplier Vintage Roots to put together the Liz Earle Wellbeing Organic Wine Box. Enjoy one of Liz's favourite festive fizzes with six bottles of il Grillo.
Plus, organic wines tend to use fewer additives like sulphites. Rumour has it that it even leaves you with less of a hangover, so it's really a win-win for everyone.
Buy the Liz Earle Wellbeing Organic Wine Box for £75
Get creative sourcing your festive outfit
Christmas is definitely a time for dressing up. That said, you don't need a new wardrobe to look fabulous! There are plenty of sustainable ways to source your Christmas Day look, from digging out old favourites to renting an outfit.
Wearing what you already own is the greenest option. Heading out for Christmas? You can easily spice up your look by raiding someone else's wardrobe. Organising an outfit swap will give you some pre-Christmas fun, and new looks for everyone!
Alternatively, renting a dress – rather than buying – can be cost effective and more sustainable. Platforms like Hurr Collective have an extensive range of items, designer included, that can be rented for as little as two days. Girlmeetsdress and Hirestreet have great options too.
Switch up your Christmas crackers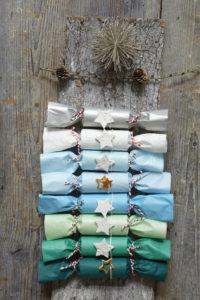 Many Christmas crackers come with a lot of plastic. Not only is the clear window on the cracker box not recyclable, but the novelty toys inside tend to be plastic too. Plus, any decorated with glitter end up polluting the environment with microplastics.
With this in mind, it's a good idea to go for certified eco-friendly crackers instead.
Reusable crackers are an excellent option, since these can be used again and again. Made from luxury linen or silk and featuring adorable ribbon ties, this set of Forever Crackers is a fantastic investment, and would work great as a Christmas present for the family host!
The crackers come unfilled so you can add whatever trinkets you like. Look around the house for any unused hotel bathroom freebies or small items that would benefit from a new home.
Or, if you think you'll miss the drama of your usual cracker pull, these ones from Nancy and Betty Studio are a fantastic alternative. These are plastic-free and printed on sustainable paper stock but still feature a friction snap, meaning you can still set Christmas off with a bang!
Plus, the gifts inside are a far cry from the single-use ones that you usually find inside crackers. Prizes include a wooden honey drizzler, nutmeg grater and mini strawberry jam. Even better, the brand also plants a tree for each box bought!
Make smart food choices
Food is an important part of Christmas Day, and key to making your celebrations more sustainable.
Buying food locally will help reduce your carbon footprint, while also showing independent suppliers some love. Last year, the average spend on food per person was around £160. It would be great to see some of that going back into our communities!
Reducing food waste is also a must. Food waste increases at this time of year, with roughly seven million tonnes wasted each Christmas. This includes around 848 tonnes of scrapped roast potatoes!
Instead of chucking them, add them to an omelette, refry them with garlic, or serve them in a warming soup. Properly stored, roast potatoes last three to five days in the fridge. This provides plenty of opportunity to try out new recipes.
It's also a great idea to make a list ahead of any Christmas food shopping. Festive offers at the supermarket can be tempting, so making a list will help you avoid buying excess items.
See more of our tips for limiting food waste
Go for greener wrapping options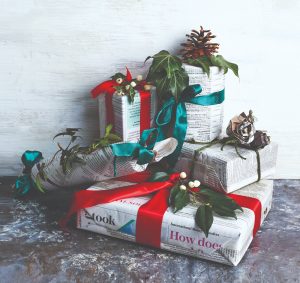 Switching up your wrapping paper is a great way to have a more positive impact this Christmas. A scary 88 square km is used each year, and much of this ends up in the landfill.
That's because lots of wrapping paper is made with Mylar, a plastic film coated with aluminium, or glitter, which is a microplastic.
To be safe, we'd recommend avoiding anything shiny, metallic or glittery. It's also a good idea to check with your local authorities to see what they can and can't recycle.
That doesn't mean wrapping paper needs to be boring though. We love this great selection of Coloured Recycled Kraft Paper from Naturally Wrapt, which features loads of gorgeous shades. Finish with the Natural Linen Ribbon for a chic and environmentally-friendly gift.
Or, if you're after something more fun, this one uses 100% recycled Kraft paper and features a print of Pedro the Pug wearing a Santa hat!
Avoid individually-wrapped chocolates
Everyone loves to indulge with a chocolate box at Christmas. Unfortunately, many festive favourites come heavily packaged in plastic. This is two-fold: the boxes themselves and the individual confectionary wrappers inside. However, it's the wrappers that pose the main issue.
While the storage tins are usually made from recyclable PET, a lot of wrappings contain polystyrene or polypropylene, which are non-recyclable. So, although individually-wrapped options are great for sharing, they're not so good for the environment.
We love Cocoa Loco's organic, fair-trade options as a plastic-free alternative. All chocolates are palm-oil free and handmade in their West Sussex Chocolate Barn, and the brand avoids using plastic in its packaging.
Think you'll miss your usual? Go for Quality Street's festive tin. The coloured wrappers are compostable, while the foil ones can be recycled in the same way as cans.
Discover more festive ideas in A Happy, Healthy Christmas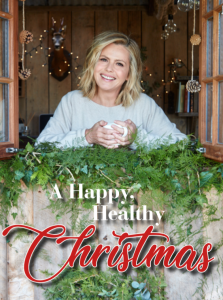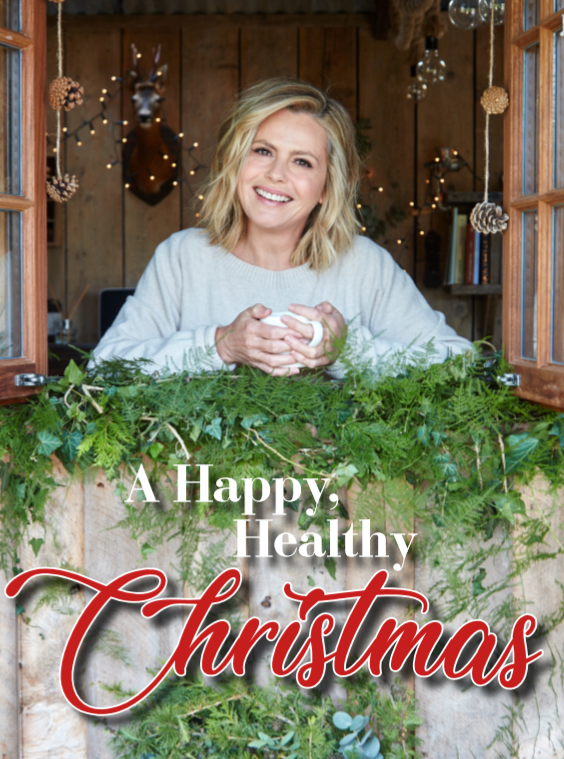 Step inside Liz's 75-page guide and enjoy 40 tempting festive recipes, with everything you need for your ultimate Christmas countdown. From festive foods and feasts, gut-friendly party fare and Boxing Day treats, enjoy Christmas with a wellbeing twist.
Liz explains how to make holiday decorations and homemade gifts for the ultimate personal touch. Plus discover the best drinks to serve family and friends – from mulled wine to mocktails, kombucha cocktails and more. It's your go-to guide for surviving the season stress-free!
Download A Happy, Healthy Christmas
Read more articles like this
Words: Tilly Alexander