Eco friendly period: a guide to the best products
Eco friendly period products are starting to turn mainstream. And, while it may be the last thing we're thinking about while we're on your period, our awareness of the substantial amount of waste our sanitary products are racking up is also increasing. Over a lifetime the average woman uses over 11,000 pads and tampons, many of which can take several years to decompose, according to the Women's Environmental Network. It is estimated that period products and their packaging amount to around 200,000 tonnes of waste each year.
Why aren't periods eco friendly?
Many of the problems start in the production of period products; cotton which is used to make up most tampons is known as one of the world's thirstiest crops, and non-organic plants may also be treated with harmful pesticides that stay in the product and the water supply.
Most pads and tampons contain lots of plastic alongside other chemicals, such as chlorine and rayon, that can be harmful to the environment and slow to decompose. There's also been trouble in the sewers as sanitary products flushed down the loo are contributing to huge blockages underground.
How to have an eco friendly period
Many brands are waking up to this problem and offering organic options, without synthetic additives, that break down more easily than their plastic counter parts. While there's no conclusive evidence about the dangers of toxins in tampons, there are also plenty of options out there for those who prefer their products without bleach or scents.
One size never fits all when it comes to periods, so having lots of choice is key. None of us should be made to feel guilty about our period choices, but if you're looking to change to more eco friendly period products we've compiled some of the best sustainable alternatives. Plus they could save you money as well as the planet.
Brilliant for no leaks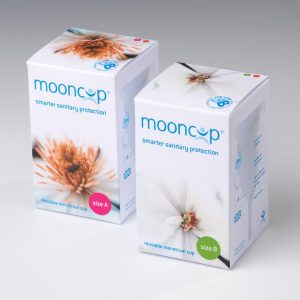 Perhaps the most well-known of all the eco friendly period products is the menstrual cup. The Mooncup has established itself as a reliable and great value alternative to disposable products, holding on average three times as much fluid as a tampon.  Menstrual cups, for the uninitiated, are small, foldable devices that are placed in the vagina to collect the menstrual blood, reusable for up to 5 years. Made from medical grade silicone, the Mooncup is hygienic and convenient, you may never need to buy a box of tampons again!
£21.95, mooncup
Help end period poverty
BetterCup are on a mission to tackle waste and eradicate period poverty with their easy-to-use menstrual cups. Each cup lasts a decade and, for every cup sold, one is donated to a woman in need.
Perfect for beginners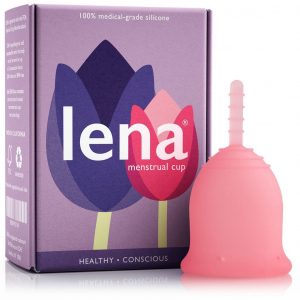 No one cup fits everyone, so if you're looking for something a bit more flexible, the Lena cup may be the one for you. It's slightly smaller and softer than the Mooncup but it's still perfectly suitable for all physical activities, making it perfect for teenagers and first-time menstrual cup users. Lena also works with women around the world to get sustainable period products into the hands of those who need it most.
£21.90, lenacup.com
Great for comfort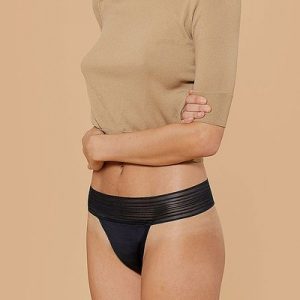 If you don't like the look of a menstrual cup, menstrual underwear might be a better eco friendly period option for you. Menstrual underwear catches your period using layers of fabric to absorb moisture while staying dry. Thinx come in a variety of different styles and can hold between one and two tampons worth of blood. They're washable and easy to use – just wear them like you would your normal underwear (you can also use them in conjunction with tampons and pads) and get on with your day!
£18.71-£30.41 She Thinx
Best for swimming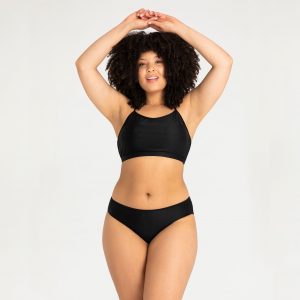 ModiBodi's great value underwear uses merino wool for a super soft experience, but the best bit about them is their variety. The brand offers all kinds of different underwear and even includes a swim range with bikini briefs and one-piece suits for when your period comes at the wrong time. The super slim lining makes for a modern and convenient period, especially towards the end of your cycle.
from £14.00, modibodi.co.uk
Best eco friendly disposables
Tampons from Time of the Month are comfortable to wear and highly absorbent, made with 100% certified organic cotton. What's more, they come with cardboard applicators in paper wrapping reducing your period's plastic footprint and increase their eco friendly credibility. To minimise stress on your period and the dread that comes when you've run out of tampons, TOTM also offers a subscription service where you can select what you need and how often you need it, and they'll deliver them straight through your letter box.
£2.95-£3.10, totm
A more sustainable applicator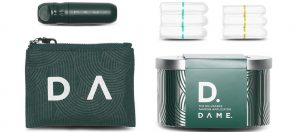 Billions of non-recyclable tampon applicators are thrown away each year and, while some people love non-applicator tampons, they're not for everyone. Dame have come up with a reusable applicator which works with every size tampon and lasts for life. The award-winning design is self-sanitising and, as a bonus, the UK based brand is completely carbon neutral.
£24.99, wearedame.co
Loved this? Now read: