Chocolate and avocado mini-bites
Liz says:
These rich, chocolatey bites from my book, The Good Gut Guide, will tantalise your tastebuds. The mixture is naturally high in sugar due to the dried fruits as well as the chocolate, so it's a treat best made towards the end of your six-week gut health programme.
Also, the addition of avocado and Greek yoghurt boosts the fat content, which will slightly lessen the effects of the sugars. I love to make the slab on a Sunday, then cut it up into small portions to last the family the whole week.
Wellbeing Wisdom
Raw honey can contain more than 200 natural forms of pollen and microbes, almost all of which are good for our gut health
Avocados contain strong levels of folic acid, which is thought to help combat depression
Ingredients
200g plain chocolate (85% cocoa), broken into pieces
300g pecan nuts, soaked overnight
150g pitted dates, soaked
150g pitted prunes
For the topping:
100g plain chocolate (85% cocoa)
1 avocado, halved and stoned
1 tbsp plain live Greek yoghurt
1–2 tsp raw honey (optional)
Method
Put the chocolate pieces into a heatproof bowl, sit it over a pan of simmering water and stir occasionally until melted. Remove and put to one side (keep the bowl and the pan for when you make the topping).
While the chocolate is melting put the nuts into a food processor and blitz until chopped small, then add the dates and prunes and whizz again. Now add the melted chocolate and mix until really well combined. Spoon into a shallow 30 × 18cm rectangular tin, lined with greaseproof paper overlapping the tin, and atten until it's even. Put in the fridge to chill while you prepare the topping.
To make the topping, put the chocolate into the same bowl and sit it over the pan, the water simmering, and heat until melted. Put to one side.
Put the avocado, yoghurt and honey (if using) into the food processor, then add the melted chocolate and whizz until combined. Spread the mixture over the chocolate and nut slab and put back in the fridge to chill for a few hours or overnight. Lift the slab from the tin using the greaseproof paper and slice into 32 small squares. They will keep in a sealed tin or other container for up to a week.
Loved this? Why not try…
– Blackberry and apple baked oats
– Liz's date and dark chocolate beauty bombs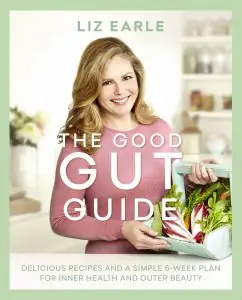 This recipe comes from Liz's book, The Good Gut Guide. To get started with Liz's ultimate wellbeing plan for a healthy gut, order your copy of The Good Gut Guide today!