Makeup for mature skin made easy
Looking for some top makeup tips for mature skin? Here, Grace Fodor, the founder of pro-age makeup brand STUDIO10, shares her go-to routine.
Makeup for mature skin
Looking good on the outside can give us the boost we need to feel good on the inside, and makeup is a great tool for giving us this sense of confidence. The good news is, applying makeup doesn't have to be time-consuming or confusing. This four-step routine – prime, perfect, shade and shape – will fit seamlessly into your morning regime, to give you flawless skin and lit-from-within radiance, no matter your age.
Before putting on anything else, apply sunscreen under your makeup. Even on a grey day, the sun's harmful UV rays can damage your skin. Recent studies have shown that sunscreen also helps to reverse the common signs of ageing, such as wrinkles and hyperpigmentation.
I recommend Heliocare Oil-Free Gel SPF50. This is an ultra-light formula that melts into the skin with a dry-touch, matte finish. It's suitable for all skin types, including oily and combination complexions.
Prime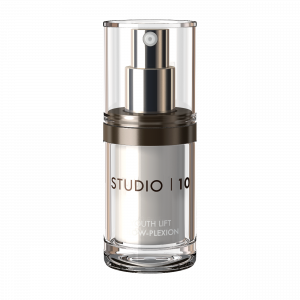 As we get older, collagen and elastin production start to slow down, resulting in wrinkles, and the sebaceous glands produce less oil, meaning our skin can become dry.
The trick here is to use a primer on the skin after you've moisturised and before you apply foundation, to create an even base for makeup and to keep products from settling into any fine lines. A good primer will not only smooth the complexion, but also add radiance. I recommend looking for one with gold rather than silvery tones, as this will look more natural on the skin.
Our Youth Lift Glow-plexion is an all-in-one foolproof product, enriched with a special blend of hyaluronic acid that helps to lock in moisture and hydrate the skin.
Its smooth, creamy and glitter-free formula instantly minimises pores and evens out the complexion. You can use it under your makeup, but it can also be mixed with foundation or a tinted moisturiser, used on top of makeup as a highlighter, or mixed with body lotion for an all-over glow.
If you suffer from enlarged pores, try Smashbox's Photo Finish Pore Minimizing Primer. Its oil-free formula dramatically reduces the look of pores while smoothing and prepping skin for flawless makeup application.
Perfect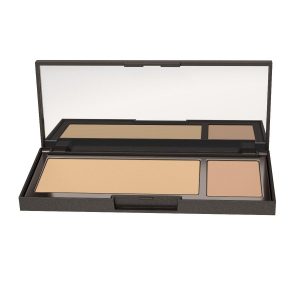 Over the years, our skin goes through a lot. Years of sun exposure may lead to age spots, redness, blemishes and pigmentation issues. Once you've primed your skin, it's time to cover up any pigmentation you may have. I recommend a medium-to-full coverage foundation with hydrating properties to nourish the skin throughout the day.
Our Age Repair Perfect Canvas SPF30 Foundation evens out your skin tone without looking cakey, meaning there's no need for concealer. The colour-adjusting formula reflects the light for a bright, dewy-looking effect, while optical diffusing pigments blend and buff seamlessly, giving a real-skin finish.
Shade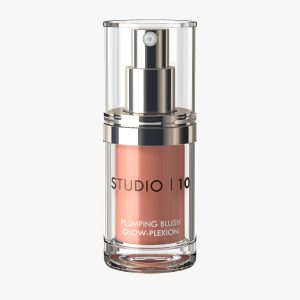 With ageing, the outer skin layer (epidermis) thins and the number of pigment-containing cells (melanocytes) decreases, meaning our skin can look sallow and pale.
For an instant complexion pick-me-up, I recommend adding a flush of healthy colour and glow using a peach-toned blush. It's best to avoid powder blushers on mature skin, as they can dehydrate your complexion and can collect in fine lines. A liquid blush is a better option, as it doesn't sit on top of the skin, and can be easily blended and buffed for a smooth finish.
Try our bestselling Plumping Blush Glow-plexion. It's universally flattering, with orange pigments to add warmth to your skin, and pearl highlights to brighten the complexion.
Shape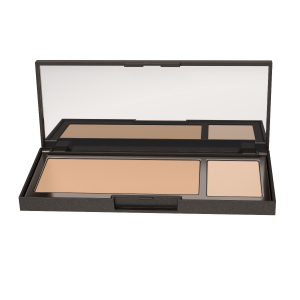 As we age our skin loses collagen and elasticin, the glue that helps the body maintain its shape and structure by binding tissues and cells. Think of this as Spanx for the face.  Adding shape and definition while enhancing features and creating a natural looking lift.
Contouring is a quick and easy way to sculpt and define your facial features, adding dimension to your face. The principle is to use makeup that is slightly darker or lighter than your actual skin colour to create natural contours. Light shades (highlighter) will bring features forward while darker shades (contouring products or a darker toned foundation) will make them recede.
Our Radiance Glow Bronzing Veil is my secret for a natural healthy colour and the perfect summer tan. The subtle red-brown tones instantly enhance your complexion, revealing natural warmth and healthy skin-true colour while the matte consistency makes the powder perfect for contouring and creating the illusion of a depth and shadow.
To apply, take the darker shade on an angled cheek brush and trace the product along the hollows of your cheeks in a "3" shape that follows your hairline, under cheekbone and jawline. Next, for multi-dimensional radiance, bring the light back into your face by applying the illuminating powder to the areas that reflect light naturally: your forehead, the bridge of your nose and the top of your cheekbones.
Finishing touches
Once you've finished defining your face, it's time to add shape to the brows and lips.
Brows can become thinner as we age. Combat this with brow-defining products to open up your eyes and frame your face. I recommend our Brow Lift Perfecting Brow Pencil. It's long-wearing and buildable, and its unique ash-tone mimics hair and adjusts for a true-to-you finish. Apply using short, hair-like strokes in an upward motion for shapely brows that help lift and enhance your eyes. Once finished, take the skin-toned highlighter and apply underneath your brow bone to highlight and lift the eyes.
Then, to create balance between the top and bottom halves of your face, it's important to line the lips. As we age, our lips lose their full shape as the fat pads underneath the skin begin to break down. To create a plumper lip, overline slightly with a your-lips-but-better liner, topped with a gloss, to add shine and definition. Try our Age Reverse Perfecting Lipliner using the rose shade just outside the lip line, and the cream shade to highlight and line the cupid's bow to accentuate the lips further.
It's no secret that our skin changes over time, and that's okay! It doesn't mean you have to stop wearing the makeup you love or play it safe with your beauty choices. Ultimately, any colours, formulas and products that make you feel confident and the best version of yourself are going to be the right ones for you, regardless of your age – but there's always room to make some simple adjustments to switch up your makeup routine and make the most of your mature skin.
Enjoy 20% off  at STUDIO10!
Liz Earle Wellbeing readers can enjoy an exclusive 20% off when shopping at STUDIO10. Simply use the discount code LIZLOVES at checkout to receive your discount.
Read more from STUDIO10