How to use hyaluronic acid for your hair
Hyaluronic acid has become a staple in many of our skincare routines – but what about for our hair?
The key benefit of this ingredient for our skin is hydration and its ability to retain moisture, helping to plump out a thirsty complexion. In fact, it's a molecule found naturally in our bodies, particularly in our skin, joints, and eyes.
So, do these benefits apply to our hair too? In short, yes. Let's dig into it.
Benefits of hyaluronic acid for hair
Hyaluronic acid is a humectant, which means it retains or preserves moisture. It's ideal if you struggle with a dry scalp or hair, but it's suitable for all hair types and textures.
The ingredient can also help to seal the cuticle to reduce frizziness and may also help to plump out your strands for added volume.
Not only that, but experts say that hyaluronic acid helps to repair and rebuild structure when it penetrates hair fibres.
Best hyaluronic acid hair care products
Whether you want an intensive mask, a shampoo gentle enough for daily use or a hydrating serum, there are a number of haircare products harnessing the powers of hyaluronic acid.
Here's our pick of the best hyaluronic acid hair care products:

Amika water sign hair oil – £31
This hydrating and silicone-free treatment oil is clinically proven to reduce frizz and breakage while boosting shine and protecting against heat.
With hyaluronic acid and squalane, the concentrated formula helps to reduce breakage and you only need one to two drops at a time so a little goes a long way.
Beauty Pie Super Healthy Hair™ Luscious Moisture Hair Mask – £10 (with membership)
This super indulgent argan oil hair treatment mask contains hyaluronic acid, a strengthening keratin-like vegan blend and healthy-hair powerhouse panthenol.
Slather through your tresses after shampooing and conditioning for super swishy hair. Plus, use the LIZLOVES code for £10 off your Beauty Pie membership.
Buy Beauty Pie Healthy Hair Mask
The Ordinary Hair Care Natural Moisturising Factors and HA 60ml – £12.60
This leave-in hyaluronic acid treatment helps to hydrate and balance a dry scalp.
Simply massage a couple of drops into your scalp at bedtime, and leave in to help support your overall scalp and hair health.
Buy The Ordinary Hair Care Natural Moisturising Factors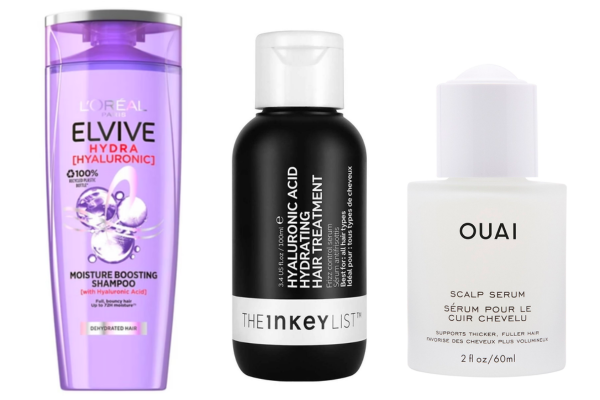 L'Oreal Elvive Hydra Hyaluronic Acid Shampoo – £3.75
If you're struggling with damaged and dehydrated hair, this shampoo can help your strands feel hydrated and silky soft as soon as you hop in the shower.
The hyaluronic acid here helps to weightlessly coats your hair, so it's plumped, bouncy and shiny. There's also a matching conditioner too, plus serums and treatments in this range.
Buy L'Oreal Elvive Hydra Hyaluronic Acid Shampoo
The INKEY List™ Hyaluronic Acid Hydrating Hair Treatment – £10.99
This lightweight serum has been formulated with hyaluronic acid to hydrate, and reduce frizziness and brittleness for super shiny locks.
It also helps to protect hair from environmental pollution – use as post-wash treatment on wet or dry tresses.
Buy INKEY List Hyaluronic Acid Hair Treatment
Ouai Scalp Serum – £48
Combining hyaluronic acid with adaptogens such as siberian ginseng, and chaga, this hair serum can help promote hydration and a healthy barrier to help your tresses thrive.
It's suitable for all hair types, and can be particularly helpful if you're struggling with thinning hair and you want to see growth, or a dry, flakey scalp.
Read more features like this