Coastal escapes: The best things to do in Walberswick
Walberswick – a quaint seaside village on the Suffolk coast – is in easy reach of the capital and is perfect for a weekend trip to the seaside. Here we reveal our selection of the best things to do while you're there.
The best things to do in Walberswick
Activities
This tranquil village offers a quiet escape with just a handful of shops and pubs, but with walks and gorgeous views in abundance.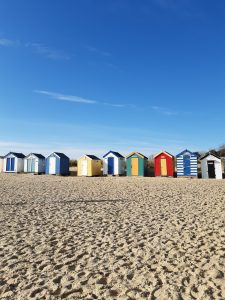 Beach lovers won't be disappointed. Grassy sand dunes open up to reveal a wild and pebbly coastline – idyllic for spending long afternoon strolls in the sunshine (dogs are welcome too!). If you're up for it, take the circular walk up to the village of Dunwich – a route that spans just under seven miles.
Plus, there's little more invigorating than a dip in the sea. Local swimmers head out each morning to embrace the chilly waters. You're more than likely to encounter paddle boarders and those out in their kayaks. It truly is a haven for those who enjoy saltwater adventures.
For days when you fancy a bit more activity, take a wander over to Southwold. This popular seaside town is teeming with chic shops, traditional pubs and bustling eateries. Plus, don't miss the colourful beach huts lining up on the sand. While you can drive there in just under 20 minutes, it's easier to hop on the famous Walberswick ferry – a small rowing boat that hops you across the river in a matter of moments.
Where to stay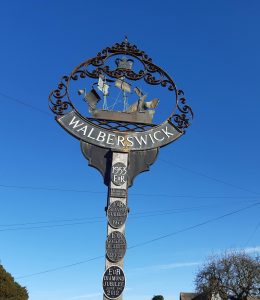 There are plenty of holiday cottages throughout the village offering self-catering options.
Harbour View is literally a stone's throw from the beach. This cosy cottage sleeps up to four people (and a dog!) and is just a short stroll from the village green, where you'll also find a handful of shops and eateries. It's also only 0.07 of a mile away from a pub. Fantastic!
Elsewhere in the village is another cottage called 1 Millstones. This spacious, dog-friendly property is all on one level and features a gorgeous grand piano in the living room. You'll also find a secluded back garden – perfect for sitting in with a morning brew.
If you prefer a B&B, the rooms at The Anchor, a cosy, traditional pub in the heart of the village and just a two-minute stroll from the beach, are well worth a look.
Where to eat
Coffee lovers should head to The Black Dog Deli. Here's where you can pick up a seriously good coffee and your breakfast pastries in the morning, and do NOT exit the shop without a few of their award-winning sausage rolls (both meat and vegetarian). They also sell amazing quiches and other delicious snacks – a perfect shop before you head off for a picnic.
If you're self-catering, wander up the footpath over the footbridge to the Southwold side of the harbour. Here you can buy cheap freshly caught fish and seafood from a number of local sellers to cook up once you're back home. While you're there, treat yourself to a very reasonably priced lunch at Le Roc @ the Harbour Café. With a focus on simple French classics, cooked to perfection, and impeccable service by friendly staff, there's no better place to sip a glass of cold wine and watch the boating world go by.
Plus, what would a seaside village be without a cosy pub? Good news as Walberswick is home to two – The Anchor and The Bell Inn.
The Anchor is a haven for seafood lovers. Here you'll find an abundance of fresh seafood, from oysters and salmon to beer-battered cod and smoked haddock. There's also a number of traditional pub favourites that will go down a treat.
On the other side of the village, you'll find The Bell Inn. This 600-year old pub is steeped in history and features cosy snugs and hidden alcoves galore. Enjoy traditional, homecooked meals that are perfect for tucking into after a long day spent at the beach.
Read more articles like this