Beauty tech: our pick of the best products
Looking to invest in some beauty tech? There are plenty of high-tech, at-home beauty devices on the market promising to tighten, tone and transform the face without having to visit a clinic or go under the knife.
These are a pain-free and convenient solution for those looking to turn back the clock but, as with our favourite skincare serums, the key to visible, lasting results is using them diligently. Here we share our favourites.
The best in beauty tech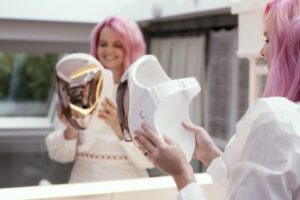 This LED mask is at the very cutting edge of beauty tech and promises to treat a variety of skin ailments from inflammation to fine lines, acne to eczema. Using patented NASA-derived technology and a huge 1026 LED lights, it's more powerful than any other LED tool on the market.
Liz trialled the device for six weeks and couldn't have been more impressed by the results. "Quite simply, I have never seen such a dramatic and positive effect on my ageing skin," she says. "My skin is plumper, firmer and more youthful-looking."
The device has four treatment settings that use different colours of  therapeutic light to tackle different skin concerns. Its red light setting makes light work of rejuvenating ageing skin on the face and neck; the pink light setting soothes inflammation (associated with eczema, redness and rosacea); while the blue light setting helps target acne-causing bacteria.
The treatment is entirely painless and takes approximately 20 minutes. For best results, CELLRETURN recommend using the device three times a week.
RRP £1,689
Use LIZLOVES23 for 10% off at CELLRETURN UK
This handy, FDA-approved device (much-loved by facialist Abigail James) runs low-level microcurrents through the face, boosting circulation and reducing the appearance of fine lines.
It also works to tone muscles under the skin, helping to give the face a toned and contoured appearance. In fact, for those who aren't strangers to in-clinic treatments, tweakments expert Alice Hart-Davis recommends this device as a good adjunct to Botox: "It plumps up the muscle fibres and keeps them in good shape even if, thanks to Botox, those muscles are temporarily deactivated.
The device is portable and easy-to-use. Simply apply a conductive gel to the skin and then slide it upwards and outwards across the cheeks, eyebrows, forehead and jawline. You may notice a slight tingle but there's no pain.
The recommended treatment regime is to use five times a week over two months for visible, lasting results. After this, NuFACE recommend scaling back to two to three treatments per week to maintain a toned and lifted appearance.
(RRP £267)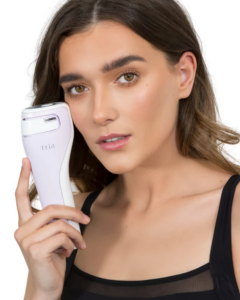 This laser uses a lighter version of the fractional, non-ablative laser technology that's so popular in clinics for treating pigmentation, smoothing wrinkles and rebuilding collagen stores. This convenient, at-home device delivers similar results to the expensive professional treatments, but must be used regularly as it's considerably weaker.
The beams of laser are noticeable but not too painful, resembling a gentle pinprick. It takes about 15 minutes to complete a treatment and skin remains a little pink for an hour or so after.
Tria recommend using the device five days a week for 12 weeks for optimal results.
(RRP £450)
This device uses radio frequency energy to tighten skin and reduce the appearance of fine lines and wrinkles. Like a clinic-based radio frequency treatment, the TriPollar Stop creates heat in the skin which has two results. First, the heat makes the collagen in our skin contract giving it a temporarily tighter and more contoured appearance. The heat also stimulates collagen production for long-lasting results.
The device can be used on the hands and neck as well as the face and, like the NuFACE, it needs a conductive gel to work its magic. You simply slide it around a small area of the face until the orange light lets you know to move on to another patch. There's no pain associated with using the device but it feels very warm (sometimes uncomfortably hot) against the skin. The treatment takes 20 minutes and leaves the skin looking pink for about half and hour afterwards.
TriPollar recommend treating the skin 2-3 times a week for 6-8 weeks for best results. After that, they recommend a maintenance treatment of 2-4 times per month or as needed.
(RRP £349)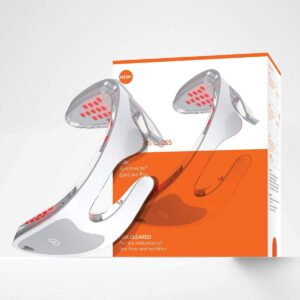 This easy-to-use LED device targets the fine lines and wrinkles around our eyes. The 72 red and amber LEDs have been positioned to soften 'elevens', the parallel creases that can develop between our brows, and crow's feet.
What's brilliant about this particular device is that it's hands-free, comfortable to wear and less cumbersome than similar devices on the market. You simply attach the eye mask to your face (like a pair of sunnies).
The pain-free treatment only lasts three minutes but, during that time, it's easy to get on with what you'd normally be doing and therefore to squeeze into your daily routine (essential for best results). A ten-week clinical study showed a visible improvement in fine lines and wrinkles in 97% of trail participants.
(RRP £175)
Read more like this