Sarah Raven: My Wellbeing Weekend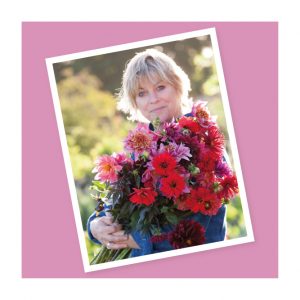 The gardener, cook, writer and television presenter shares her favourite ways to relax and enjoy the weekend, from homegrown meals to willow weaving and wandering through Cretan olive groves.
Retail therapy
Meeting one or both of my daughters for a clothes-shopping spree, usually in London, with breakfast or lunch at The Wolsey, is my favourite way to unwind. It's a bit of a family tradition and always feels like a major treat. I also do a lot of my writing at the weekend 0 clearing my desk of articles, writing course handouts and pulling together slide shows for teaching the following week. Now the children have left home, it's a clear moment without much going on, so it's a good time to concentrate.
Home time
I mostly spend weekends at home, Perch Hill farm. With the garden full of food and flowers, it's one of the loveliest places to be, particularly from April to November. For those months, there's hardly a need to get into the car to shop. That's one of the joys of being here.
I love seeing friends…
…at the weekend, and best of all is when we make things together – harvest and cook a delicious meal. My newfound favourite small-group activity is spending a weekend under the tutelage of Annemarie O'Sullivan, weaving baskets from her homegrown willow. It's creative, absorbing, peaceful and tiring all at the same time.
The dream weekend
The Amari Valley in the middle of Crete in spring would be the location for my dream long weekend. I'd walk for most of the morning on the old donkey tracks through olive groves and an extraordinary abundance of wildflowers, to a taverna to have a simple, delicious lunch. Greek food is my favourite and Amari food is some of the best. Then I'd head back for a read and a siesta, before another walk early evening.
Work/life balance
I love what I do and it's difficult sometimes to draw a line between work and life. I think about new collections, plant combinations and bunches most moments of most days… I really need to go away from home to fully relax.
Brunch time
Weekend brunch has to be dry cure, unsmoked bacon with sourdough (we have a couple of great local bakeries near us in East Sussex – The Lighthouse and Judges) with properly ripe avocado and my homemade tomato and chilli jam. My weekend treat is a seared fillet of beef with ginger and soy-dressed garden leaves and sweet potato dauphinoise. There is a great recipe for this in my most recent cookbook, Good Good Food.
Visit Sarah's website for information on her unique plant combinations, cookery books and more.