Mother's Day: Liz on living well with daughter Lily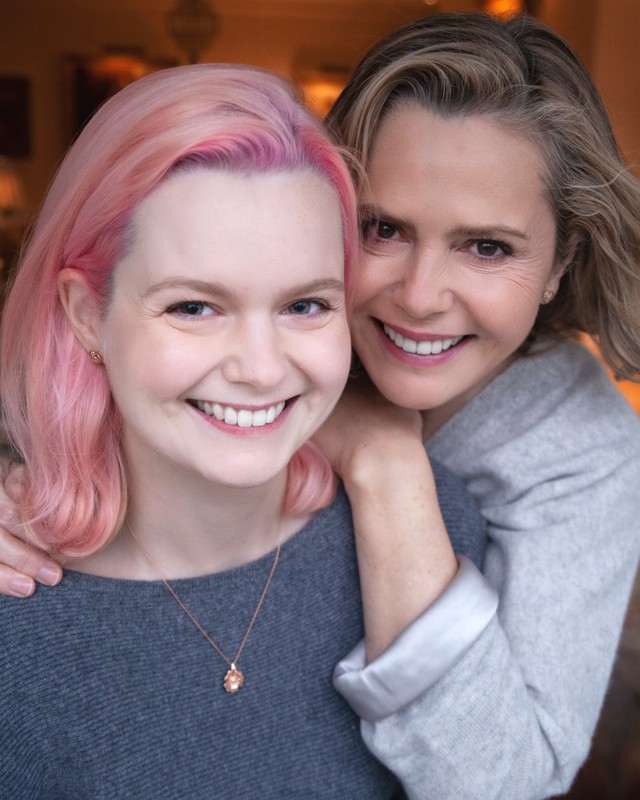 This Mother's Day, we're celebrating all the wonderful ways you can boost your wellbeing alongside your family with this special interview from Liz.
Liz explains how she spends time with eldest daughter Lily, and the activities they do to boost their wellbeing.
From wild water swimming to walking the dog, find inspiration this Mother's Day for welbeing activities to enjoy with your nearest and dearest.
Do you and Lily regularly work out together?
Keeping fit and staying well is important for both of us. We'll often work out together as a way to catch up on life, as well as squeezing in fitness. We'll go for a walk together with Lily's rescue pup, Basil (otherwise known over on Instagram as @BotanicalBaz). Dog walking is a favourite activity, or we'll step things up and head out for a park run if we're feeling more energetic! We also share a Pilates teacher and sometimes do joint sessions too.
What's been your best new fitness activity?
We started cold water swimming together last year. This was partly because Lily suffers with migraine and I'd heard it can help with menopause symptoms so I wanted to find out more. Plucking up courage to take the plunge into freezing cold water outdoors definitely requires a bit of nerve, especially the first time. Going together meant we could encourage and support each other – egging each other on to be the first to step into the icy waters! It really works too. Now we race each other in and encourage each other to stay in that bit longer. It's very reassuring to have someone else so close to you when exposing yourself to something so new and extreme.
With 36 books to your name Liz, mostly food related, how have you influenced Lily's diet over the years?
As my eldest child, Lily was always the guinea pig. For the first few years of her life, she grew up pretty much sugar- and processed food-free. I think I relaxed a bit more with her brothers and sister when I realised that a little bit of most things is a better balance.
I do now try and encourage Lily to eat lower carb and higher fat (potentially even keto), specifically to help with her migraines. I've read that this can be helpful for all kinds of chronic pain conditions. Experimenting with new keto-style recipes or popping round for a quick supper to try out a new dish is something I really enjoy. It gives me the opportunity to stock her fridge with things that I think might be helpful for her too (including kefir, obviously!). I don't think you ever stop wanting to 'mother' your children, even the grown-up ones!
Do you share any hobbies?
We're both big into learning new skills, which is lucky and we're often asked to go and try new activities to review for the magazine. We've done pottery classes and darning workshops together, as well as arts and crafts – we both especially enjoy fun activities that have a practical purpose too. I think I get this from my own mother, as she and I still go to embroidery and craft workshops together too.
Do you go on holiday together?
My family tends to have one or two big family gatherings a year around Easter and Christmas. We'll also have the occasional week away with grandparents in the summer. Beyond this, Lily and I probably travel more together than any other members of the family. We have the opportunity to review spas and unusual retreats for the magazine's travel pages.
We make a good double-act. Lily's brilliant digital skills means she's good at taking photos and making films for social media. If I'm invited to review a new spa or restaurant opening, I'll often take Lily as my plus one. She's also a great travelling companion for hotel reviews as we share a room to make the most of our time together, which helps keep the costs down too.
How do you find working together?
I love working with Lily. It seems quite natural as we get on so well and I have a huge respect for her tech-savvy skills that are often beyond me. She calls me 'Liz' when she's in work mode and then naturally slips back into 'mum' when she's off duty!
She's especially good when we're doing photo shoots as she has a good eye, so not only makes an excellent stylist but she knows my own wardrobe inside out (having borrowed so much of it over the years…). She knows what suits me best and what I most like to wear. She can then call in various outfits and accessories that will work with the clothes I already have. I feel very fortunate to have a job that enables me to spend so much time with my daughter, doing something we both love so much.
Read more articles like this