Bathroom ideas – our favourite products
With the majority of us spending more time than ever at home recently, it may have got you thinking about updating the decor. But, if you're not keen to experience the hassle of redecorating, there is another way. Adding a few simple accessories is an easy way to update your living space. If you're looking for bathroom ideas, we've put together a collection of our favourite items to inspire you.
Forget minimal white and clean lines – go bold in the bathroom with a colour-fest of fabulous patterns, paints and textiles. From jazzy one-of-a-kind mirrors to inspiration for painting your bathtub (yes, really!), enjoy exploring our top list of vibrant bathroom ideas.
Bathroom ideas to brighten your home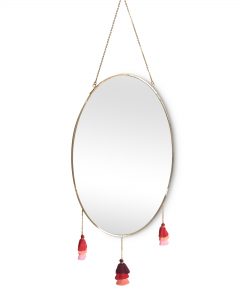 Mirrors, along with their practical function, help to give the appearance of a bigger space. Instead of opting for the traditional and plain square of reflective glass, opt for something a little different to refresh your bathroom.
Brighten up a plain wall with a perfect pop of pretty colour. We love the tassled oval mirrors from Oliver Bonas. These playful mirrors are a fun way to update your bathroom.
Find out more about tassled mirrors from Oliver Bonas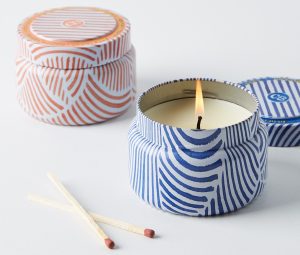 Up the indulgence of bath time with the addition of candles. While providing a relaxing glow, candles are a fantastic way to fill a room with your favourite scent.
We love the Capri candle tins from Anthropologie. These jazzy candles brighten up bathrooms with a pop of colour. They also have a gorgeous fresh floral scent – perfect for spring and summer.
Find out more about candle tins from Anthropologie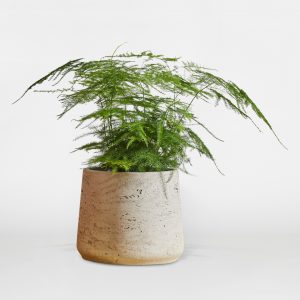 Plants are an easy way to brighten up any living space. This beautiful fern is far more robust than its fine feathery fronds might suggest, and is the perfect addition to any home.
These moisture-loving plants are ideal for the bathroom. Pop in a bright space, out of direct sunlight to get the most out of your plant.
Find out more about ferns from Patch Plants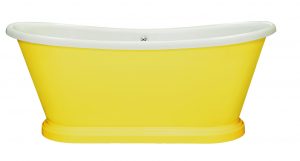 Who said baths needed to be white? Make a bold statement and paint yours any colour of the rainbow with B C Designs.
Select a colour that fits in perfectly with the rest of your scheme. From sunshine yellow to a deep berry, there's a huge number of colours to suit every style and home. It's an easy and effective way to breathe new life into your bathroom.
Find out more about the bath painting service at B C Designs
Is there anything worse than stepping out from a shower onto a soggy bath mat? Instead, bring a taste of the spa into your bathroom with a wooden bath mat.
These sauna-style bath mats elevate you from cold bathroom floors. They're quicker to dry and easier to clean than their material counterparts too.
Find out more about wooden bath mats from Wayfair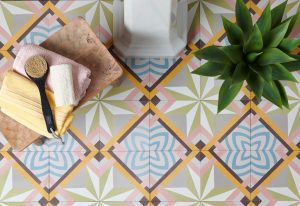 Make more of your floor with bright tiles. Updating your flooring can give your bathroom an entirely different look. We particularly love the Havana encaustic tiles from the Artisans of Devizes with their eye-catching pattern.
These tiles are a wonderful way to add a pop of colour to neutral bathrooms. Complete the look with fresh towels and vibrant houseplants for a fresh and updated design.
Find out more about Havana encaustic tiles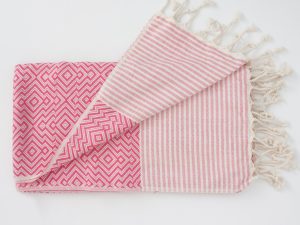 Go light with the softest and most stylish towels to take you from bathroom to beach. These towels from Bohemia Design are ethically handwoven on traditional wooden looms using soft cotton. Lightweight and quick drying, these cotton towels make ideal travel accessories too.
Plus, they can even be styled up outside your bathroom too. Use as an eye-catching throw in the living room or bedroom.
Find out more about towels from Bohemia Design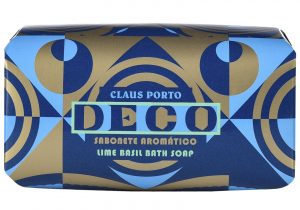 For a final flourish of design, treat yourself to a luxurious bar of soap. The Claus Porto Deco bath soap is creamy and  an oh-so-stylish gift-worthy soap that looks almost too good to unwrap.
The Claus Porto Deco bath soap in lime and basil is blended from vegetable oils and shea butter extract to create a silky smooth, creamy lather. This soap is super long lasting and infused with a fresh, green fragrance.
Find out more about Claus Porto Deco soap
Read more articles like this