Liz Loves: Discover Liz's favourite products
Seen an item of Liz's that you just have to have? Here you'll discover her personal favourites with Liz Loves, a collection of things that Liz just, well, loves! We'll regularly update this page with items that Liz has been using and chatting about recently online, in the magazine and on our social media channels. Plus, keep an eye out for exclusive offers and discount codes.
Liz's easy hair tutorial
Before completely drying her hair, Liz likes to spritz a setting spray throughout – such as the L'Oréal Techni.Art Pli Shaper. This spray helps to protect hair from heat damage, gives an added shine and can assist with styling.
Liz dries her hair going against the natural parting and fall of her hair. This helps to give added lift and volume. Once dry, cover up any roots with Colour Wow. From here, she uses a vent brush and GHD Original IV straighteners to twist, curl and style her hair.
Finish the look with a spritz of unscented hairspray – such as this one from Elnett – to secure your look.
For an easy up-do  Liz also loves these simple Chignon Style Pins! 
Liz's everyday glam make-up tutorial
Prep skin
Before applying any make-up, ensure skin is clean and prep with the Jeju Super Stem Cell Moisture Shot Serum from Beauty Pie. This serum is great for giving skin an extra moisture boost. Use the code LIZLOVES at Beauty Pie for your first month free.
Another added treat to prep your skin can be with the Rose + Neroli Hydra-Vitalizing Treatment Mist from Odacite. Spritz on to skin for a fresh and dewy glow.
Apply an even base
Spend time applying an even base with your foundation. Having a selection of different foundations will help to match skin tone as it changes throughout the year. Liz loves the coverage that YSL's Touche Eclat foundation offers. Liz blends this with a little make-up primer – such as Nude Radiance from Burberry – before applying to the face. Work this well into the skin, sweeping over eyelids, up into the hairline and a little down the neck.
To hide any dark circles and eye bags, use a few spots of IT Cosmetics Bye Bye Under Eye Concealer or Clarins Instant Concealer under each eye. Dot a tiny amount into the inner corner of the undereye and use your ring finger to gently work into the skin.
Sculpt your features
Bring colour to your face with a touch of rouge. Liz loves the Bobbi Brown Pot Rouge. Smiling can help to find the apples of your cheeks. Then simply add a few spots of blush and works upwards into the skin for a fresh glow. Another blush that Liz loves is the Smart Powder Blush from Beauty Pie in Peach Dreams. Enjoy your first month free at Beauty Pie using the code LIZLOVES.
Set your base with a translucent setting powder. Use a big brush and pat into skin, smoothing all over and down into your neck.
Bronzer is a great way to add definition. Liz recommends this palette by St Tropez. Use a sturdy powder brush and gently brush into cheeks and under the jawline to create the illusion of shadow.
Define your eyes
Add some eyeshadow to your look – Liz loves the 10 best matte eyeshadow shades from Beauty Pie. Sweep a smoky colour over your eyelid and then a paler shade to brush over the top. This helps to blend any dark lines and add a touch of softness to your look. You can also use eyeshadow to gently define your brows and fill in any gaps.
IT Cosmetic's Tightline 3-in-1 mascara is ideal for prepping your lashes for mascara. Wiggle into the lash line to emphasis lashes while depositing a little colour. Complete your eyelashes by adding Clinique Lash Power Mascara. Bring an emphasis to your outer lashes to give eyes a feline look.
Adding eyeliner – such as Charlotte Tilbury's Rock n Kohl – adds definition. Liz loves to frame her eyes by adding a small cat eye flick to the edges of her lid.
Finish with lip gloss
Complete your look with a slick of lip gloss. Liz loves this one from Kjaer Weis in the shade Intimate. The brand offer refills, providing an eco-friendly option for your make-up bag.
Liz's eyebrow tutorial
Liz shares the simple tricks and tips she uses to make her eye area appear lifted and brows thicker. Find all of the products Liz uses in the links below.
Products in the video
Eylure Dybrow kit
Give your brows an added element of definition with Eylure's Dybrow kit. Sweep over the hairs of your brows to give them some added colour, taking care to avoid the skin.
Lansinoh HPA purified lanolin
Create a simple skin-friendly barrier and protect your skin from eyebrow dye with medical grade purified lanolin from Lansinoh. Sweep above and below brows.
Magnifying mirror
Get a closer look at your eyebrows and tweak them in fine detail with a magnifying mirror. We love this one from John Lewis.
Tweezerman tweezers
There's nothing more frustrating than slippy tweezers. For good grip and precise hair removal, Liz recommends these tweezers from Tweezerman.
Eyebrow brush
Gently brushing eyebrows upwards can help to give the effect of a lifted eye area. This duo brush is ideal for the job.
Eyeshadow
Filling in any gaps with a brush of eyeshadow helps to make brows appear fuller and thicker. Liz loves the eyeshadow shades from Beauty Pie – enjoy for first month free with the code LIZLOVES – and also the MAC eyeshadow shade, Kid.
MAC Eyebrow Styler Pen
Give brows the finishing touch with the MAC Eyebrow Styler Pen and set in place with a little brush of hairspray.
Liz's daily make-up routine
Liz reveals her beauty staples that she uses every day in her beauty routine. Follow along with Liz in the video below for a daily make-up routine that will leave your skin fresh and glowing.
Products in the video
Chanel Vitalumiere foundation
After prepping my face with a good serum, the first thing I do is apply my foundation. I love the Chanel Vitalumiere with SPF15 in a warm, pale shade (such as shade 30 or Beige, but there are other shades available for different skin tones) and I mix this with a cheaper high streeet brand (such as Rimmel Lasting Radiance from Superdrug) to adjust the colour. This is a really effective way to make your foundation match your skin, even as you tan throughout the warmer months.
Clarins Instant Concealer
I'll then use a creamy concealer below my eyes, especially in the corner of the eye socket by the bridge of the nose. I find Clarins Instant Concealer works really well, lasts all day and doesn't dry or cake.
Clinique Chubby Stick
I love using cream or stick blushers as they are so easy and versatile – you can slick them over the lips too! The Clinique Chubby Stick is excellent in this pretty shade, and I also love this one from Bobbi Brown.
Laura Mercier translucent face powder
Once foundation, concealer and cream blusher are in place, I top with a light dusting of translucent face powder. I've used Laura Mercier for years and consider it to be one of the best, especially when applied with their lovely, luxurious powder brush too.
Face illuminator
Once powder has been applied, I go over my cheek bones and temples with a light sweep of face warming illuminator, such as this one from Laura Mercier – which gives a lovely, naturally warm finish.
Rose blusher
If I want to deepen my blusher (for the evening perhaps) I'll apply a 'pop' of bright rose blusher for added effect. Another blush that I use pretty much every day for a subtle flush of healthy colour is the Smart Powder Blush from Beauty Pie in Peach Dreams. Enjoy your first month free at Beauty Pie using the code LIZLOVES. 
Eyeshadow from Mac
Next the eyes, and I'll use just a single soft brown eyeshadow, in a softly matte finish for the most natural look. I love the Mac colours often use the shade Wedge, which I also use to define eyebrows too with a small eyebrow shaping brush.
Charlotte Tilbury liquid kohl pencil
I like to highlight the waterline of my upper eyelids with a soft but long-lasting liquid kohl pencil. I've found this from Charlotte Tilbury to be one of the very best – and it's a great shade of soft minky black that sharpens easily and can easily be used as an eyeshadow too!
Clinique High Impact mascara
Last but not least, this is one of my favourite mascaras for staying in place, never smudging or shedding, yet is very easily removed with warm water at the end of the day.
Lanisoh HPA Purified Lanolin
I like to use this brand of medical grade purified Lanolin to add moisture and instant gloss to my lips. It is also a brilliant way to moisturise dry hands and cuticles.
Liz's favourite exercise products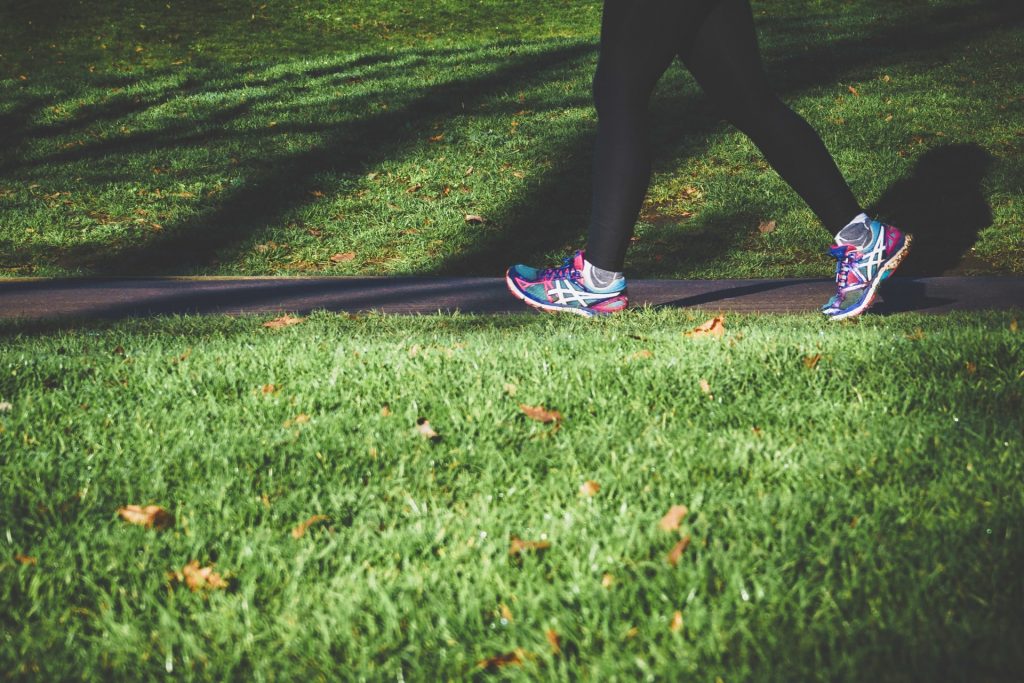 Good shoes make all the difference and should be changed every year or so, as their support and inner padding reduces with wear. Saucony or Adidas provide excellent arch support for novice runners.
Liz wears the Ultraboost running shoes/trainers – you might have spotted them in some of her videos on social media. They're not the cheapest, varying in price depending on the exact style (expect to pay around £110), but in Liz's experience, they are the best. They give the most cushioning, are very comfortable to wear and also last the longest.
Liz also likes to wear a simple weighted slipover vest, which increases the load, helping to boost the metabolism and burn fat faster! Running while wearing a weighted vest is such a simple, yet highly effective way to get more out of your exercise time. Wearing ankle weights is another easier way to increase the load – Liz often wears them around the house.
Resistance bands are another favourite of Liz's. These are excellent aids for home workouts and can help to increase the intensity of your exercise.
Read Liz's guide for runners of all ages and stages
Exclusive discount codes with Liz Loves
15% off Bimuno.
Bimuno is a brand that offers supplements to nurture and encourage the good bacteria in your gut. Enjoy 15% off your order with Bimuno, using the code LIZLOVES at checkout.
15% off at Ishga skincare
Discover a range of beauty products that harness the natural anti-oxidants, healing and anti-ageing properties of Scottish seaweed with the products from Ishga skincare. Hebridean seaweed is harvested by hand for Ishga's products, being environmentally friendly while also promoting sustainability. The seaweed is then gently dried and milled to create the extracts and powders used in the Ishga skincare products. Enjoy 15% discount across your entire order with the code LIZLOVES at checkout.
20% off at Asquith
Asquith create beautiful clothes that are perfect for working out in or relaxing at home. Liz Earle Wellbeing readers enjoy an exclusive 20% off each shop at Asquith. Simply enter the code LIZEARLE20 at checkout for your discount.
20% off at New Ground Coffee
If, like Liz, you love delicious and sustainably sourced coffee, then the Oxford-based New Ground Coffee is the one for you. The brand offers a brilliant subscription service that allows you to personalise your order depending on how much you drink, and how you make your coffee, from stove top, to cafetière they choose the perfect grind for you. Alongside the range of ethically sourced coffee, this company strives to make a positive social impact, providing training to ex-offenders in the Thames Valley area to offer them a long term, sustainable future.
Use the code LIZLOVES to receive 20% off your coffee order, available until the 31st August 2020.
Find out more about New Ground Coffee
10% off at The Travelwrap Company
The Travelwrap Company is a much-loved British brand that designs cashmere knitted wraps. These luxurious wraps are perfect for snuggling yourself up in on chilly days and are also ideal for travelling with on long journeys. The Travelwrap Company is offering Liz Earle Wellbeing readers 10% off their entire range with the discount code LIZLOVES10.
Find out more about The Travelwrap Company
10% off at Aspiga
Aspiga was founded by Lucy Macnamara after she fell in love with the craftsmanship she discovered while on holiday in Kenya. Lucy felt that this beautiful artistry needed to be shared with the world. Aspiga was born and sets out to provide beautiful, quality, handmade goods from artisan crafters to an international customer base. Liz Earle Wellbeing readers enjoy an exclusive 10% discount at Aspiga. Just enter the code LIZLOVES at checkout.
Your first month free at Beauty Pie
We love Beauty Pie here at Liz Earle Wellbeing – listen to our podcast episode with the brand's founder here. This brand offers an alternative approach to make-up and skincare. Beauty Pie is a subscription-based service that saves you money on luxury and high quality products – in some cases up to 80%. Get your first month free at Beauty Pie using the code LIZLOVES at checkout.
Find out more about Beauty Pie
10% off at Firetree Chocolate
Firetree Chocolate goes direct to the source to find the ingredients for its products. By trading with cocoa farmers directly, Firetree Chocolate pays a substantial premium above the market rate, giving farmers the chance to provide for their families and commit to high agricultural standards. The chocolate produced by Firetree is of premium quality with a rich cocoa content, providing that delicious chocolate hit without any hidden nasties and overloading on sugar. Enjoy 10% off your Firetree Chocolate order by using the code LIZLOVES at checkout.
Find out more about Firetree Chocolate
15% off at Life Armour
Life Armour is a brand that creates products from natural ingredients to promote your wellbeing. The company puts an emphasis on the need for calm, with its products aimed at providing a protective effect from the stresses of everyday life. Liz Earle Wellbeing readers can enjoy 15% off all Life Armour products. Simply enter LIZLOVES at checkout. Their Slumber Drops are one of Liz's all-time favourite wellbeing products.
Find out more about Life Armour
10% off at The Naked Pharmacy
The Naked Pharmacy is a brand that offers natural remedies and supplements to support your wellbeing. Liz especially enjoys Saffrosun, created by The Naked Pharmacy. This natural supplement contains components that have been proven to improve psychological balance, tiredness and promote sleep. Enjoy 10% off all products at The Naked Pharmacy by using the discount code WELL10 at checkout. Liz is a special fan of their Saffrosun for helping with anxiety, including an excellent version for children.
Find out more about The Naked Pharmacy
10% off at Nice Cream London
Indulge in some luxury bedding with Nice Cream London. From sheets and soft, silk pillowcases to silk eye masks and socks, Nice Cream London has everything you need for the perfect night's sleep. Use the Nice Cream London discount code LIZLOVES for 10% off your order.
Find out more about Nice Cream London
10% off at True Grace
Enjoy filling your home with fragrance and even making your own candles with True Grace. This brand creates gorgeous candles, diffusers and room sprays, inspired by the natural fragrances of the great outdoors. Enjoy 10% off your purchase using the discount code LIZLOVES at checkout. Liz featured their brilliant candle making kit on her IGTV.
Find out more about True Grace
20% off at LBB Skincare

LBB Skincare creates quality and streamlined skincare for women on the go. Find out more about this brand in our interview with the founder here. Liz Earle Wellbeing readers also enjoy a stunning 20% off when shopping at lbbskin.com. Just use the code LIZLOVES at checkout. Liz featured the A-Game moisturising stick and is a special fan of this product.
Find out more about LBB Skincare
20% off at Koy Clothing
Koy Clothing is a brand based in Kenya that produces beautiful clothing for men and women. Along with this, a percentage of sales from Koy Clothing go into funding local community projects in Kenya, helping to support people and wildlife. Enjoy 20% off your order at Koy Clothing. Just use the code LIZLOVES at checkout.
Find out more about Koy Clothing
10% off at Salcombe Dairy
Salcombe Dairy is a family-run brand and uses milk fresh from Devon in its products. Along with chocolate, you'll also find the company produces delicious ice cream and frozen yoghurts. Use the code LIZLOVES at checkout for 10% off your order.
Find out more about Salcombe Dairy
15% off Agua De Madre
Agua De Madre is a brand that makes delicious water kefir. Choose from Original or Pomegranate and Hibiscus flavour for a truly delicious gut-friendly drink. Enjoy 15% off your order using the code LIZLOVES at checkout. 
Find out more about Agua De Madre
10% off with Lavender Hill Clothing
Lavender Hill is a clothing company that's passionate about the traceability of its items, including where the materials are sourced and how they're made. Enjoy 10% off your order using the code LIZLOVES at checkout.
Find out more about Lavender Hill Clothing
10% off with The Governor Extra Virgin Olive Oil
Liz Earle Wellbeing readers enjoy an exclusive discount when shopping at The Governor, a tried-and-trusted family brand of EVOO. Simply enter the discount code LIZLOVES10 at checkout and receive 10% off your purchase.
Find out more about The Governor Extra Virgin Olive Oil
10% off with Holistic Silk
Holistic Silk creates beautiful silk products – from eye masks to hair turbans – that support your wellbeing and ease you into a good night's sleep. Enjoy 10% off your order by using the discount code LIZLOVES at checkout.
Find out more about Holistic Silk
15% off with Isla Apothecary
Isla Apothecary produce beautiful skincare products that are made from natural, organic ingredients. Enjoy 15% off your order at Isla Apothecary with the code LIZLOVES at checkout.
Find out more about Isla Apothecary
20% off with Prosody
Prosody create gorgeous sustainable, plant based fragrances made from over 90% organic ingredients. Developed in London and produced in the English countryside on the fringe of the North Wessex Downs. Prosody London also supports charities concerned with Fair Trade, Clean Water and the Education of Girls in many developing nations. Liz adores the Neroli Nuance! Enjoy 20% off with LIZLOVES. 
Find out more about Prosody London