The wellbeing benefits of geraniums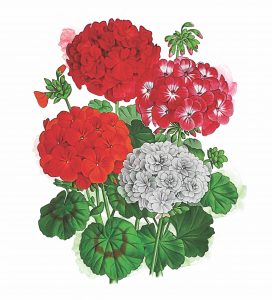 Many of us will recognise the cheerful red, pink and white flowers overflowing from balcony boxes as geraniums. While multiple varieties continue to brighten balconies, it's the sweet-smelling Geranium pelargonium (also known as the rose-scented geranium) that is the star of the bunch and is now widely used in cosmetics and perfumery. Read on to discover the health and wellbeing benefits of this perfumed perennial, from why it's the perfect travel companion to its surprising effects on hormonal health.
First-time Mothers
It's no surprise that anxiety increases dramatically during labour, particularly among first-time mothers. Research has shown, however, that anxiety can slow the progress of labour, make it more difficult for the mother to manage the pain, and even increase the likelihood of birth complications. Interestingly, in a study examining 100 first-time mothers, the aroma of Geranium pelargonium showed a statistically significant reduction in the anxiety and blood pressure of mothers during the first stages of labour.
Try it: Instead of adding to the endless baby supplies, give the gift of calm to expectant mothers with a bottle of geranium essential oil.
Hormone Helper
Pregnancy aside, a study has shown that a weekly aromatherapy massage with geranium oil can help to alleviate depression in post-menopausal women: it helps to uplift mood, reduce fatigue and promote emotional wellness. While the massage therapy alone was shown to improve the participants' wellbeing (no surprise there!), the addition of aromatic geranium oils significantly improved the results.
Try it: Lie on your back with a pillow under your knees to ensure your tummy is relaxed. Mix geranium essential oil with almond oil, then apply light, circular strokes to the lower abdomen with the palm of your hand.
Flu-fighter
A 2013 review of eight studies found that Geranium pelargonium may be effective in relieving the symptoms of colds, bronchitis and sinusitis in adults and children. The study participants were all patients for whom antibiotic therapy was felt to be unnecessary.
Try it: At the first signs of a cold, add a couple of drops of geranium essential oil to a bowl of steaming water and inhale.
Scent of summer 
Uplifting, energising and floral, geranium is the perfect scent for early summer. For those planning on heading for warmer climates, save space in your luggage – there is some evidence to suggest that this scent helps to repel mosquitoes and other insects.
Try it: Our favourite geranium scents include Diptyque Geranium Odorata (from £35, spacenk.com) and, for the body, Neal's Yard Rose & Geranium Body Lotion (£21.50, nealsyardremedies.com).
Loved this? Read more: 
The best plant oils for your skin