Giving Gardens: Three of our favourite green spaces to visit
Whether it's a flourishing veggie patch supplying a Michelin-starred restaurant, or a calming and uplifting open-air escape, it's in the nature of gardens to give. Here we step out into three bounteous space and discover how we can all enjoy their wellbeing benefits.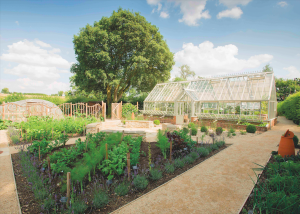 Belmond Le Manoir aux Quat'Saisons, Oxfordshire
From plot to plate, it's simply a short walk up the garden path for 160 fresh ingredients at Belmont Le Manoir aux Quat'Saisons. Nestled in the picturesque Oxfordshire countryside in the village of Great Milton, Belmond Le Manoir holds the accolade of having retained two Michelin stars for more than three decades. Chef-patron Raymond Blanc OBE bought the honey-stoned, 15th-century manor in 1984, and with it came 27 acres. Nurtured by head gardener Anne Marie Owens and her team of six full-time staff, the kitchen garden produces 90 types of vegetable and approximately 70 herb types served to diners from spring to autumn. The crop provides for the Raymond Blanc Cookery School, also housed here. The potager is wholly organic and certified by the Soil Association. In summer, polytunnels safeguard blooming courgette flowers – up to 200 of which make their way to the kitchen every day in peak season. Alongside other stalwarts of the British veg patch (think carrots, broad beans and cabbage) some more surprising plants also flourish, such as Vietnamese coriander, used with red wine to steep summer fruits. Meanwhile, one magical corner of the garden is devoted to a mushroom valley, where edible fungi including shiitake, maitake and parasol grow. There is also an orchard of more than 2,500 trees, including 500 grown in Raymond's home region, Bourgogne-Franche-Comté.
Tours led by members of the gardening team take place every weekday except bank holidays (tickets cost £30 and must be booked in advance). For further information, go to belmond.com/le-manoir-aux-quat-saisons-oxfordshire.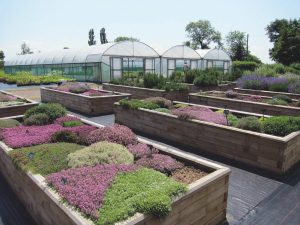 Jekka's Herb Farm, Gloucestershire
When Raymond Blanc wanted a herb garden at Le Manoir, he went to the expert, Jekka McVicar. Jekka – who holds 62 prestigious Royal Horticultural Society gold medals, became vice president of the RHS last year and is the society's Ambassador for Health and Wellbeing through Horticulture – has been creating herb gardens for over three decades. She counts chef Jamie Oliver as another client, and was commissioned by St. John's Hospice (a London-based charity which provides free palliative care) to design its show garden 'A Modern Apothecary' for RHS Chelsea 2016.
Jekka's Herb Farm grows thousands of plants, including 650 different varieties of herbs – there are 70 different thymes, for example – using organic methods. Four years ago, Jekka embarked on creating a herbetum at the farm – a collection (etum being the Latin for collection) to help increase our understanding of herb families, species and varieties, and teach people how to grow them. A thriving patchwork of plants laid out in raised beds, it showcases herbs that can be both eaten and used in the home. There are indigenous herbs such as angelica (young leaves can be used in a salad) and Scots lovage (seeds can be added to soup and bread). It also showcases exotics like Ferula asafoetida, which is popular in Arabian cooking. All the herbs are propagated on the farm and can be grown in British gardens, for use in the kitchen, attracting pollinating bees, herbal medicine, or simply because of their good looks. Jekka runs masterclasses at the farm covering topics from propagation to herb garden design to how to use herbs (such as in herbal teas). Open days also provide the chance to explore; many of them are free and some are held for charities such as The National Garden Scheme or RHS. The majority of plants at the herbetum are available to buy, and can also be ordered for collection from the farm. For more details, head to jekkasherbfarm.com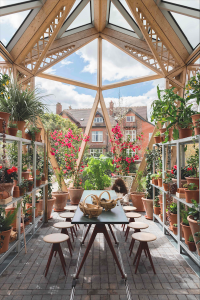 Maggie's Centres
The gardens at Maggie's Centres give in another way. The centres – the first of which opened in Edinburgh in 1996, and of which there are now 19 in the UK and abroad in Hong Kong and Japan – are where Maggie's offers free practical, emotional and social support to people with cancer, and their families and friends. The centres are found in the grounds of specialist NHS cancer hospitals. Each one is uniquely designed, but all feel homely rather than institutional, and there's a big kitchen table at their heart.
Maggie's Centres are designed by architects including Zaha Hadid (Maggie's Fife), Richard Rogers (West London) and Norman Foster (Manchester). And renowned garden designers have created the outside spaces. These add to the healing environment by connecting visitors to nature and being pleasant places to sit and relax. At Maggie's Edinburgh, Emma Keswick's garden is designed for year-round colour, with hellebores, peonies and geraniums. At the centre in Manchester, Dan Pearson's design includes a fruit and vegetable garden, and a glasshouse with succulents, ferns, citrus and bougainvillaea.
No referral or appointment is needed to visit Maggie's. To find your nearest centre, and to see how you can help support their work, visit maggiescentres.org 
Loved this? Read more: 
In the garden with Sarah Raven