The best candles for cosy nights in
The best candles can make all the difference to an evening spent at home. As the night draws in, there's little better than the warming flicker of a gorgeously scented candle while getting cosy with a hot drink, a good film and something delicious to eat.
We've put together a list of some of the best candles to help set the atmosphere and fill your home with gorgeous aroma.
Still, Positive Energy Candle by the Universal Soul Company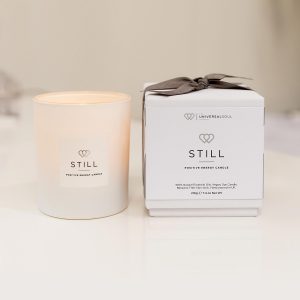 Bring a moment of tranquility to your home with the Still candle by the Universal Soul Company. This stylish and elegant candle looks equally at home in your bedroom, bathroom or living space. Plus, with approximately 50 hours burn time, it'll last night after night.
This is one of the best candles for relaxing with. With grounding notes of patchouli and middle notes of lavandin, Still will ease away the tensions of the day. Plus, it burns cleanly, taking away the worry of unsightly black marks on walls and ceilings.
Buy Still, Positive Energy Candle £30
Scent to De-Stress, Neom Organics
The Scent to De-Stress range from Neom Organics perfectly blends lavender, rosewood and jasmine for luxurious relaxation. Each candle is made from 100% natural wax, with pure essentials oils – rather than synthetic ingredients – providing the gorgeous aroma.
We particularly love this scent in the three-wick version of the candle. These three flames work to evenly melt the wax across the surface area of the candle. You may find that the candle lasts longer than some traditional one wick varieties, which have a tendency to burrow a channel through the centre of the wax.
Buy Scent to De-stress three-wick candle, £46
Seven Seas, Delilah Chloe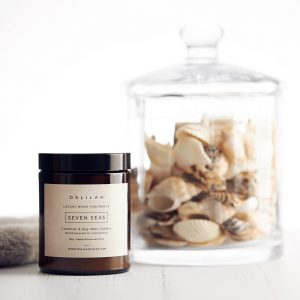 The Seven Seas candle by Delilah Chloe will transport you to warm evenings spent by the sea. Scented with bergamot and amber, it's aroma includes citrus orange notes with a rich base of coconut, almond and vanilla. Ultimate escapism in a candle. This subtle pot burns for up to 35 hours.
Each candle is hand-poured in Lancashire using coconut and soy wax, making them vegan-friendly too.
Buy Seven Seas candle, £15
House of Lilah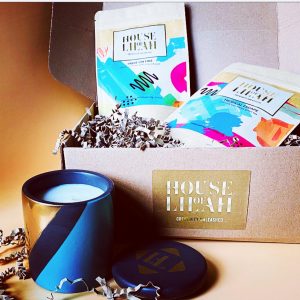 Get creative with House of Lilah. This innovative female-founded brand expertly pairs gorgeous scented candles with luxurious teas for the ultimate evening of self-care. The scents of the candles complement the flavours of the teas, producing an inspiring atmosphere that encourages you to unleash your creativity.
We particularly love the Curiosity Gift Set. Scented with tomatoes, leafy greens and a hint of rose, this candle encourages you to explore and escape, while trying something new. Enjoy alongside House of Lilah's Fruit on Fire loose leaf tea – a warming blend of rooibos tea, apple and chilli.
Find out more about House of Lilah
Dusk, Irusu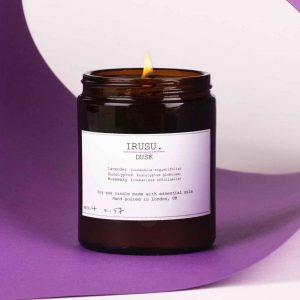 Welcome in the evening and melt away stress and anxiety with Dusk by Isuru. This candle utilizes a soothing blend of lavender alongside rosemary and eucalyptus for a scent that's guaranteed to soothe. With a burn time of up to 45 hours, you'll be able to long enjoy this gorgeous aroma floating around your home.
Sustainability is key to Irusu's message, with each candle using sustainably-sourced soy wax and being hand blended, poured and numbered in London.
Buy Dusk, £25
Calm Candle, The White Company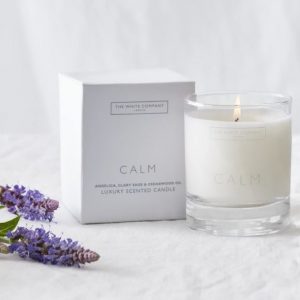 What could be more relaxing than The White Company's Calm Candle, scented with nurturing essential oils? Juniper berry and clary sage, combined with the heady aromas of exotic ylang ylang and sandalwood give this candle a comforting yet sophisticated ambience. With a 33-hour burn time, it's everything you need for creating your very own sanctuary at home.
The White Company's candles are made from the highest-quality mineral wax to ensure a long, even burn and maximum scent release and this candle comes in a neat glass which can be reused once the labels have been removed.
Buy Calm Candle, £20
Make your own signature scent
Making your own candles makes for a fun pastime, whether you're looking to get creative or want to gift a friend something special. We love the candle making kit from True Grace. Each kit contains everything you need to create six beautiful candles at home.
The kit also includes three of True Grace's bestselling fragrances to create your own soothing blend. Choose from Moroccan Rose, Portobello Oud and Seashore to give your candle its own distinctive aroma.
Watch Liz make candles from True Grace
Read more articles like this