Best home workout videos, apps and e-books
Wondering how to keep fit and well while staying at home? The good news is that the internet has made working out easier than ever, with an abundance of home workout options to choose from.
Whether you live in a flat, have plenty of room to bound around in or are looking for something new to add into your fitness routine, we've rounded up some of our favourite home workouts.
Choose from yoga, cardio, strength, dance and everything in between, with options for online streaming services, as well as downloadable e-books and apps.
Support your local fitness providers
Lockdown means that gyms, studios and health centres all over the country have had to close their doors. From personal trainers to yoga teachers, those working in the fitness industry have been severly impacted by the pandemic.
Many teachers have now taken their offerings online. It's well worth checking if your favourite Zumba teacher or Pilates instructor has classes online. This is a great way to support your favourite fitness providers until in-person classes can start again.
Online offerings also mean you can exercise with teachers you may not usually get the opportunity to. Try out new studios all from the comfort of your own home!
A Stronger, Slimmer You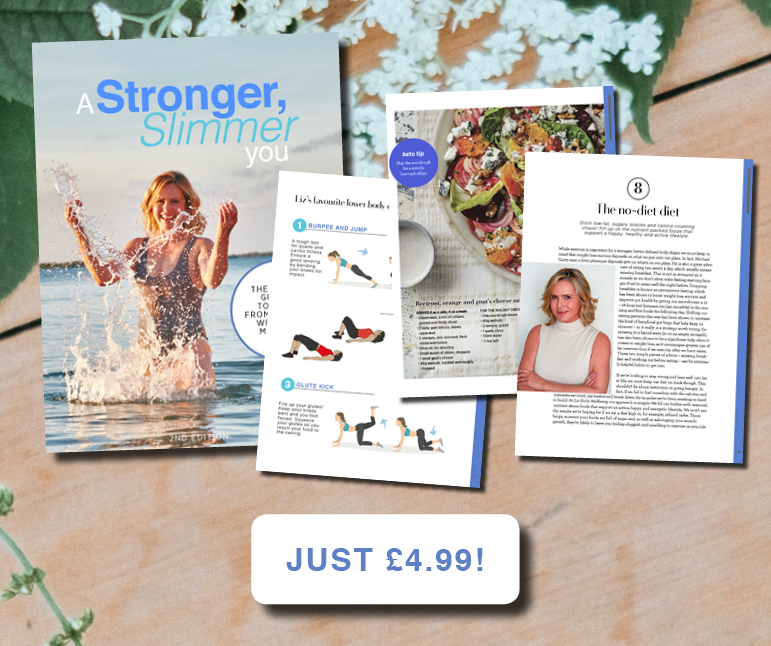 Download a wealth of information with Liz's Stronger, Slimmer You. This guide is packed with simple and gut-friendly recipes, along with easy at-home workouts to make you stronger than ever before.
Enjoy more than 30 pages packed with tried-and-trusted, at-home exercises developed by celebrity personal trainer, Michael Garry, and a number of delicious and nutritious, low GI recipes to fuel your body along the way.
It truly is a one-stop-shop for tightening bums and tums, toning arms and legs and perfecting posture.
Download a Stronger, Slimmer You
AloMoves
AloMoves is an online home workout service that's dedicated to bringing the best yoga, mindfulness and Pilates classes straight to your living room.
Choose your favourite teacher and then simply opt for how intense and how long a workout you'd like. You can opt for different styles of yoga – from flowing vinyasa and heart-pumping Ashtanga to more relaxing practices like yin and restorative. Meditation and mindfulness classes are a nice addition too and mean that you can look after your mental as well as physical health.
Enjoy a 14-day free trial and, if you love the service as much as we do, sign up for just $20 a month (£17.22 at time of publication).
Yoga with Adriene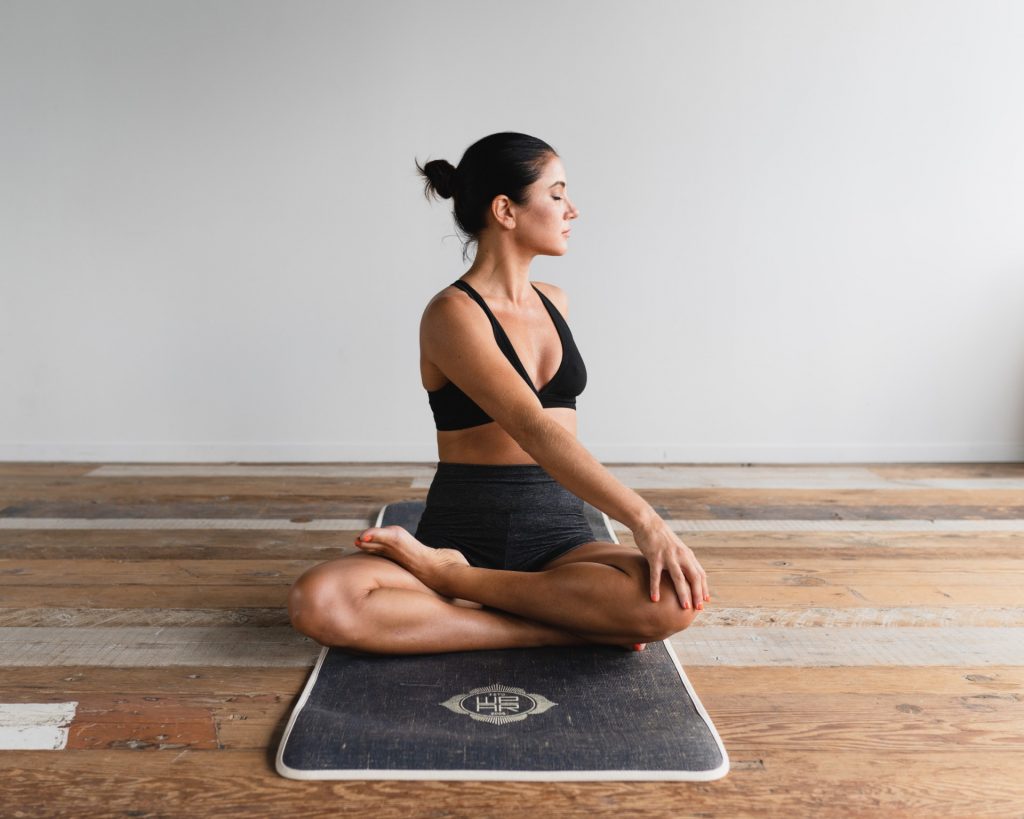 Yoga with Adriene has become on the of world's leading yoga YouTube channels, and for good reason.
Taught by yoga teacher Adriene Mishler, you can enjoy free home workout yoga classes uploaded every Wednesday. Adriene has been running the channel for several years now, so there is a wealth of free lessons online that you can access immediately.
Adriene's supportive and calming classes can be just the tonic for stressful days. Plus, with a huge number of options available (including yoga for anxiety, yoga for runners, yoga for weight loss and more), you can be sure that you'll find the perfect class for you.
Find out more about Yoga with Adriene
Pilates with Nathalie Clough
Liz Earle Wellbeing's very own Pilates teacher Nathalie Clough now offers an online membership. Enjoy access to over 100 videos straight away. With new content being added each week, there's plenty of inspiration to help you achieve your fitness goals.
Aimed at all ages and abilities, it's one the entire household can join in with – perfect for a good stretch and strengthen after a long day.
Find out more about Nathalie Clough
POPSUGAR Fitness
POPSUGAR has been around for a few years now, and its YouTube channel boasts a staggering 3.72 million subscribers.
With hundreds of workouts ranging from fun dance routines to challenging strength exercises, you're guaranteed to find a class to suit your every mood and energy level. All of these class are free to stream over YouTube and offer a fun way to get fit from the comfort of your own home.
The added benefit of these videos are that you can mix it up and try something new each time. The channel meets with different celebrity trainers and top fitness experts who each offer their own take on keeping well and staying active.
Find out more about POPSUGAR Fitness
Jillian Michaels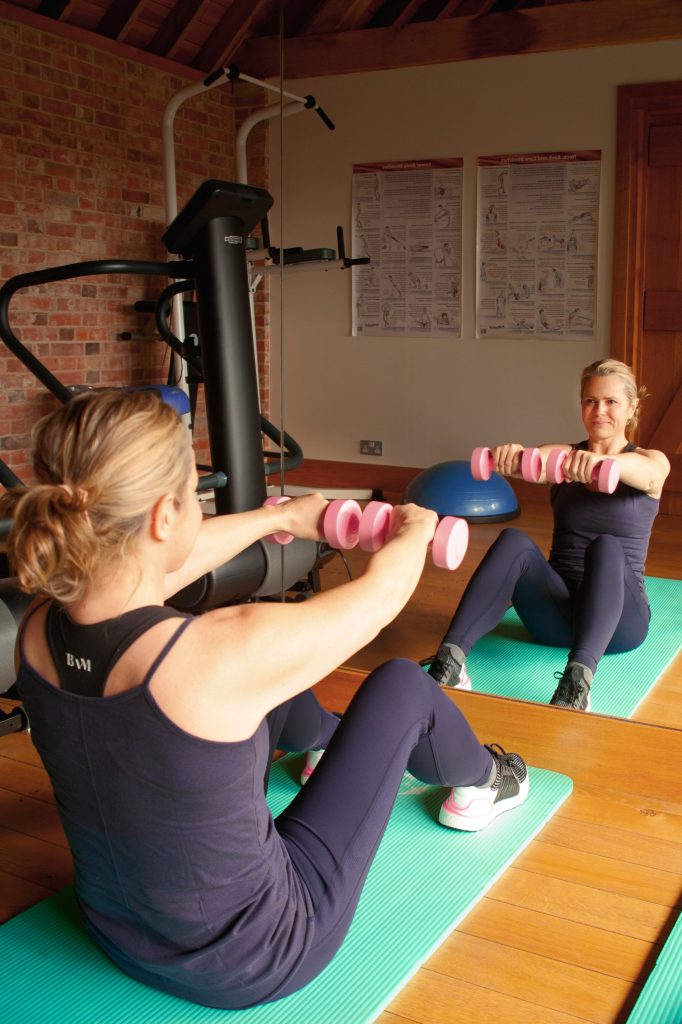 Jillian Michaels is a world-leading fitness expert. She's appeared in countless at-home fitness DVDs and became known as one of TV's toughest trainers when she appeared on the American version of The Biggest Loser.
And we really love her fitness app. Download from the Apple App Store or Google Play for an app that's completely customisable for your own goals.
The first time you open the app, you'll be asked for some fairly generic stats (like height, weight and age), but after that it becomes much more tailored to you. You can say how intense you like to workout, plus any equipment you might have at home. This means you never have to worry about being unprepared.
The app also includes a diet plan with a number of tasty recipes. Unlike many apps, you can also state whether you're vegetarian, vegan or if you have any dietary intolerances – perfect if you've found diet plans to be limiting before.
After your free seven-day trial, subscription to the app is $14.99 a month (roughly £12.85 at time of publishing).   
Find out more about Jillian Michaels' fitness app
Down Dog app
Down Dog is an app dedicated to helping you practice yoga in the comfort of your own home. It can be downloaded from both the Apple App Store, as well as Google Play.
We particularly like this app as it gives you the option to select not only your workout time, but also your level, the type of yoga practice you want and the option to listen to music alongside.
NRG Barre Body
If you've ever wanted to try Ballet barre, now is the perfect opportunity. Nathalie Errandonea-Mewes, founder of NRG Barrebody, has a number of classes online to help you achieve all over body strengthening and toning.
With classes aimed at all ranges and abilities, there's plenty to keep you occupied while you stay at home.
Find out more about NRG Barre Body
Read more articles like this
Please note, on some occasions, we earn revenue if you click the links and buy the products, but we never allow this to bias our coverage and always honestly review. For more information please read our Affiliate Policy.