9 of the best healthy restaurants on the high street
Trying to eat healthily but wondering which are the best healthy restaurants on the high street? Eating well can be tricky enough when you're cooking for yourself, and at least you know the ingredients and can read the nutritional information.
Sticking to a healthy diet while eating out can be even more challenging. Something that sounds healthy can be packed with unexpected sugars or fats. Plus, the healthy options can often leave you hungry, or even just bored!
Although it's possible to find the nutritional information for most restaurants online, it's still a bit of a minefield. And with many restaurants offering lower calorie options as a "healthy option" they still may not actually be all that healthy. And if you are looking to lose weight, Professor Tim Spector's research into gut health, and Liz's experience with the low carb keto diet, suggest calorie counting may not be the answer for many people.
We've looked at some of the most popular restaurants on the high street to take the hard work out of it all and give you an idea of the best places to find a healthy lunch or dinner. Whatever your personal needs – whether you're looking for a nutrition-dense meal, a good balance of protein and carbs, gut-healthy foods, or trying to keep your calories or portion sizes down – we've got you covered.
Bill's
Bill's Restaurant started life as a greengrocer's shop in Lewes, East Sussex. The restaurant chain's greengrocer namesake, Bill Collison, started serving fresh and seasonal food at tables set among the grocery items. The chain slowly grew and is now UK-wide with a focus on fresh, healthy and sustainable food.
Nutritional information for all dishes is available online, both with and without sauces and side dishes. You can easily find out how many calories, carbs, fats, sugars and saturates you're eating.
Bill's is great for vegetarians and vegans, with many of their healthiest items suitable for both. Sweet potato and ginger soup with toasted focaccia is the lowest calorie meal on the menu, at just 273 kcal. For something more filling, try Bill's spiced cauliflower and butternut squash falafel bowl.
Meat-eaters can add the mojo marinated chicken skewers as an additional topping to this salad, or enjoy them served with ancient grains or wild rice. Looking for a high-protein, low-carb option? Opt for the 10oz rib-eye steak with a side salad instead of fries.
Itsu
Itsu is an Asian-inspired fast-food restaurant chain that first launched in Chelsea, London, in 1997. It can now be found across the southeast of England and in Leeds, along with noodles for sale in supermarkets. The brand promises nutritious dishes made on the premise that use responsibly sourced ingredients. It's very much a healthy fast-food option, with little – if any – places to sit inside.
Most of the options on the menu come in at under 500 calories, and are high in vitamins, fibre and protein. Itsu includes calorie information on food packaging, and full nutritional information for each dish can be found on its website.
As well as sushi and hot rice bowls, Itsu also offers a range of tasty, low-carb Asian salads. We like the poke zero'salad with salmon tartar, zero-carb shirataki noodles and ginger teriyake dressing. There's also a poached chicken version with tenderstem broccoli and a spicy sesame satay dressing with just 282 calories and 7g of carbs.
There are a number of vegetarian dishes, with the veggie thai soup making a quick and healthy lunch. Meanwhile the No Meat Mondays dish is a mountain of vegetable goodness and provides over 14g of protein. You'd have to try pretty hard to eat an unhealthy meal from here.
Tossed
Tossed is based around the belief that a balanced diet is made up of fresh vegetables, lean protein and low-GI carbs (plus the occasional brownie!). The brand believe that by keeping food simple, fresh and natural, you can eat to your heart's content. Tossed also sources Fairtrade, free-range and local and seasonal foods. You can find stores in London, Bishops Stortford and Oxford.
Tossed take the choose-your-own salad bar to the next level. You can add roasted vegetables, edamame beans and pickles to bowls of warm grains. Top with sauces such as katsu curry or Korean BBQ. Whether you prefer yours with chicken, falafel or haloumi, you'll definitely find a combination that will keep you going all afternoon.
Alternatively, select one of their house salads to be confident the end result is as tasty as possible. Tossed have a clever nutritional calculator on their website to help you calculate what you're eating. Choose your protein, dressing and portion size, and then see the number of calories, carbs, sugar, protein, saturated fat and fibre in your selected meal. You can tweak your options to fit your own dietary needs.
Crussh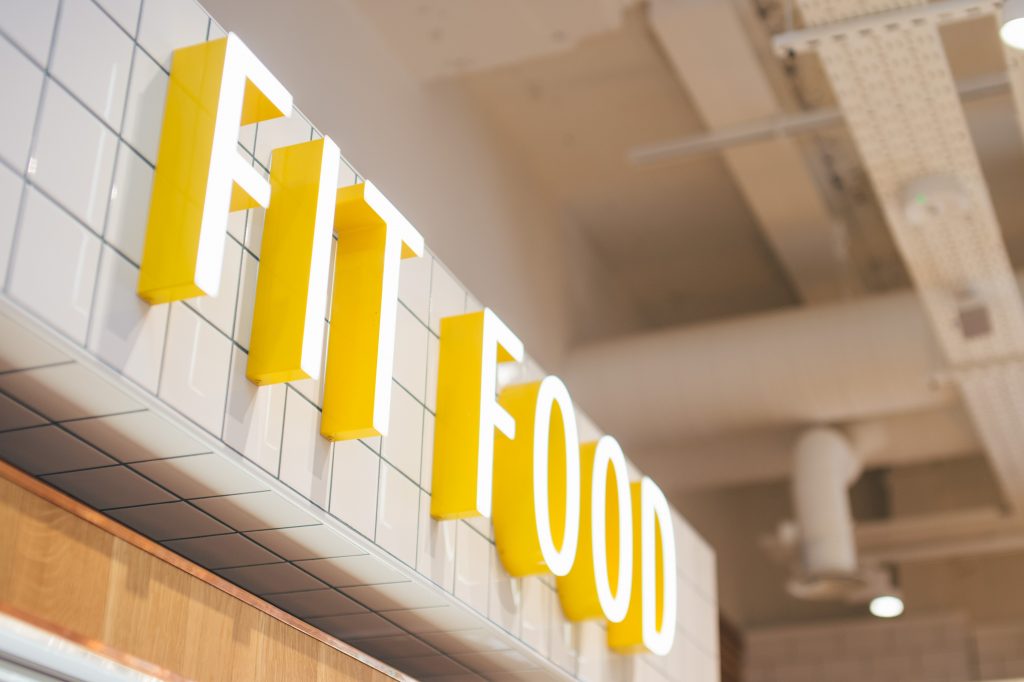 Crussh was established with a simple aim – to create nutritionally balanced meals. This usually means high in protein, low in carbs and low in fat. At the moment, you can find Crussh in London and Birmingham.
An impressive 70% of Crussh's range is suitable for vegetarians and 45% is suitable for vegans. The brand also sells organic, Fairtrade coffee and offers a large range of plant-based milks, including oat, soya and almond.
Although best known for its freshly made juices and smoothies, Crussh offers a range of healthy foods. Head there early and pick up some scrambled eggs topped with either chorizo and avocado or feta, herbs and chillies.
At lunchtime, find thick vegetable soups, densely packed broths or hot pots, and if you're looking for something cold, pick up one of the salad boxes from the fridge. For snack lovers, try one of their health pots, such as avocado, yuzu and edamame bean or butter bean, cherry tomato and parsley.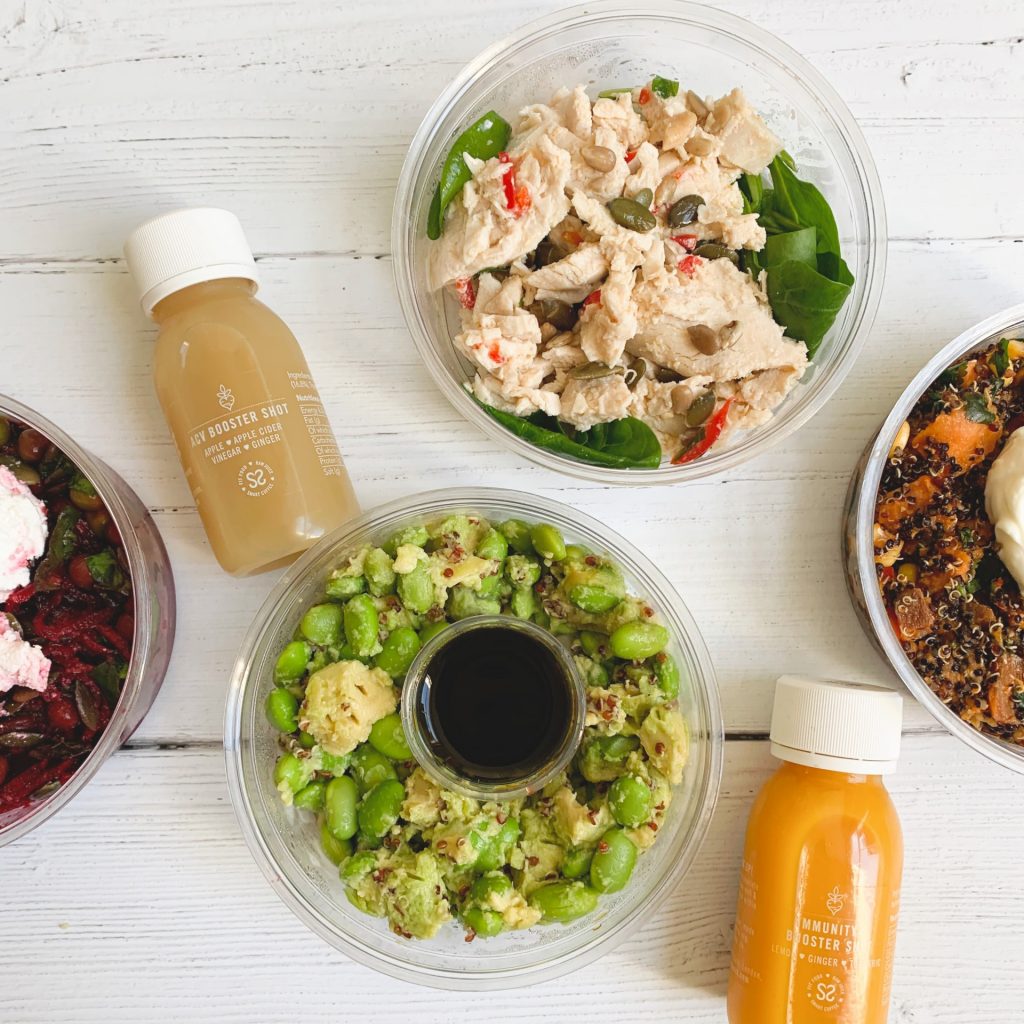 Pizza Express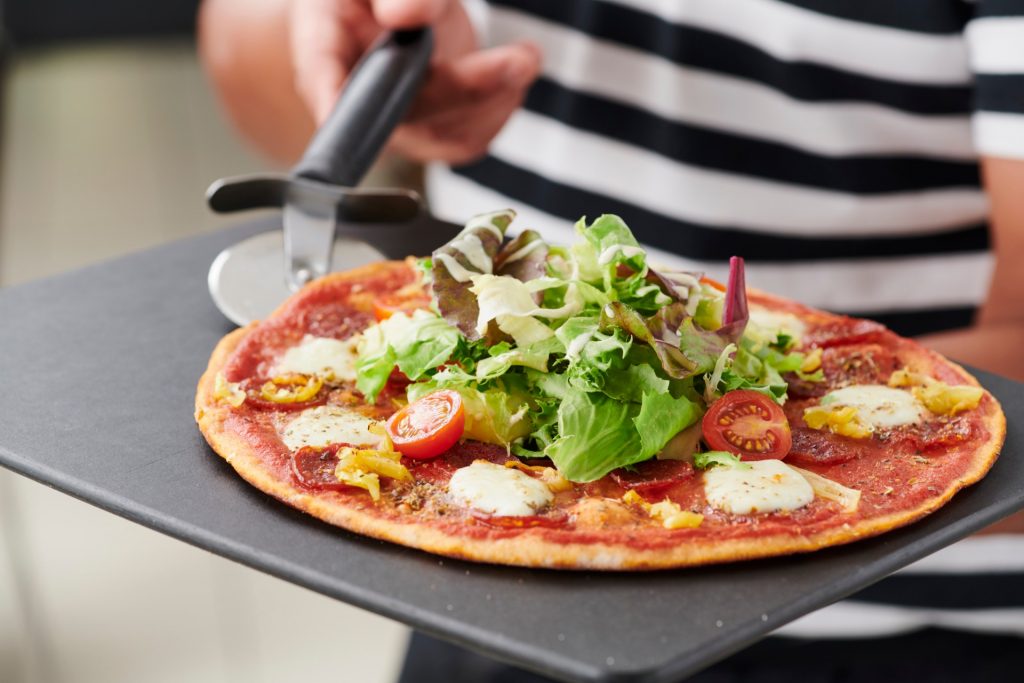 Pizza Express was one of the first national chain restaurants to introduce a diet menu and launched its Leggera range in 2010. Offering pizzas with under 500 calories in a partnership with Weight Watchers, they cut the calories by cutting a hole in the middle of the pizza and filled it with salad.
The range has since expanded, introducing wholemeal pizzas and a range of under 600 calorie options. One drawback is that Pizza Express don't specify calories or nutritional information on their menu. You'll need to check the website to find out specific calorie information, along with sugar, carbs, protein and salt.
A wholemeal Leggera is one way to limit your portion size if you're desperate for a slice of pizza, but we can't guarantee you'll feel full. If you're looking for the lowest calorie option, the Wholemeal Leggera Margarita has just 440 calories, but it contains 62g of carbs and only 22g of protein. Meanwhile the pulled beef Wholemeal Leggera Barbacoa has 547 calories, 55g of carbs and 44g of protein.
Try adding the superfood salad to your Leggera pizza to introduce both some healthy vitamins and extra fibre. Looking for a low-carb meal? Stick to the Nicoise salad, minus the dough sticks.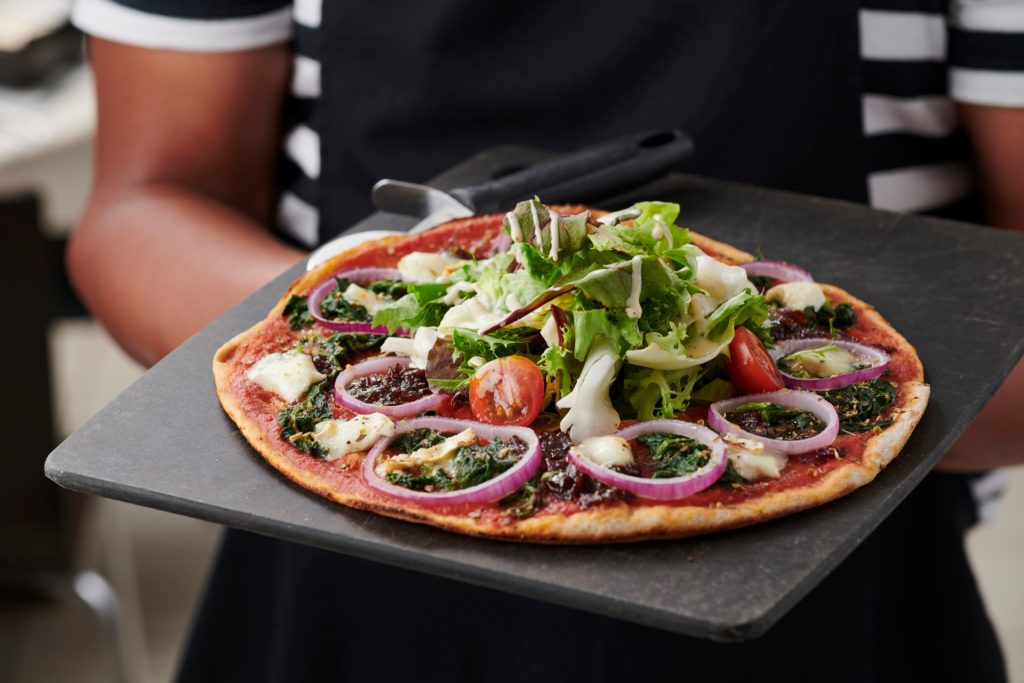 Byron Burger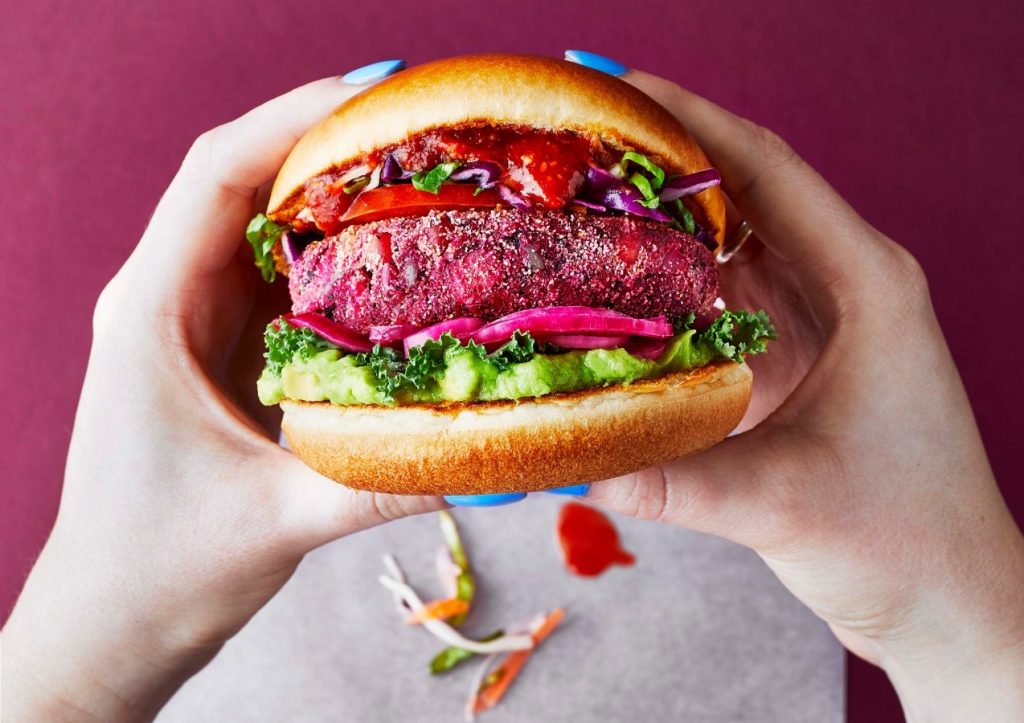 Although burger and chips may not be considered a health food, Byron Burger tries to ensure its menu can be adapted to meet your dietary needs. This usually means choosing salad instead of chips and ditching your bun in exchange for yet more salad. Great if you're cutting your carbs.
Unfortunately, Byron Burger doesn't make nutritional information available online or in the restaurant, making it difficult to know how healthy the burgers are.
Byron recently relaunched its menu to offer three vegan options that use Beyond Meat patties. But as these are best eaten within their buns, and no doubt with fries, they can't really be considered healthy alternatives. To ensure you're getting some essential vitamins and plenty of fibre, try the superfood grain salad instead. This salad is also available with either halloumi or marinated grilled chicken to please vegetarians and omnivores alike.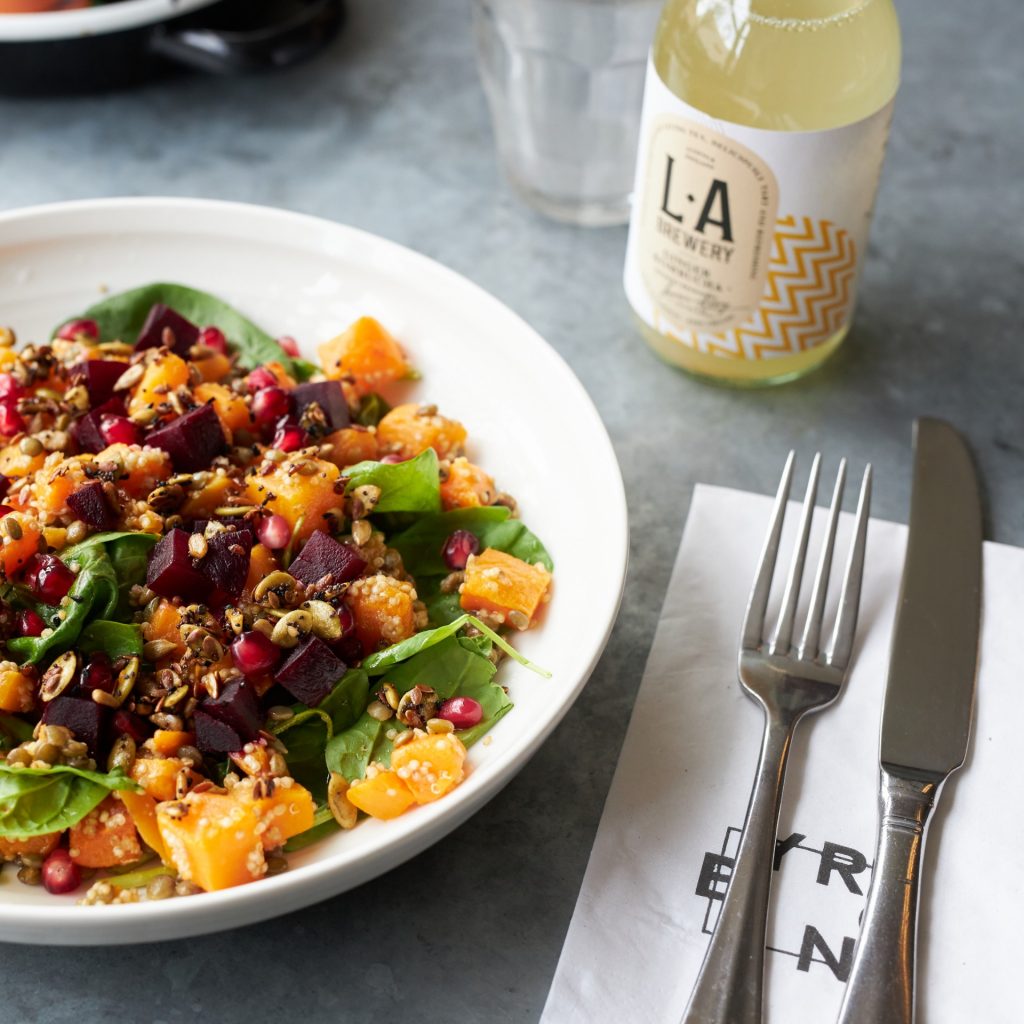 Wagamama
In the 25 years since it first opened its doors, Wagamama has spread the love for ramen and katsu curry around the UK. It now has 130 restaurants in the UK, and another 60 around the world.
Japanese food tends to be one of the healthier cuisines, with its reliance on fish, rice and pickles, but with Wagamama's extensive menu (and lack of sushi) it's very easy to over-indulge in salt, sugar and fat.
Nutritional information isn't available in restaurants, but you can find it easily on the Wagamama website.
Wagamama recently launched a range of healthier options to its menu in the form of kokoro bowls, including a healthier version of the popular chicken katsu curry. The naked katsu includes grilled curried chicken, brown rice, edamame beans, raw carrot, mixed leaves and pickles with a side of katsu curry sauce. The seared Nuoc Cham tuna is a healthier option, with seared tuna, quinoa, kale, sweet potato and edamame beans. For fewer carbs, try the pad Thai salad.
Zizzi
Zizzi offers a range of pizza, pasta, meat and fish dishes. The nutritional information provided online includes the calories, fat, sugar and salt of each menu item, so it's fair to assume a low-carb diet isn't catered for.
Despite being packed with healthy ingredients, the super zucca salad is best avoided due to the amount of sugar in their sweet white balsamic dressing. Alternatively request it without dressing and ask for a wedge of lemon to squeeze over instead.
The chicken and prosciutto salad is a better option, or try the Spiedini Pescatore. This hanging skewer of salmon, king prawns, courgettes and pepper is served with fried herby potatoes and salad leaves.  
Zizzi offers its own skinny pizzas with under 600 calories per serving, including a skinny jackfruit Italian hot pizza that's suitable for vegans. Although this pizza is high in sugar (12g), most will be natural fruit sugar from the jackfruit. Omnivores should try the skinny gamberone and chorizo pizza, which has the lowest amount of sugars, saturated fat and calories.
Pret-a-manger
You can find Pret A Manger, or Pret, on most high streets in the UK. It's a handy stop for weekday lunches on the go. Order online for takeaway or eat-in if you can find a seat. Pret also has three Veggie Pret shops in London, selling only vegetarian and vegan foods.  
The brand's packaging offers little in the way of ingredients or calories, but Pret does include the calories for its various products on the shelves. Plus, nutritional information is very easy to find on the company's website.
Pret's filling soups are a quick and easy lunch option in the winter months. Veggies and vegans can opt for the butternut and lentil dhal, which is high in protein and low in calories.
If you prefer a salad, meat-eaters have some great options here as Pret's protein boxes are particularly well-balanced. Watch out for the amount of sugar in many of Pret's dressings. The vegan humous and falafel mezze salad is the best option, but it still contains over 10g of sugar.
Gut health – what you need to know
The best kombuchas on the high street
The keto diet – what it is and how does it work?