Blackberry and ginger fizz festive cocktail recipe
Delight guests with this delicious festive cocktail recipe. With juicy blackberries and a warming kick of ginger, it's just the thing for Christmas celebrations.
Plus, this festive cocktail recipe tastes just as good with or without alcohol, making it the perfect party tipple to serve at your Christmas drinks celebration for guests of all ages and tastes.
Blackberries are a wonder for our wellbeing – even in a delicious drink like this! These juicy berries are bursting with vitamins and antioxidants to help you glow from the inside out. Antioxidants help to mop up damaging free radicals in our cells. These nutrients are one of the most powerful weapons we have in combatting disease, helping our bodies fight a range of illnesses, from heart disease to cancer
Love Christmas cocktails? Download our e-book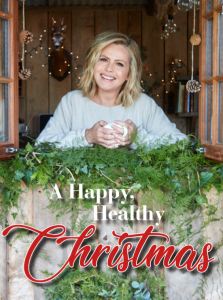 Has our festive cocktail recipe tempted you to dust down your cocktail shaker lurking at the back of the cupboard? Then don't miss our Christmas e-book! A Happy, Healthy Christmas is full of festive recipes for you to try.
From mocktails and kombucha cocktails, to mulled wine and more, there's a recipe to see you through the festivities, plus plenty of food too!
Download A Happy, Healthy Christmas for £4.99
Subscribe for more inspiration from Liz Earle Wellbeing
You'll find even more delights in our gorgeous print magazine. Built on over 30 years of Liz Earle's personal, award-winning advice, experience and research, our much-loved bi-monthly magazine brings you the best ways to look good and feel great. You'll find each issue packed with tried-and-trusted recipes, inspirational ideas and simple ways to bring out the very best in you. Wellbeing wisdom you can trust is at the heart of all we do.
Discover more delicious recipes
Wellbeing Wisdom
Ginger has a long tradition of being used to soothe the digestive system and relieve stomach pain. It's also anecdotally been used to alleviate mild nausea.
Ingredients
12 blackberries (fresh or frozen) and a few extra for garnish
1 lime, juiced
200ml spicy ginger beer (we like Fevertree or Fentimans)
100ml soda water
50ml vodka (optional)
Method
Blitz the blackberries and lime juice in a NutriBullet or food processor until smooth.
In a large jug, mix together the remaining ingredients and strain into two glasses.
Serve with ice and garnish with a slice of lime and a few extra berries.