How to eat healthy food on the go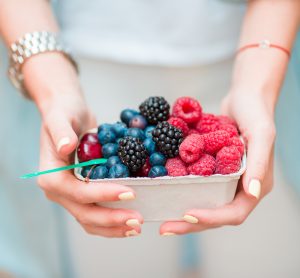 If we try our best to eat healthily at home, we don't want to lose out on a delicious and nutritious meal just because our tummy's rumbling while out and about. Read on for some top tips for eating healthy food on the go.
Get your oats
When it comes to early-morning meetings our preferred option is porridge, shying away from sweet toppings and instead going for plain milk or plain live yoghurt with seeds. The high-fibre content of porridge makes it a good choice – helping digestion, reducing high cholesterol and stabilising blood sugar. High-fibre food helps us feel fuller for longer – just what we need at the start of a busy day.
TOP TIP: Plain live yoghurt (rich in bone-building calcium and muscle- making protein) with muesli (no added sugar) also make for a healthy start.
Super slices
If only a sandwich will do, make it as healthy as possible. Opt for wholemeal bread – higher in gut-friendly fibre than white – or seeded, which has more vitamins, minerals and healthy fats. Also avoid mayonnaise, which is high in calories and fat – one tablespoon contains 90kcals. Also be wise to hidden salt and sugar (a cheese and pickle supermarket sandwich can contain five teaspoons of sugar), so always check the label (4g sugar = one teaspoon).
TOP TIP: A fishy filling or plain chicken provides lean protein for a sandwich that'll fill you up for longer.
Dressing in disguise
Salad is a go-to for a healthy lunch, but it pays to be label smart here too, as the calorie count on the pack doesn't always include the little pot of dressing. A drizzle of oil won't do you any harm, though – in fact, studies have shown that eating fresh vegetables with a small amount of fat helps the body absorb their valuable nutrients. For protein, it's hard to beat a boiled egg, which is low in calories and has quality fats in the yolk.
TOP TIP: The darker green the leaf, the more vitamins it contains, for example watercress and rocket.
Splendid spuds
A baked potato is a nutritious option – budget-friendly and with plenty of fibre and vitamin C, too. A plain potato comes in at around 150kcals – a good option if your midday meal is going to be your main one for the day. Butter provides anti-inflammatory butyrate and a dab is just fine, or a drizzle of olive oil gives healthy fats and vitamin E. Just avoid synthetic spreads made with palm oil, which are high in saturated fat. Baked potatoes have a high glycaemic index (GI), so if you have diabetes, they're best enjoyed only occasionally.
TOP TIP: Use a low GI filling, such as cottage cheese.
Power pudding
Craving something sweet? Opt for an apple or banana for a sugar lift. Avoid pre-prepared fruit if possible – not just because of the excess plastic packaging or price tag, but because the vitamin C content is lower than in whole pieces. They've also often been treated with preservatives to make them last longer.
TOP TIP: Antioxidant blueberries are full of skin-friendly anthocyanins, and easy to nibble when out and about.
Loved this? Read on here: