3 gut-friendly snacks for when hunger pangs hit
No matter how good your intentions, it can be difficult not to reach for the snacks when the hunger pangs hit! Feed your cravings with these gut-friendly snacks that'll keep you on track.
Each uses fermented ingredients packed with pre- and probiotics to nourish and replenish the good bacteria living in your gut.
Make a plentiful supply and you'll have gut-friendly snacks to keep you going throughout the week.
Gut-friendly snacks
Fermented tea and pumpkin seed crackers with asparagus pâté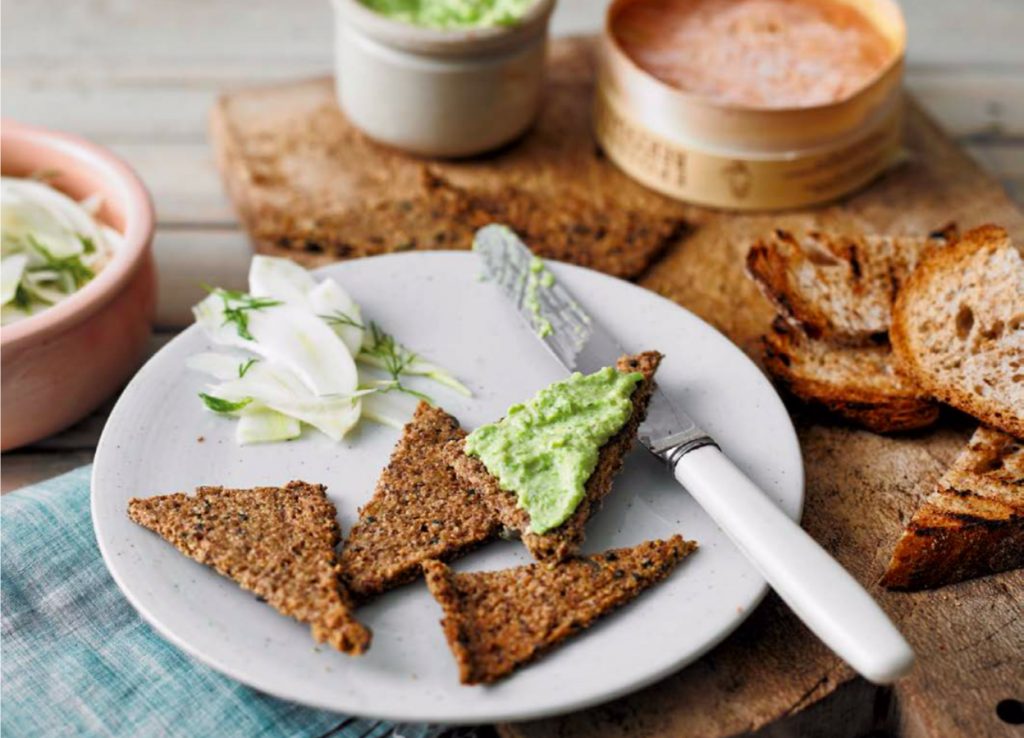 This asparagus pâté provides a prebiotic treat for your good gut bugs. Soak the pumpkin seeds overnight to make them more digestible, before adding them to the fermented tea cracker recipe.
Ingredients
Makes about 30
Prep: overnight soaking
For the asparagus pâté
200g asparagus tips, trimmed
2 tbsp plain Greek yoghurt
A few fresh oregano leaves
Sea salt and black pepper
For the crackers
120g organic wholegrain spelt flour
1 tsp dried oregano
1 tbsp pumpkin seeds
50g ground flax seeds (linseed)
1 and a 1/2 tsp black sesame seeds
80g organic butter, cubed
100ml kombucha (or use apple cider vinegar)
Method
First, make the asparagus pâté. Steam the asparagus tips in a steamer, or sit them in a metal colander, covered, over a pan of simmering water. Cook for four to five minutes until tender. Remove, leave to cool, then roughly chop and put them in a food processor. Add the yoghurt, oregano, salt and pepper, then whizz until blended.
Taste, and season some more if required. Keep covered in the fridge until ready to use.
Now make the crackers. Preheat the oven to 170C/350F/gas mark 4. Put the flour, oregano, pumpkin seeds, flax seeds, seasame seeds and salt and pepper into a bowl. Mix well to combine.
Add the butter and rub the mixture with your fingertips until it resembles breadcrumbs and starts to come together as a dough. Now add the kombucha and mix – it will be quite wet, so use you hands to squish it together.
Turn the wet dough out onto a baking sheet lined with parchment paper and use a palette knife to spread it out smoothly to cover the sheet. Score it into about 30 squares (each ones 6cmx6cm). Put in the oven and bake for 20-25 minutes or until crispy and golden. Remove from the oven and leave to cool completely, before removing from the paper with the palette knife. Serve with the asparagus pâté. The crackers will keep in a sealed container for up to one week.
Beetroot dip with fermented carrots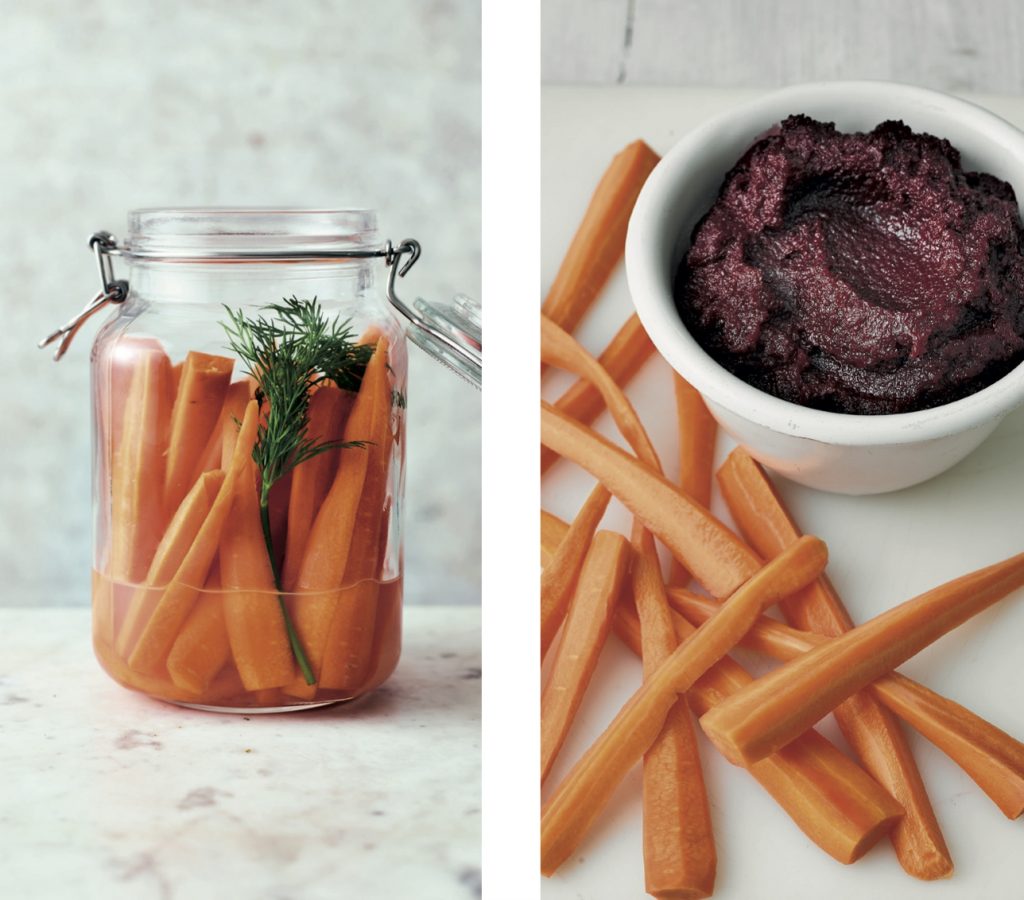 This vegan and gut-friendly snack is one sure to satisfy cravings. Fermented vegetables take a little time to prepare, but are well worth it as you have gut-friendly snacks that are easier on the digestion.
Make a big batch – the carrots wil keep for around six weeks.
Ingredients
Carrots: Makes a 1-litre jar
Prep: 20 minutes, plus fermenting time (7-8 days)
For the fermented carrots
About 1.6 litres filtered water
3 tbsp sea salt
800g organic carrots, peeled and quartered lengthways
Sprig of dill
100ml water kefir (optional, or see our recipe here)
For the beetroot dip
1kg fresh, beetroots, stalks trimmed
1 tsp caraway seeds
1 tbsp extra virgin olive oil or rapeseed oil
2 cloves garlic, grated
1/2 lime, juiced
Sea salt and black pepper
Sourdough bruschetta with kale, poached pear and Gorgonzola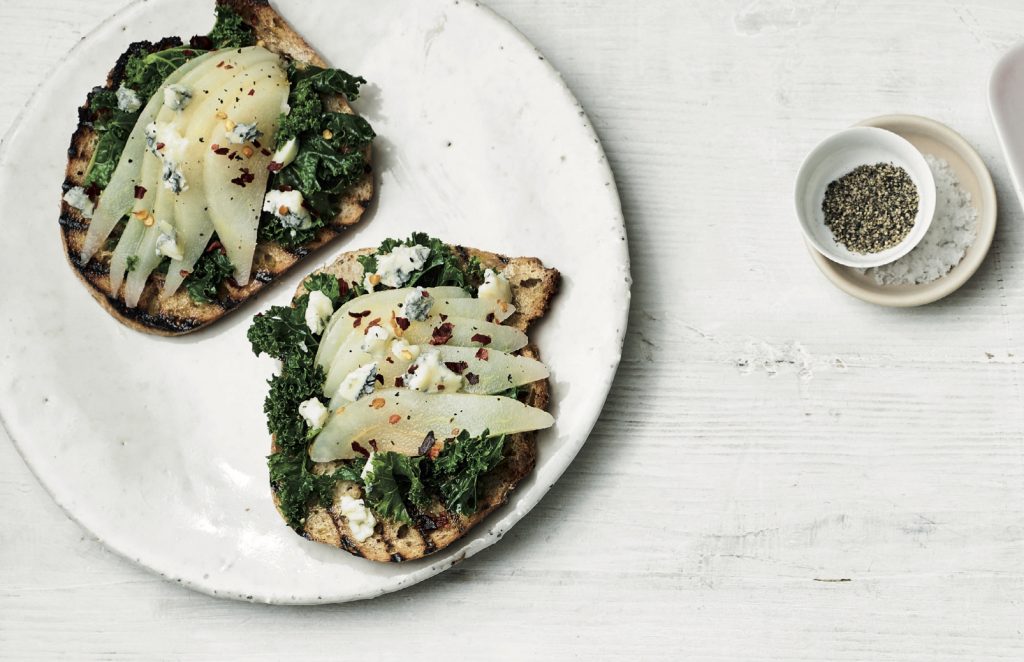 This final snack couldn't be easier – simply take some shop-bought sourdough and top with warm pear slices. It's one of our favourite gut-friendly snacks to enjoy.
Ingredients
Serves two
Handful of kale leaves, stalks removed
1/4 lemon, juiced
Pinch of chilli flakes (optional)
2 slices of toasted sourdough
1 dessert pear, peeled
50g Gorgonzola, crumbled
Sea salt and black pepper
Method
Steam the kale for 15-20 minutes or until tender, then toss with the lemon juice and chilli flakes (if using) and season.
While the kale is cooking, put the pear in a pan of water and simmer gently until tender, then remove and slice. Spoon the kale on the toasted sourdough and top with the warm pear slices and Gorgonzola.
Read more articles like this