Supporting maternal mental health and why it matters
Maternal mental health is incredibly important, yet so often overlooked. Hormones are usually all over the place after welcoming a baby, and new mums are often running on very little sleep due to the baby waking throughout the night in the weeks, months and even years after (even if there is someone to share the night feeds with).
Some new mums may also feel lonely in the world of parenting. Feeling a loss of identity is common as life transitions to revolve around the little one. There's also the added challenge of having to grapple with bodily changes too.
While all of the above may sound a little scary, there are plenty of things you can do to protect yourself or loved ones who may be new parents. We spoke to Annie Belasco of PANDAS UK, a charity that offers mental health support from conception to birth and beyond, to learn more about maternal mental health and support.
Mental health as a mum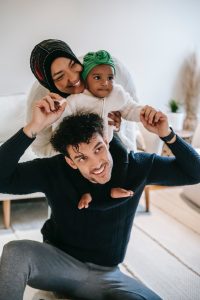 Perinatal mental illness affects up to 20% of new and expectant mums and covers a wide range of conditions, according to NHS England.
As Annie explains: 'Women can experience anything from low mood, anxiety, depression through to birth trauma and postnatal depression. This can occur during pregnancy (prenatal anxiety and depression) and after having a baby (postnatal depression).'
You've probably heard of the 'baby blues' but how does it differ from postnatal depression?
Annie continues: 'Baby Blues is commonly distinctive within the first two weeks after having a baby. It's normally associated with hormonal changes that take place after childbirth. Symptoms can include feeling sad, anxious, and struggling to experience joy in everyday things.
'Postnatal depression can occur any time after giving birth. If feelings of sadness, low mood, frightening thoughts and/or struggling to bond with your baby are persistent week after week and won't go away, it is really important to seek support from your GP, midwife and or health visitor.'
You may struggle with your mental health at any time on your parenting journey, even if you are already a parent.
Annie continues: 'Becoming a parent, whether it's your first or fifth, is a daunting experience. It's life-changing in dynamic, priorities and responsibilities. This can feel for some parents completely overwhelming, pressuring and scary about the journey they are embarking on.
'Struggling to cope without a support network can be exhausting and feelings that you are 'not enough' are common. Finding your routine and what works for you and your baby will take time but you will get there.'
How can you protect yourself?
While social media can be a great tool to connect during an often lonely time, it can sometimes become detrimental when you (unintentionally) compare yourself to others.
'Follow and engage with social media channels that are helpful to you at that time,' says Annie. 'Supportive and empowering social media with realistic standards can offer comfort and realistic expectations of your parental journey.'
The PANDAS Foundation also has a safe, moderated community for mothers from conception through to birth and beyond. Here, mothers can share real-life experiences and offer empowering advice and support.
It's also important to take your time and recognise that looking after a new baby is often extremely tiring, physically and emotionally.
'Don't overdo it! Looking after a new baby is exhausting, so take your time. Do the things you enjoy that benefit you and your baby. This will allow you to feel more in control of your feelings,' Annie shares.
'If you are feeling low in your mood and/or anxious, and there is one person or healthcare professional you can trust and feel safe with, engage with them, talk about how you feel and discuss together what options you have moving forward for practical coping mechanisms.'
Arming yourself with knowledge of mental illness and coping mechanisms, being aware of the signs and symptoms to look out for as well as tracking your mood and feelings can all help to protect yourself, according to Annie.
'There is no shame in being open when you are not feeling your best, or even unwell,' she says. 'Due to the bravery of parents speaking about how they are feeling when unwell with their mental health only encourages more parents to seek the vital support that they need.'
How can you support someone who may be struggling?
Knowing how to spot the signs your loved one is struggling as a new parent is also crucial.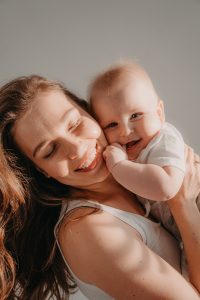 Be prepared to listen to them, and try not to 'fix' how they are feeling if they open up to you.
Annie says: 'Listening is the most important part of communication. Understanding how someone you care about feels is important to differentiate between feeling well and feeling unwell.
'Change in mood, reluctance to go out and socialising, and obvious signs of feeling sad that don't go away, may be a sign that that person is feeling unwell with their mental health.'
She continues: 'Acknowledging how that person feels is imperative for them to be able to feel safe, not judged and supported. Don't try and 'correct' their feelings. Acknowledge and talk about why and where this has come from. You can also work together on what you can do to support that person.
'It may be that they are suffering with sleep deprivation and simply need a break. Or, they may need to take the first step in talking to a medical professional for support and advice.'
If you are struggling with helplessness, low mood, anxiety or have any concerns about your health during or beyond pregnancy, contact PANDAs via their free helpline on 0808 1961 776.
Read more articles like this