I worked out like Liz Earle for a week – here's what happened
Liz Earle Wellbeing's Social Media Manager, Rachel Andrews, tried Liz's workout routine for a week – here's how she found it.
Just one look at Liz Earle's Instagram account, and you'll know that she takes fitness pretty seriously (case in point here). That being said, Liz says fitness doesn't have to be complicated, it just has to happen. Consistency is key – and that's a mantra I try to follow, too.
So, how does Liz work out and keep fit?
Liz Earle's workout routine
Liz's workout routine usually consists of HIIT sessions with a pair of dumbbells (often guided by her long-time PT, Michael Garry). She does yoga at the weekends, and lots of walking as active recovery in between.
She tends to work out at home or in the local park, and uses minimal equipment – overall a routine that actually isn't too dissimilar to my own.
However, Liz also finds time to add a couple of runs into her schedule every week, and that's my least favourite form of cardio.
And another exercise evil of mine that Liz loves? Push-ups – and followers will know that Liz regularly smashes out 60 at a time. I'm not sure if I'll get anywhere near this number  – but I'll give it a try. Here goes…
Please remember that not all exercises are suitable for everyone and this or any other exercise routine may result in injury. Please consult your doctor before beginning this or any other exercise program.
Monday – morning HIIT workout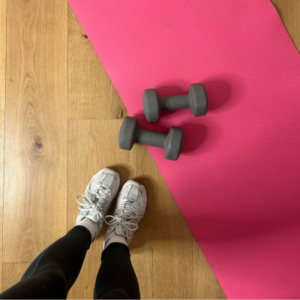 I'm starting out the week à la Liz, rolling out my exercise mat and lacing up my trainers for three minutes of skipping, followed by a 15-minute HIIT session using weights. Typical exercises for Liz include squats, tricep dips, and bicep curls.
I love kicking off my workout by skipping as it warms me up quickly – and gets my calves burning. Admittedly, I probably don't spend enough time warming up before my usual workouts, so this is definitely a quick add-on I'm going to incorporate into my own routine moving forward.
A pro at jumping rope, Liz can do around 250 skips at a time. As an almost newbie, my technique isn't so slick. I have to stop a couple of times as I get tangled in my rope.
Like Liz, I'm a big fan of HIIT already as it's great to get a sweat on in a hurry and to continue burning fat and calories through the day. I choose a 15-minute online workout video, which uses a pair of dumbbells. I'm left feeling energised and ready to attempt 60 push-ups.
Let's just say, the latter is not easy. Surprisingly, I manage 20 full press-ups. But I need to drop to my knees for the rest. I follow up with some stretches to ensure I don't feel sore the next morning, which worked (well, kind of).
Tuesday – quick lunchtime run
Come Tuesday, Liz fits in a quick and speedy one-mile run on her lunch break, either on her home treadmill or outside for some fresh air. I pop on my trainers and head off for a dash around my local park.
I'm grateful this workout doesn't include any upper-body exercises. But I'll be honest – I don't love running. And when I do run, it's usually a longer one, upwards of three miles. As a result, I often struggle to find the motivation to go for a jog as it can feel overwhelming.
But knowing this will be short and sweet gives me the get-go to tick off Tuesday's workout.
The shorter distance means I can pick up my pace, without running out of steam later on in the workout. It encourages me to push myself to go faster, and my heart rate is high as I quickly clock up a mile on my fitness watch.
Mixing up long and short runs is a great way to increase your speed and stamina, too. A convincing argument to add short bursts of running into my own workout routine too…
View this post on Instagram
Wednesday – morning run followed by lower-body exercises
Wednesday arrives along with the workout I've been least looking forward to – a longer park run of anywhere between three to five kilometres, followed by lower-body exercises.
Liz's Wednesday workout is usually done under the guidance of her PT, Michael, to ensure she's pushing herself to make progress. I call on my sister to come along with me for some moral support.
I keep my pace slightly slower for this run compared to yesterday's, knowing that I have further to go. Despite runs being few and far between in my regular workout routine, two back-to-back actually seems quite manageable.
Just short of 5km round my neighbourhood, I rounded up the workout with 60 jumping lunges followed by 60 jumping squats to really feel the burn.
Adding on some extra exercises to the end of a run isn't something I'd normally do. I feel motivated by this additional little challenge though, and I can see how it would quickly help to build strength. These left my legs feeling like jelly for the rest of the morning (and the next).
Thursday – walking
On Thursdays, Liz sets aside time for a brisk walk of at least 20 minutes, whether that's around her neighbourhood or walking between meetings. After two runs on the trot, I'm grateful to take things down a notch.
I head out on a 30-minute walk around my local park first thing, coffee in hand. Rest is an important part of any effective workout routine, but that doesn't mean lying on the sofa watching television.
Active recovery – low intensity exercise such as walking or swimming after strenuous workouts – helps our muscles to recover while keeping us moving.
Friday –  morning HIIT workout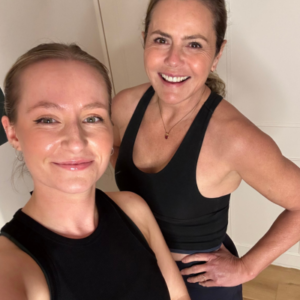 Fridays are usually a rest day for me, but Liz's diary includes a high intensity interval workout. It takes me a little more motivation by Friday to drag myself out of bed and onto my workout mat, but I make it.
I choose a 20-minute workout, warming up with three minutes of skipping. The skips are already feeling easier, and my calves aren't burning as much as they did earlier in the week.
I end my session by ensuring I've included Liz's go-to moves. That means performing 60 squats, 60 push-ups, and 60 bicep curls. This time, I manage 30 full push-ups, dropping to my knees for the remainder. This goes to show just how quickly you can build up your fitness with a little consistency.
Bicep curls after press-ups are no mean feat though. My arms are left feeling like what can only be described as two pieces of spaghetti as I finish my sweat sesh.
While I usually enjoy ending my week on a more gentle note, Friday's HIIT workout gives me a much-needed pre-weekend burst of energy. I forget to stretch afterwards at my own peril.
Saturday – at-home yoga workout
Liz begins her weekend with a stretchy yoga session at-home. I head to my local yoga studio for a hot yoga session to melt into the mat and ease aching back and arm muscles from yesterday's HIIT workout. Those push-ups did not make downward dog any easier.
As Liz's Saturday morning yoga is done online alongside her friends, I take a pal along with me. I enjoy making this more social too, as it feels less like exercise and something to look forward to.
Don't underestimate yoga as a workout though. As we continue through the vinyasa flow, the intensity builds, and our core strength and flexibility is challenged with several balancing poses.
Sunday – big walk with family and friends
Liz finishes her workout week with a big countryside walk with her family. I gather the troops, and spend a couple of hours getting in my steps around London's canal paths.
It's not quite as picturesque as the fields and woodlands of the West Country, but I enjoy a second day of making movement more of a social activity with my loved-ones in nature.
I finish up my day with a total of 18,000 steps tracked by my fitness watch, feeling pretty smug with my efforts for the week.
My verdict
At the end of the week, Liz's workout routine left me feeling energised and motivated.
Scores of push-ups aside, I didn't feel overwhelmed by the workouts I had to tick off. That meant I didn't skip a session – and, as Liz says, consistency is key to make progress. The workouts are challenging for me yet effective, made clear by achy muscles the next day.
I'll also be taking a few of Liz's fitness habits on board moving forward.
Skipping is a fun – and effective – warm up, something I don't do enough of before diving into my workouts. I'll be digging out my skipping rope much more often than before.
Shorter runs seem far more encouraging to me now. I think peppering them into my routine will help me find my love of running again, and quickly improve my speed and endurance.
Finally, I'm going to keep going with those push-ups. Yes, I'm just as surprised as you.
Read more features like this