The Well Spa Resort review – a stunning, transformative spa like no other
Travel writer and award-winning documentary maker, Tim Samuels, heads to The Well Spa Resort to find out why this spa has put Norway firmly on the wellness map…
The Well Spa Resort, Norway – a review
The Well is the most incredible wellness spa. A haven nestled in pristine forest on the outskirts of Oslo. Thousands of square feet filled with dozens of pools, saunas, steam rooms and other-worldly treatments. A sanctuary of relaxation with an adjoining Scandi-chic hotel and boutique restaurant. The ultimate place to reset.
But, being Brits, let's get the nudity question over and done with.
Despite having titillatingly gifted the world Benny Hill, Carry On films and the Page Three bosom, we are somewhat more prudish than our cousins across the North Sea.
So it was with an arched eyebrow that I noted on The Well's website the 'natural to be naked' page, which stated with Nordic no-nonsense: "It is not mandatory to bathe without swimwear at The Well. In all our pools it is optional and both is fully okay!"
And both really were OK – and not a big deal. On any given day maybe half the guests dropped their towels when they entered a sauna or steam room. The rest sported swimsuits or wrap-around sheets. As it happens, I reasoned that being as hairy as an unshaven chimp, nudity was all relative anyway – so ditched the towel, felt a newfound sense of freedom (if not maturity) creep in, and set about the job at hand: seriously switching off.
Acclimatising to life at The Well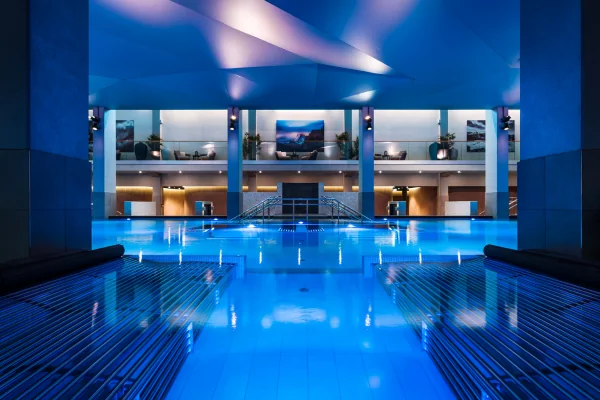 I've been to many a spa before, but nothing rivals The Well. It's the largest spa in northern Europe – a veritable relaxation factory. The spa, which opened in 2015, has a vast footprint spread across three floors. Inspired by the Greek tradition of 'salus per aqua' (health through water), the spa features 11 pools and 15 different saunas and steam rooms. Drawing from other influences around the world, there's also a Japanese bathhouse, a Middle Eastern Hamman and Germanic-inspired rituals.
This isn't the sort of spa you pop to for the day; it's an immersive experience you spend days working through. It's an escapist alternative reality where you lose track of time and inhibitions. It becomes the norm for many to go for lunch or dinner still clad in fluffy robe and slippers. In retrospect, you barely even have to take hand luggage.
In 2021, The Well opened a 104-room hotel attached to the spa – infused with an earthy luxuriousness. The spacious rooms are decked out in forest-inspired hues. My bed looked out over a stunning forest with its ever-changing vista – from passing snow blizzards to sun-dappled pines.
The opening of the hotel transformed The Well from being a day spa for locals to a destination retreat for us non-Nordics. Desperate to switch off, I duly booked a three-night stay.
Day One: arrival and sight-seeing
An easy two-and-a-half-hour hop to Oslo from London – and a chance to spend a couple of hours looking around the Norwegian capital (the view from the walk-upable roof of the opera house is quite something) before making the 20-minute drive to The Well.
Dinner was a casual affair in the main restaurant surrounded by be-robed Norwegians. The perfect way to begin the break, all before popping my phone in the hotel room's digital detox box.
Day Two: gong baths, mud and balletic sauna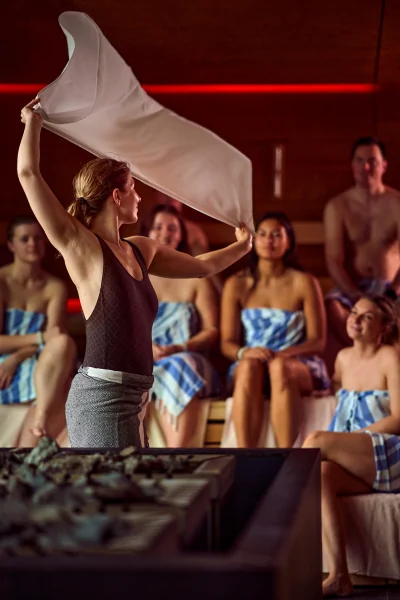 Day two began with a healthy Nordic breakfast before tackling the first floor of the spa. Here, I dipped in and out of the myriad of sauna and steam rooms, building up from the entry-level 40-degree ones to the hardcore near-100 degree rooms. I also took a moment to breath in the eucalyptus scent in the crystal bath room and take a dip into an Olympic-sized pool.
Before lunch, I went along to a floating gong bath. Having not experienced anything like it before, I was unsure what to expect. Here, bathers recline on a noodle-shaped float before having the vibrations of gongs being struck under water wash over them. Strangely relaxing.
After lunch, I decided it would be rude not cake oneself in mud and dutifully headed to a Moroccan-inspired 'Rhassoul' in one of the steam rooms. Here, you scrub yourself down with salt, before applying brown mud to the body and green to the face. After 'cooking' for 15 minutes in 80-100% humidity, you hose off to reveal super soft skin.
The evening brought with it a truly sensational experience: an 'Aufguss' – an ancient Germanic ritual. Like penguins in a nature documentary, dozens of us plunged as a colony into the bracing outdoor swimming pool before waddling back to sit side by side in a giant sauna. A sauna master then placed balls of herb-filled ice onto the heated coals in the centre of the room, before balletically dancing around the room wafting a towel around (a cross between contemporary dance and a Formula One marshal). The effect was to be periodically blasted with scented heat; an extraordinary sensation.
Day Three: Viking hands, competitive hypochondria and crispy artichoke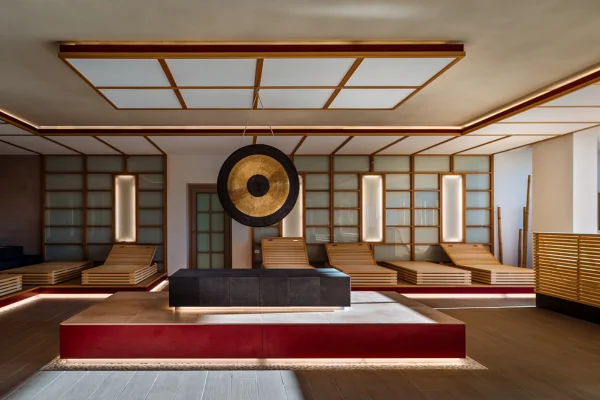 The day started with a massage at the hands of an angel – if that celestial being were a six-foot Viking with an uncanny ability to de-knot months of wound-up tension. It was truly one of the most effective massages I've ever received.
After my massage, I took a deep dive into the Japanese area of the spa. Here, I was greeted by a bergamot-scented steam room and a moment of quiet contemplation in the meditation room. This stunning space features ergonomically-designed seating looking out over expansive mountain views.
After a restful morning, I decided it was time to go full Wim Hof and embrace the extreme hot/cold water experience. Alternating between the full-on Finnish sauna and the Baltically-cold plunge pool, I became oddly competitive on the third freezing plunge and stayed in longer than the locals. However, after failing to warm up afterwards, I did cave and broke the phone out of digital detox box to Google 'mild hypothermia'. After a hot shower, I realised the condition was more a case of extreme hypochondria…
Clothes were actually worn for dinner – a last night of fine-yet-relaxed dining at the Scandi-Asian restaurant, Mori, that sits on the top floor. I indulged in a seven-course tasting menu in the tradition of the world-renowned Danish restaurants – with bowls that froth and unusually-paired ingredients. The crispy artichoke with a mushroom emulsion was exceptional.
Day Four: Aufguss and out
After a final Aufguss for the road, I bid farewell to the fabulously-friendly staff and headed to the airport.
It was here that I realised that, for all the daily intentions of going for a walk in the woods, I'd never actually left the spa during my days here. A clear sign of how sublime this Nordic cocoon of deep-rooted relaxation truly is.
Next time.
Find out more and book a stay at The Well
Read more features like this