Suryalila Yoga Retreat: a stunning yoga sanctuary near Seville
Travel writer, Tim Samuels, heads to Suryalila Yoga Retreat Centre in Seville to sample its impressive yoga offering and restful retreat facilities.
Suryalila Yoga Retreat Centre – a review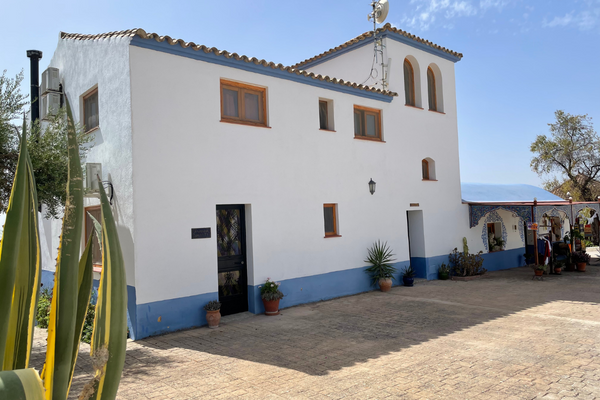 "I wanted to build the perfect yoga centre," Vidya Heisel, softly says, surveying the courtyard of an exquisitely-renovated olive farm in the rolling hills of southern Spain, bespoke yoga dome peeking out behind the newly-planted bushes, animals placidly grazing on the horizon.
It's fair to say Vidya has lived up to that vision.
Founded by Vidya, the Suryalila Yoga Retreat Centre – about an hour's drive south of Seville – stands out among the ever-proliferating array of retreats.
I've been to a dozen or so retreats across the years around the world. They've all felt like a compromise to some degree or other: lovely locations but iffy teachers; great teachers but forgettable or distant venues; groups that are claustrophobically small or impenetrably large or, on one traumatising occasion, strangely filled with freshly-divorced women whose chakras resented the sniff of any XY chromosomes in class.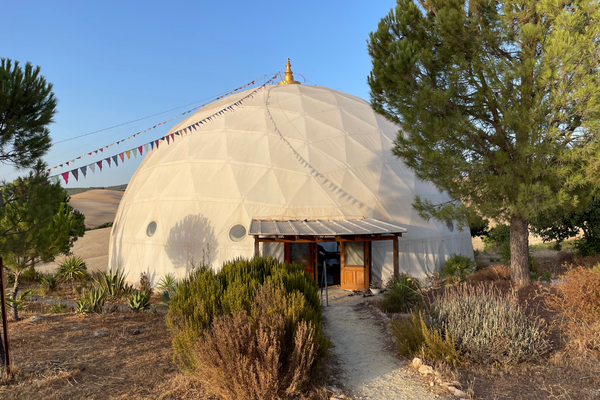 Yep, they've all felt a bit "good but…" – until now.
Suryalila fuses top-end yoga, a stunning location, an immersive natural environment, and authenticity – all within a two and a half hour flight of the UK.
Having spent decades teaching yoga around the world – from India to the US – Vidya, who was born in London, sought to create a sanctuary that embodied the values she'd been exposed to. And one that didn't require travelling half way around the world.
The result is a living and breathing community rather than mere 'holiday destination'. Where you feel part of something bigger. And with that dome.
A yoga practice with a difference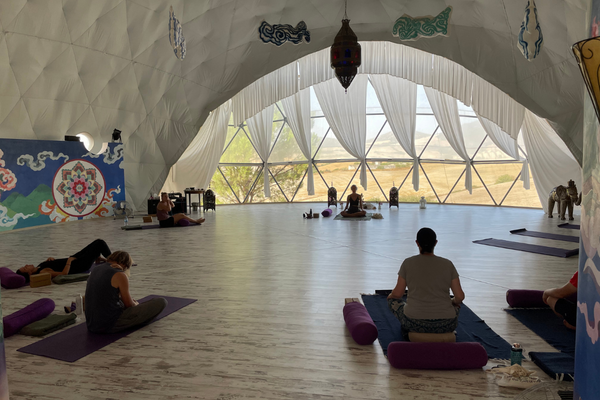 The Om Dome is one of the largest yoga spaces in Europe – and surely its most distinctive. A giant geodesic structure that, inside, can easily house 60 people in a class. Outside, it projects the aesthetic of a Nepalese temple replete with golden stupa on top.
The dome is visible miles around, suddenly popping up on the vista as you pootle around the Spanish country roads. But it's the view from the dome that's magical. During the morning Vinyasa flow classes, through the dome's translucent side, you can see the sun sweep across rustic farmland. Different shadows are cast during the evening Restorative sessions. It's truly grounding to be practising yoga with a dramatic natural vista unfurling in front of you.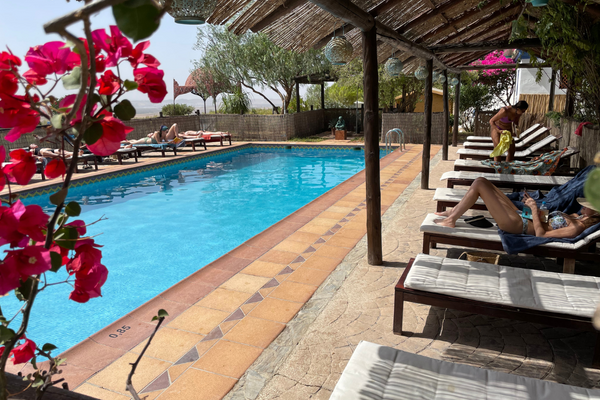 The classes themselves are taught by graduates of the Frog Lotus Teacher Training programme run by Vidya at Suryalila – many of whom live in or around the retreat. The teachers are patient, dynamic and without any of the ego that can sometimes go with teacher territory.
In-between classes, an inviting saltwater pool beckons to lounge around by. Or there's ample opportunity to explore the 50 acres of land for a deeper immersion into nature. As well as being a yoga retreat, Suryalila also operates a non-profit farm "on a mission to green the desert through land regeneration". Hundreds of olive trees have been planted and new methods of sustainable farming pioneered. Sustainability permeates everything at Suryalila – from the water reclaimed from the showers, to the self-grown organic fruit and vegetables that are dished up daily.
Eat, rest, restore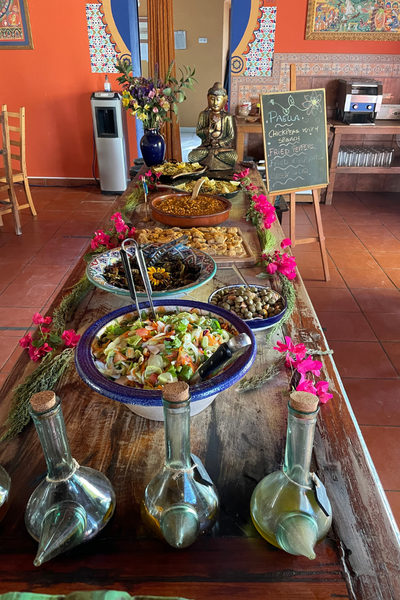 The meals themselves are sensational. Mouth-watering vegetarian buffets laden with fresh salads, stews, soups, paellas, curries and guilt-free cakes. (Smoothies, snacks and wine – this isn't a tedious holier-than-though retreat – are available throughout the day too.) "I love to have good food," says Vidya. "I just really love using food like medicine. Being able to have super healthy food that's organic, local and some of it grown here on the property is amazing."
After dinner I tended to take a stroll over to an adjacent field to check-in on the local animals: three donkeys, three goats (alas not of the yogic variety) and a pair of llamas, who became less circumspect as the week wore on. Who knew the secret of happiness lay in being able to pat the 80s-popstar-like mop of llama hair.
Beyond the retreat
Retreats can sometimes become a little intense. Suryalila thankfully provides plenty of escape options. The local town, Prado Del Ray, is a 3-mile walk away. Horses can be hired to trek around the countryside. And I signed up for the White Villages retreat, which laid on trips most days, including a picturesque river walk culminating in a bracing cold water dip by a cave, wine tasting in the local village, and dinner in the mountaintop town of Ronda with its breathtaking views and cloistered streets.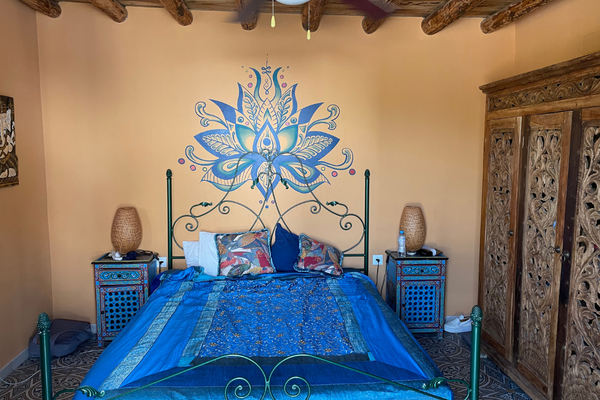 This light-touch programme of activities meant you could be as sociable as you were in the mood for – whether travelling solo or with someone. My week was populated by some lovely people drawn from across Europe and the UK (with not an irritating overgrown hippy in sight).
Likewise, the accommodation allows for flexibility. From farmhouses with en-suite bathrooms and hand-picked Balinese furniture, to more basic yurts in the olive groves.
It really is hard to fault this magical oasis in Andalucía. I left feeling truly regenerated: more flexible, rested, nourished and with a penchant for llama-patting.
Just don't tell too many people about Suryalila.
For more information go to www.suryalila.com. Tim went on the Yoga Nature and White Villages Retreat.
"I liked Suryalila so much I stayed – forever"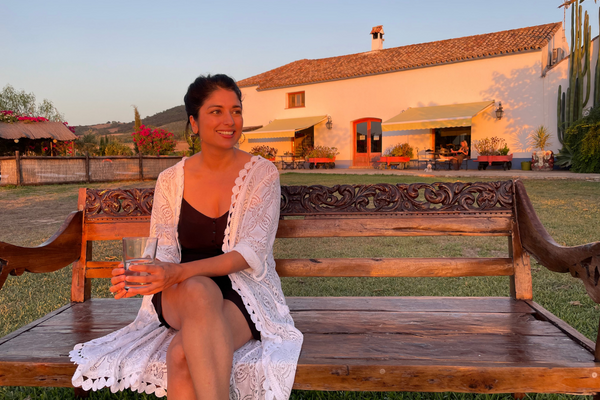 Amisha Desai was a journalist and author. After going through a divorce, stress and a life-changing book, she visited Suryalila. Like many before her, she decided to stay – and become part of the community.
Before I came here I was working as a journalist in London – for lots of different women's magazines and newspapers and as a features editor.
I had climbed the ladder enough to get a good position and had always been very career focused – chasing the next job, the next promotion.
But at the same time that I was made redundant from a publishing company I'd been working at for nine years, I also went through a divorce. Combined with catapulting me into freelance life and moving back home with my parents, it created this atmosphere where I felt that I was starting to live in a way that wasn't aligned with my sort of true values.
In need of change
It was really impacting my health, to be honest with you. I was stressed. I was at the doctors constantly. I was grinding my teeth so badly that I'd wake up with constant jaw pain, headaches, and neck pain. I was walking around with a ball of anxiety in the pit of my stomach constantly.
It was then that I wrote my first book – about 16-year-old Freya Lewis, who survived the Manchester Arena bomb attack. It was an incredible, powerful story of survival: she witnessed the very worst of humanity on the night that the attack happened. There was not a part of her body that wasn't affected by shrapnel from the bomb. But she also witnessed the best of humanity – from the doctors and nurses who all pieced her back together again, to the people of Manchester who were leaving food on her doorstep.
Writing her story with her made me feel I needed to make the most of every moment as well. I actually turned down a job on a big newspaper and came to volunteer here at Suryalilla instead for three months – suggesting I could work in the garden, and help with PR and marketing for the farm project.
I fell in love with the place. It absolutely captured my heart and my imagination. For the first time I could truly be myself and express myself creatively. From the first moment I got here, I didn't wear my mouth guard for one night.
At the end of my three months I sat on this bench – which I now call the 'manifestation bench' – and said to the universe, 'I want to live and work here'. I've been here now for two years.
Read more features like this