South Lodge Hotel & Spa review – a fabulous day spa UK staycation
Looking for a special day out at a country spa? You'll find the perfect spot just an hour's train ride away from London Victoria, as Liz Earle reveals in her review of South Lodge Hotel & Spa…
South Lodge Hotel & Spa review
The perfect setting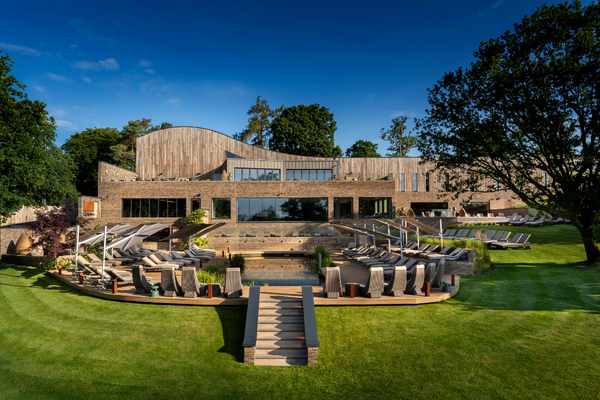 The South Lodge five-star hotel and spa peacefully nestles in the glorious calm of the rolling South Downs. A 19th-century neo-Jacobean mansion surrounded by rhododendron-rich gardens complete with croquet lawn, the property overlooks chalky hills, ancient pastoral grazing and ponds. Inside, the décor harks back to a golden age with oversized fireplaces, Tudor-rose plasterwork and embossed wallpapers.
Bedrooms have plenty of thoughtful touches, from clawfoot bathtub in many of its rooms, to complimentary bottles of fizz (including an option for the deliciously alcohol-free version, Noughty) and decadent handmade truffles from local chocolate brand, Montezuma (based in Chichester). There's even an empty vase with a note encouraging guests to head outside to pick their own flowers to fill from the gardens. What a lovely idea!
Walking trail maps, forest runs, tennis courts, a cosily traditional bar and three restaurants are all on offer. These include South Lodge's main event, The Pass, complete with a superb nine course tasting menu. There's also the more sedate style of The Camellia with a focus on British dining, and their wellness-inspired bistro aptly named The Botanica, serving seasonal and nourishing delights.
Enjoy ultimate relaxation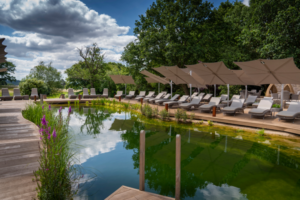 But the pinnacle achievement is the South Lodge Spa. This is truly an exceptionally well-designed hotel facility that's also open for non-resident day membership. One of the many highlights here is the thermal suite, with scented humidity and salt rooms, a sauna and choice of three pools.
The indoor infinity pool is ozone-purified and the outdoor pool is well-heated. The icing on the cake of wellbeing is their wild swimming pond. Beautifully designed and overlooking a breath-taking view, this is a first-rate addition and a joy to behold.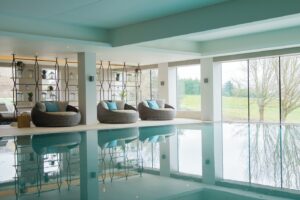 Other spa facilities include a light and airy yoga studio, well-equipped and spacious gym . There's even a dedicated spin-class room for those seeking a hard-core cardio session.
South Lodge hotel and spa is the perfect rejuvenating respite for a day trip, short or longer-term countryside switch-off staycation. It's conveniently close to Gatwick airport, with just a twenty minute drive or short train ride away,
Spa Days at South Lodge start from £230.
Find out more about South Lodge Hotel & Spa
Read more features like this