Longevity Health & Wellness: a deep detox in the Algarve
Tim Samuels heads to Longevity Health & Wellness in Alvor to soak up cutting-edge wellness in the Portuguese sunshine.
Longevity Health & Wellness review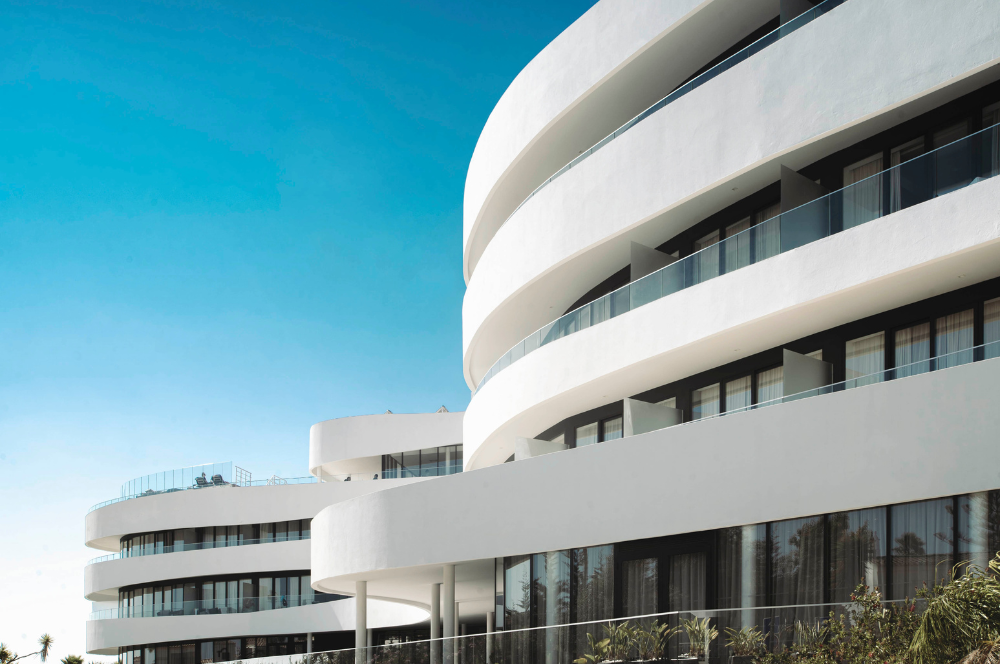 The sedate fishing village of Alvor, on Portugal's southern coast, is picture perfect Algarve: cobbled streets dotted with restaurants and bars, boats that nod to its fishing heritage, spacious beaches, and an ample smattering of lobster-hued Brits who've spent too much time on the golf course.
But just a few minutes from this traditional town centre, nestled on the hillside, lies a sleek, curvaceous building that exudes modernity. The name boldly states its mission: "Longevity Health & Wellness Hotel". A 5-star, 4-tiered white complex dedicated to cutting-edge wellbeing.
After a false-start, thanks to lockdown, the newly-built Longevity is now fully up and running. It lies adjacent to a private hospital – which it shares ownership and services with. So alongside the  wellbeing/spa/detox leisure experience for the traveller in need of a reset, there's an underlying medical ethos too. As a result, guests can detox and pamper for 5-7 days, or fully immerse in 3-4 weeks-long programmes – which draw off the specialist services of the next-door hospital. A full wellbeing buffet – from reflexology to 'Facial Biostimulation with Platelet Rich Plasma'.
Feeling that my face was already more than stimulated, I plump for a five-day detox. Having briefed Longevity on my goals for the trip (to generally feel less battered by the stresses of London life), the resort worked out a bespoke itinerary – which went heavy on the detox.
The detox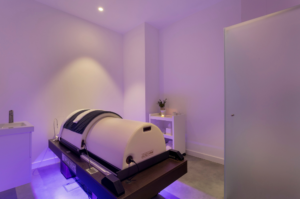 Over the next few days, my toxins are assailed from all angles. I'm put inside a Japanese Iyashi Dome – an infrared casket-cum-sauna where your head peeps over the top while sweat (and hundreds of calories) streams out of your body.
I'm basted with algae and wrapped – baked potato-style – in tin foil. Another casket is pumped full of ozone while I moderately bake. My ears are deftly tugged during tension-relieving craniosacral therapy. Lymphs are drained through precision massage. My colon is hydroptherapically cleansed and probiotically repopulated. No orifice is left untouched, no tension left intact.
Alongside the treatments, there are different drop-in classes and excursions running each day – including some excellent yoga sessions, Pilates, walks to the local market, as well as healing, numerology and astrology workshops for the more spiritually-minded. Longevity also features a well-equipped gym and a high-end spa filled with saunas, Hamman, Epsom salt room and indoor pool.
Space to relax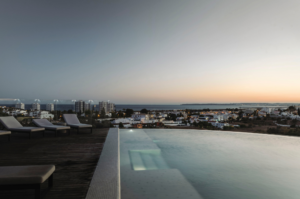 When not being baked or irrigated, the rooftop lounge is a spectacular place to flop – with its stunning, 360-degree panoramic views of the town and harbour, whilst gulls float above a serene infinity pool.
The spacious bedrooms, styled with an Iberian, understated luxury, come with notable nods to wellness (essential oils and burner, aluminium water bottle, daily fruit-infused dark chocolates). As a non-exhibitionist, the glass-walled bathroom takes a little getting used to. But those dark chocolates more than make up for any ablutory inhibitions.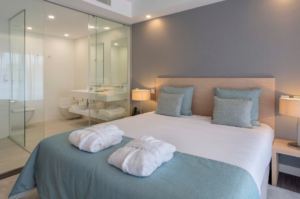 As does the food. The breakfast buffet is an orgy of wellbeing favourites: goji-topped scrambled eggs, chia seed puddings, local fruits and cheeses, herbal teas – even maca and psyllium powder. The lunch and dinner menu – drawing from local and organic produce – richly caters for both veggies and meat-eaters. The mushroom soup, vegetarian lasagne and sweet avocado mousse are standout dishes.
Five days of hands-on detoxing is enough to give me that true sense of being 'reset'. But I'm aware I've barely tasted the full Longevity menu. For those wanting to gorge on the health or aesthetic side, there are dozens of other treatments and medical-grade diagnostics. You can have your heavy metals checked, telomere length evaluated, sleep apnea tested – and even undergo plastic surgery at the nearby hospital.
Maria Vieira, guest relations for Longevity, says most people come for the detox, fitness and relaxation – all with the near-guarantee of Portuguese sunshine. For those in the UK, there's the added benefit of it only being a two-and-a-half-hour flight away.
Leave home in the morning – overlook an Algarve village by afternoon. Maybe that's the secret to longevity.
The details
Rooms: from €107 a night.
Getting there: fly to Faro, then it's about an hour's drive to Alvor.
Afterwards: explore Portugal and take an old-school train from the Algarve up to Lisbon (about 5 hours via Tunes). Wander around the stunning streets of the capital and taste its legendary-yet-affordable cuisine. Recommended eateries: Prado, Lumi, and the extraordinary pastel de nata mille feuille at Páteo do Bairro do Avillez.
Find out more about Longevity Health & Wellness Hotel
Tim Samuels is an award-winning documentary-maker and author.
Read more features like this