Le Farnatchi review: a hidden oasis in the hustle and bustle of Marrakech
Personal trainer and travel writer, Grace Turner, shares a review of her luxurious stay at Le Farnatchi, Marrakech.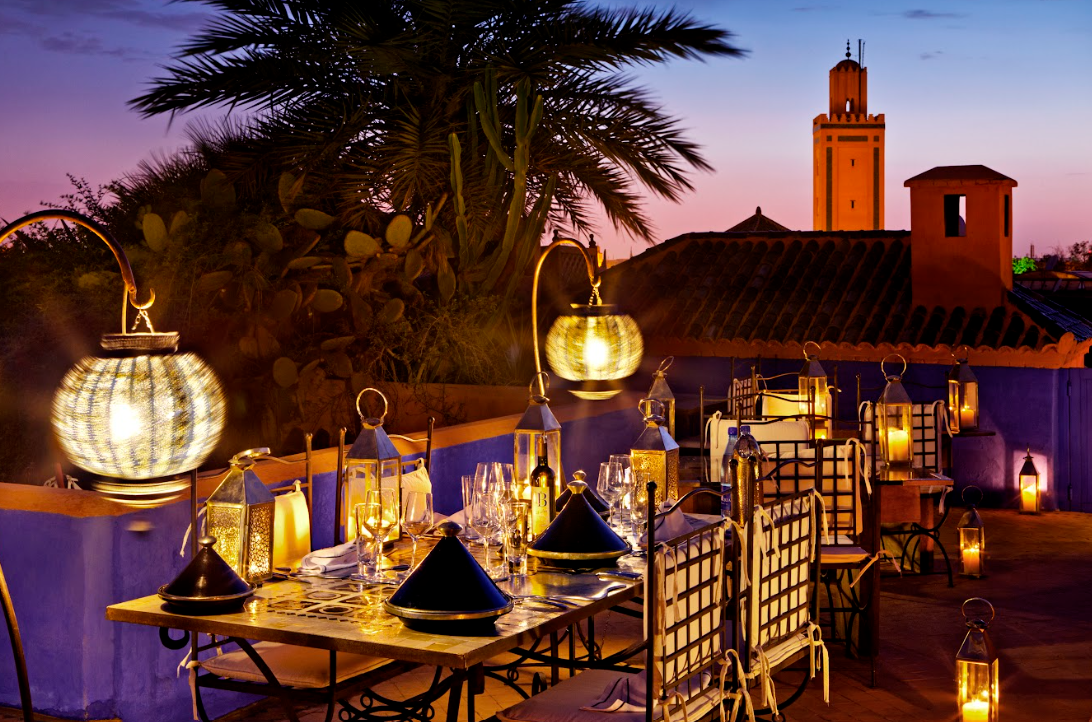 Going to North Africa in July with a pregnant sister-in-law in tow might not seem like the wisest of ideas, especially with temperatures predicted to exceed 50 degrees in the day.
But, I'm convinced that this is the perfect space for us both to relax, especially before baby number two arrives.
So, I must admit that a moment of doubt creeps in when we're hit by a wall of heat as we disembark the plane. It's like nothing we've ever felt before. Is this actually a good idea?
A review of Le Farnatchi, Marrakech
Thankfully, like most countries overseas, Morocco knows how to do air conditioning! The airport swiftly puts us at ease and it's not long until our private transfer to the hotel picks us up.
The route to Le Farnatchi is an experience in itself. We're treated to our own private tour, with our driver pointing out local landmarks as we glide through Marrakech. After about 20 mins, we turn into the old town (Medina) under a terracotta arch and continue as far as possible until the road becomes too narrow for a car.
A porter from Le Farnatchi arrives and guides us through the narrow cobbled streets. It's a hub of activity; motorbikes whizz by at high speed, tourists buzz among the stalls, and shopkeepers seem to appear from every corner, selling an abundance of colourful trinkets. It's a bold, albeit slightly chaotic, welcome to our stay here in Marrakech.
Just five minutes after walking through the hubbub, we turn into a quiet alley. A grand wooden door sweeps open, heralding our arrival at Le Farnatchi.
Arriving at Le Farnatchi
We're greeted by members of staff who hand us chilled rose water towels and take our bags from our tired, travel-worn bodies. What a relief! The front door closes, eliminating the noise of the busy streets and instantly instilling a soothing sense of calm.
We pad through the cool building into a courtyard, which overlooks a deep pool and is surrounded by olive trees and a number of inviting seating areas. We rest for a moment with a much-needed iced mint tea – something that soon becomes a staple of our trip.
Our accommodation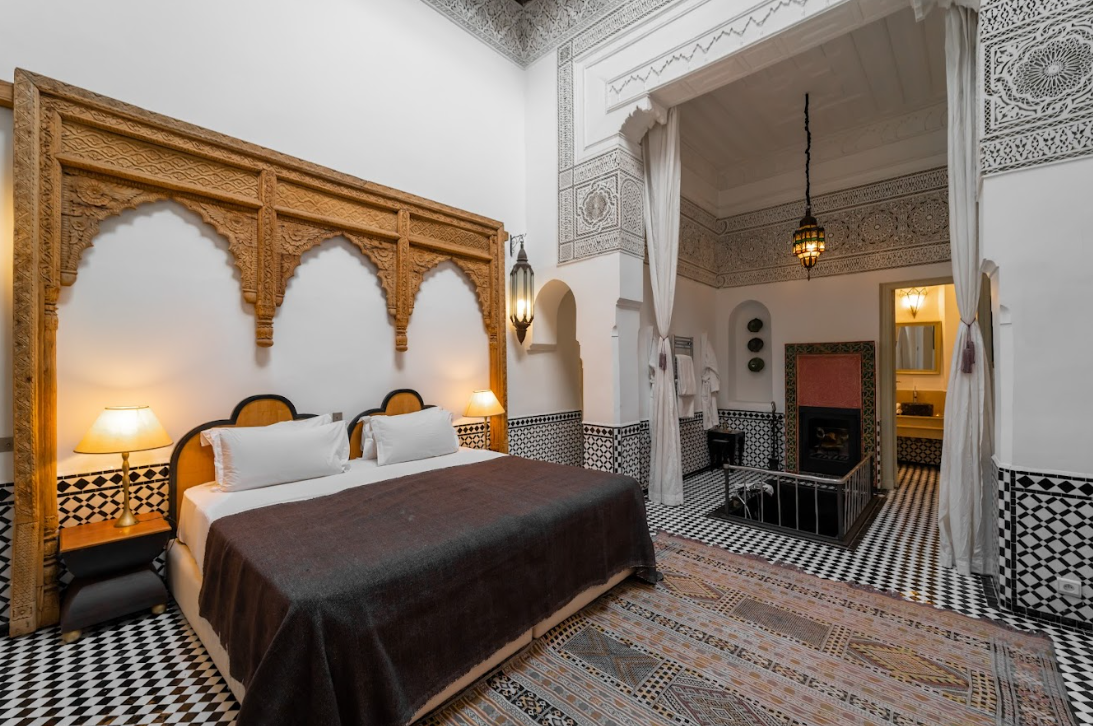 Riads – otherwise known as traditional Morrocan houses – typically only have a small amount of rooms available, and Le Farnatchi is no exception. We stay in Suite 8. It's one of only two out of the 10 luxury suites that has its own balcony overlooking the pool.
The large, airy suite offers cool relief from the intense heat of the day. Elegant black and white floor tiles lead you through to the bedroom and en-suite bathroom with a separate walk-in shower. The traditional interior offers a homely feel, helping us to feel at ease immediately. Plus, with a vast seating area, it offers the perfect opportunity to sit and relax with a book.
There are a number of special touches, too. We're gifted a gown and Fez hat each, along with a delicious abundance of sweet treats and fruit that are replenished daily. Spotting other guests around the pool with a glass of wine, snacks and their Fez hats really adds to the joyful atmosphere.
The spa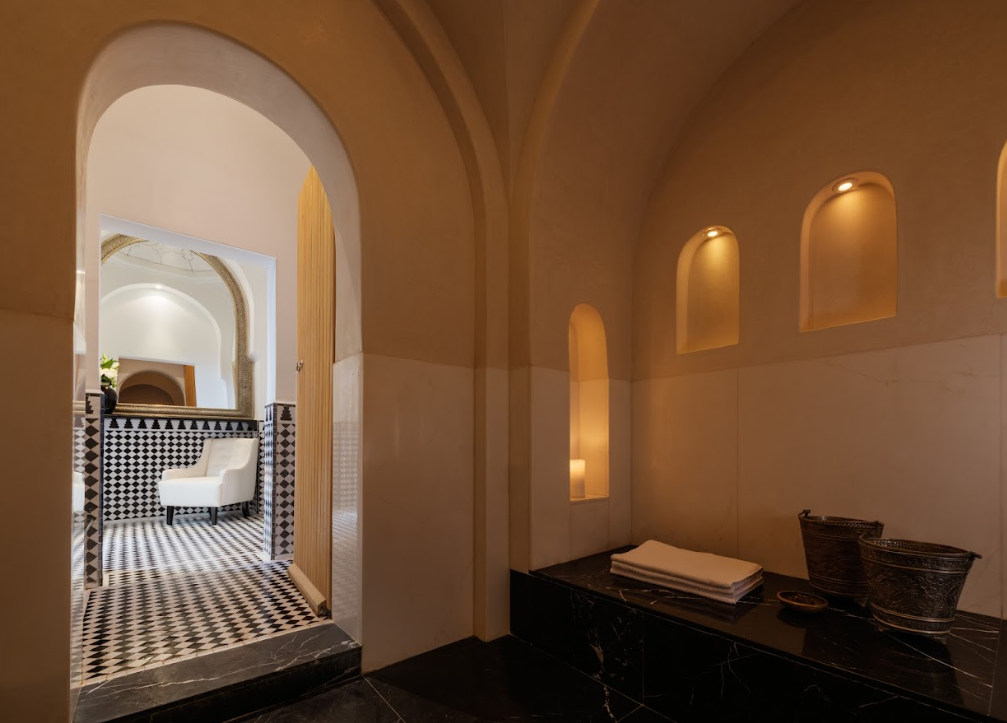 The spa connects to the hotel via a winding walkway and is hidden behind a seemingly secret door. Here, we find another calming seating area, with separate doors leading to the Hamam and other treatment rooms.
We both indulge in a 60-minute massage. Priced at 520 Moroccan Dirhams (around £42), I could've easily had one every day. You'd struggle to get a massage in a luxury setting like that for double the price in London!
I must admit that I'm taken a little aback when the masseuse massages my breasts as part of the treatment. I was warned that this is a regular occurrence in Morocco, but it's a very different experience for us Brits! However, the staff are so friendly and there's no pressure to do anything at all. If you feel uncomfortable, just mention it at the start and the therapist will skip that part.
Being pregnant, my sister-in-law is asked some extensive questions about the stage of her pregnancy and how she's feeling. The whole experience for her is careful and very professional to cater to her needs.
Relaxing at Le Farnatchi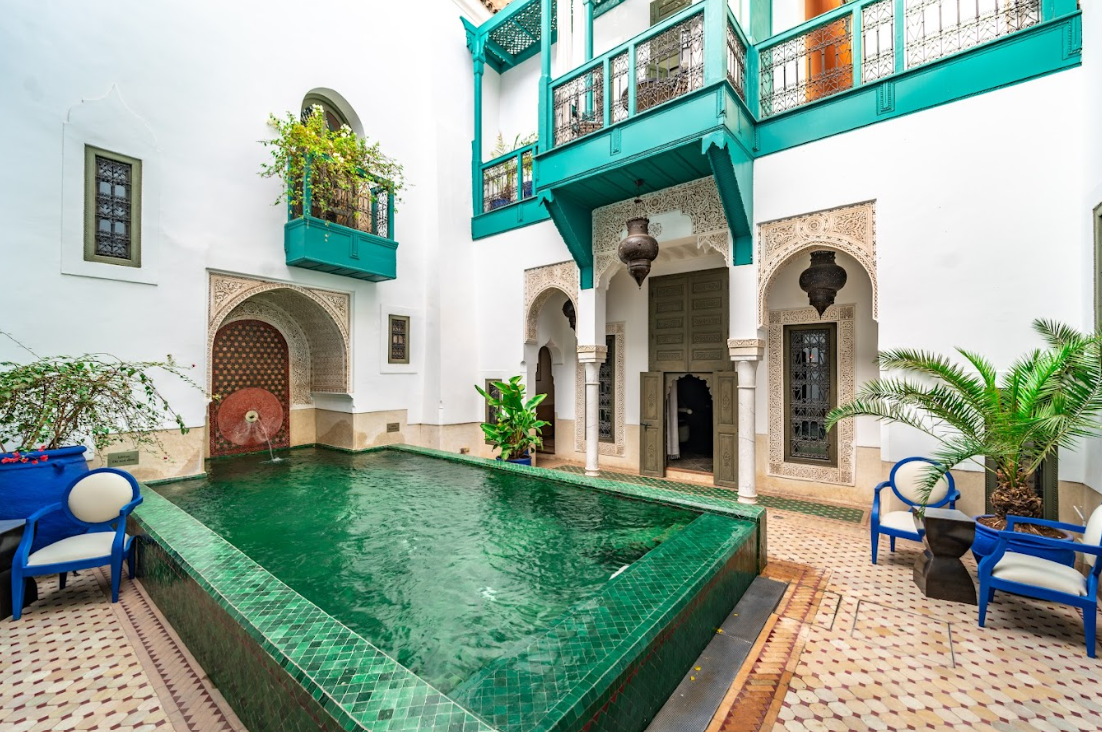 For a lot of our time at Le Farnatchi, we lounge by the pool reading and cooling off in the water. The trickling sound of the pool's water feature provides a therapeutic backdrop. By the end of our stay, I feel a calmness that I've never experienced before.
There are a number of places to sit and relax throughout the hotel, including a roof terrace (a bit too hot in the day, but a stunning spot for an evening drink), as well as a second courtyard where we enjoy breakfast each morning. There's also a sitting room with an array of games to play. I take great pleasure in beating my sister-in-law at chess, only to be beaten by her the next day!
The food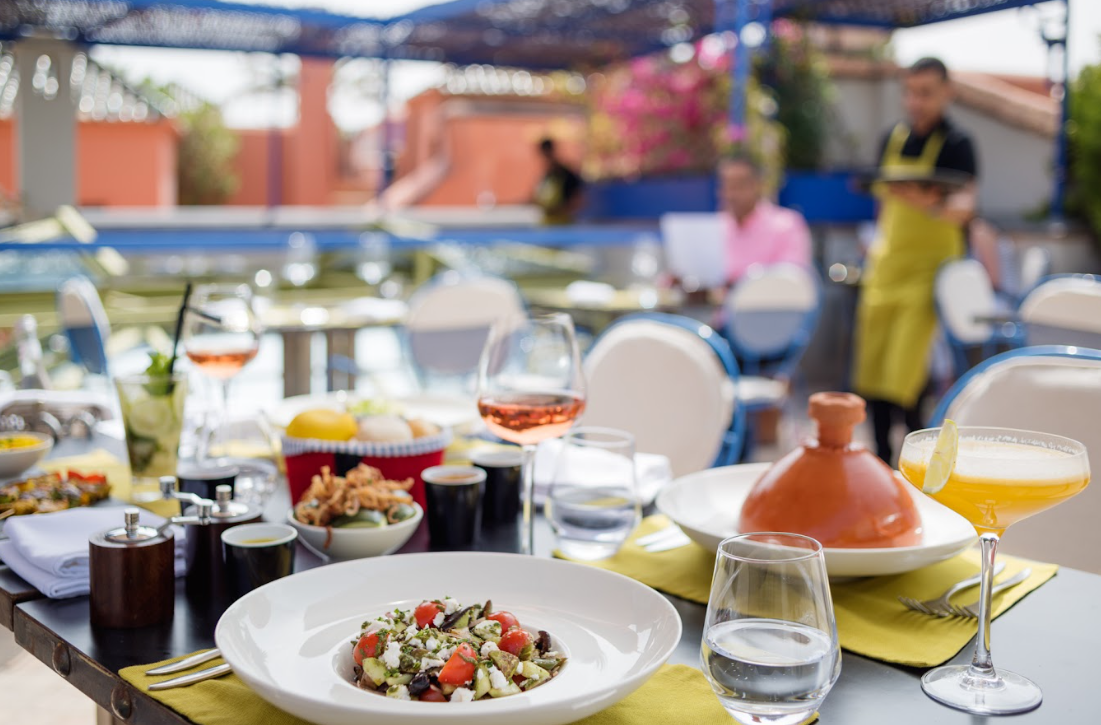 We have dinner at the hotel's restaurant, Le Trou au Mur. Located across the street from the main Riad, it's fast making a name for itself on the foodie scene.
The Moroccan salad meze is always one to try anywhere in Marrakech, but this one was particularly divine. The aromatic flavours make everything we eat a refreshing treat in the heat.
The restaurant offers a unique mix of cuisines, meaning there's something for even the fussiest of eaters. Everything is of an incredibly high standard too. Definitely a night to dress up and feel special!
The service at the hotel is so personal, and offers luxury at its finest. The staff know what we want, before we know we want it! From the array of traditional breakfast options as well as more international dishes to the warm canapés by the pool, there's never a menu in sight, just simply, 'what would you like?'.
All in all, I cannot fault Le Farnatchi. The service is impeccable at every point. It's the perfect place for true escapism, whether you're seeking a day in the Medina exploring the Souks (markets), or looking for a complete detox from the outside world.
New for 2023, Le Farnatchi has teamed up with BOTANIKA, a Morrocan-born spa brand, to offer guests a stunning range of rejuvenating treatments, including the traditional hammam and a range of massages. Inspired by Moroccan beauty rituals, BOTANIKA products utilise the unique benefits of argan oil and are suitable for a wide range of skin types and issues.
Find out more out lefarnatchi.com
Read more from our travel writers