Hôtel Chais Monnet review – French luxury in the heart of Cognac
Our Head of Digital, Amy Moore, heads to Cognac, France, to review the luxury five-star Hôtel Chais Monnet.
Hôtel Chais Monnet – a review
If a weekend spent indulging in the finer things in life is calling, look no further than Hôtel Chais Monnet.
Nestled in the heart of Cognac alongside the Charente river, this 19th century former distillery – once home to the Monnet family and their namesake cognac – has been transformed into a stunning five-star hotel.
It's here that I'm set to retreat to for a long weekend – and I couldn't think of a finer place to do so.
The impressive stone archway entrance and sweeping driveway opens up to a hotel frontage fringed with striking purple iris and allium. A glass pavilion by architect, Didier Poignant, adds a modern twist to the distillery's restored features, making for a truly striking piece of architecture.
Nods to cognac can be seen throughout the interiors of Hôtel Chais Monnet, too. Hues of brandy gold add a warming touch to the otherwise cool, crisp décor of the reception – with a vast glass roof casting rays of sunshine throughout the space.
The rooms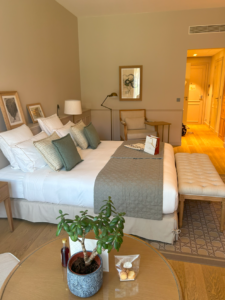 My ground-floor room is located just off the main reception area. This airy space is a welcome sanctuary after the hour-and-a-half drive from Bordeaux airport. The gorgeous aroma of Hôtel Chais Monnet's chic signature scent, L'Esprit, delicately cocoons me as I pad into the bedroom. The bed – a hugely spacious double – takes centre stage while huge French doors open out onto a small grassy courtyard. It's the perfect spot for sipping a ginger beer and cognac (surprisingly refreshing) on a balmy evening.
The bathroom is equally impressive. Marble features surround a spacious tub (ideal for soothing aching limbs after a busy day exploring the town) along with an equally enormous shower room. No detail is missed, either. Luxury bathroom products sit waiting to be enjoyed in a self-care ritual.
Hôtel Chais Monnet is home to 92 rooms in total but, with many of these tucked away, it never feels overly busy. Choose from Deluxe Rooms all the way up to the luxurious Presedential Suite – a vast, sweeping complex, complete with its own kitchen, living space and dining room.
Visit the spa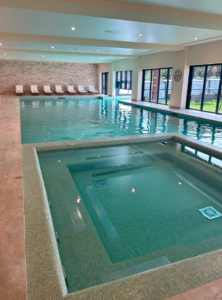 While it would be all too easy to while away the hours in my room, Hôtel Chais Monnet is home to an intimate spa. It may not be the biggest in the world, but it has all the facilities you'd need for a relaxing afternoon.
The L-shaped indoor-outdoor pool is perfect for cooling off. The sensory showers, a Jacuzzi, sauna and steam room help my tense shoulders drop a couple of inches, too.
For extra indulgence, opt for a treatment. There are a number to choose from and the 30-minute facial I had with Alison was truly fabulous. The indulgent products and soothing massage techniques left me – and my skin – feeling on cloud nine.
What to eat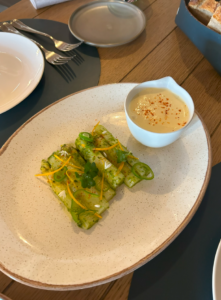 I'm told that it's impossible to travel to France without talking about the cuisine but, being a vegetarian, it's something I've struggled with in a country that is famed for its love of meat. However, I was pleasantly surprised at Hôtel Chais Monnet.
The main hotel restaurant – La Distillerie – offers plenty of choice at breakfast. Think tables laden with fresh fruit, crispy croissants and sticky pastries. There's also plenty of fry-up options for those missing a taste of home.
Lunchtime brings with it opportunity to sample the hotel's seasonal faire. While there isn't loads on the menu for veggies, I opt for a creamy risotto. Overflowing with white asparagus grown fresh and locally, I'm certainly not disappointed.
Not to be missed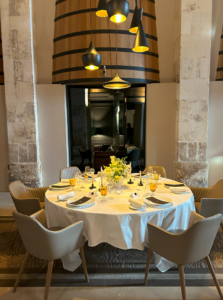 The real jewel in  Hôtel Chais Monnet's crown, however, is its Michelin-star restaurant, Les Foudres. Open to the public as well as hotel guests, this space was once home to the distillery's ageing cellars. Restored cognac barrels frame the vastly high ceilings, providing a dramatic backdrop to the seasonal tasting menus.
Being the awkward veggie of the group, I'm concerned there won't be much choice for me between the sweetbreads and roasted pigeon but I couldn't be more wrong.
I'm presented with a special off-menu, five-dish experience. I savour each bite, from the platter of amuse bouches – beetroot crisps with edible flowers and a bitesize guacemole tart – to the veg-filled mains (think more white asparagus along with a tasty array of mushrooms) and showstopping pudding of lemon soufflé. Truly delicious and well worth a visit even if you're not staying in the hotel.
Evenings at Hôtel Chais Monnet are best enjoyed in its bar, Jazz Bar 1838. Here, an impressive collection of more than 300 bottles of cognac sit above the bar. Below, expert mixologists shake, twist and serve an infinite number of cognac infusions. Head here for a cocktail-making class that you won't forget.
Rooms from €220 per night. Find out more and book your stay at Hôtel Chais Monnet.
Read more features like this
­­­­