Why Grand Resort Bad Ragaz is the ultimate destination for spa seekers
Our Editor-in-Chief, Liz Earle, heads to Grand Resort Bad Ragaz to review the only spa in the world to boast five Michelin stars.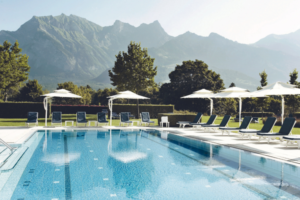 Bad Ragaz, located south of Zurich in the scenic foothills of the Swiss Alps, is a historic spa town, renowned for thermal waters that flow a naturally warm 36.5°C from the Tamina Gorge springs. The picturesque town is dominated by the Grand Resort Bad Ragaz. The resort is set in several acres of manicured parkland, dotted with impressive modern art sculptures (its owners are keen art collectors and hold frequent art exhibitions here), and two golf courses.
To arrive here is to enter a classy, high-end luxury hotel complex, complete with an opulent entrance, liveried concierge and prices to match. But that belies its destination as an extraordinary wellness, health and medical spa. Built on founding principles of the original Victorian Bad Ragaz spa, the resort has grown over the years into one of the leading wellness destinations in the world. Popular with people from all nations, most who come here are returning regulars – always a good sign.
Waking up at Grand Resort Bad Ragaz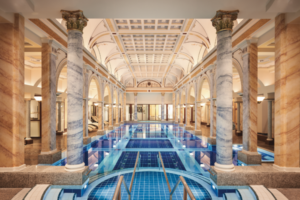 My first day started early, with a Haki Flow massage experience in the enormous public pool complex. I arrived at 6.30am before the thermal pools are open to the public. Here, I was guided by the hands of pool therapist Nora. She held me by the arm as I gingerly stepped into the 17°C plunge pool and gently encouraged me to dip under the icy water. Fully woken up, we then moved into the main pool.
The main pool is filled with naturally warm water. This freshly flows at a rate of 1,000 litres per minute from the hillside, right into the resort. Nora attached elastic straps to my ankles and a buoyancy aid under my calves, before cradling my neck as I laid back in the water. I felt very calm and secure to be so supported in the water.
Nora began to gently sway my spine to and fro, working to free my oh-so-tense neck before moving on to mobilising my lower back and hips. The rhythmic, pulsing movements and gentle pulling on my neck and shoulders felt a bit like being reborn. I imagine twisting and turning before being pulled from the birth canal.
My mind released images from the past and it was more cathartic than I had expected. I was left with more mental space for new thoughts and energies. Profound,
yet quietly energising, Haki Flow is something to be experienced if you ever find it on a spa treatments menu.
Alongside the public thermal spas (which you can also visit on a visitor's day pass) are eight different kinds of saunas. Choose from the hottest Finnish or healing infrared. And don't forget the beautiful outdoor pool that looks out towards the snow-capped mountains.
Tips to age well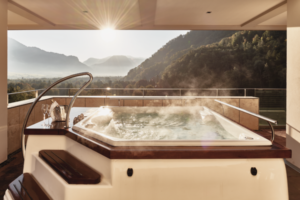 Grand Resort Bad Ragaz is home to many medics and therapeutic specialists, all expert in their knowledge and expertise. I had an initial consultation with dermatologist Dr Brigitte Bollinger. She was keen to share her many wellness tips for ageing well. This included drinking two litres of water a day (500ml before breakfast) and having a final cold spritz in the shower for 20 seconds between 6-9am every morning to set up cortisol levels to better cope with the day ahead. She also explained some of the groundbreaking skincare procedures on offer.
There is a focus on cutting-edge treatments here, including stem cell micro-needling, using your own stem cells extracted from fatty deposits under the skin, as well as ozone transfusions and laser treatments combined with radio frequency. The medical side of the aesthetic clinic are also pioneering plant stem cell treatment to combat hair-loss. They're also looking at using the adaptogenic herb, astralagus, in an overnight face cream to protect telomeres, involved in DNA degradation, and also in a drinking shot (still to be perfected due to its bitter taste).
A plastic surgeon visits a few days each month. The centre has its own operating theatre for minor procedures, including an innovating brow-lift technique. It certainly is a most professional outfit, with a mix of natural and state-of-the-art health and beauty treatments.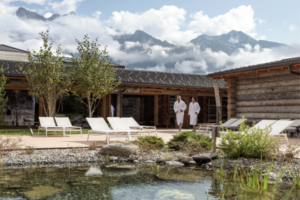 Less invasive was my facial, where facialist Blanca's 'magic hands' brushed deeply nourishing unguents over my too-dry face and neck. The excellent massage and lymphatic drainage techniques left my skin truly glowing. In fact, for the first time in years I took an Instagram selfie without worrying about the light!
Food at Grand Resort Bad Ragaz
On the physical side, there are three gyms with equipment built around post-operative rehabilitation, as well as general fitness. There is a sports rehab centre also, home to the Swiss Olympic ski team, with medics and physios. But one cannot review this resort without including the food. Grand Resort Bad Ragaz is the only spa in the world to boast five Michelin stars. There's one for its 'everyday' Verve brasserie, two for Sven Wasser's Memories restaurant and two more for IGNIV by Andreas Caminada.
It goes without saying the food is outstanding. Fresh, seasonal and delicious, with a focus on traditional Alpine recipes with a modern, wellbeing twist. Special diets
are also well catered for. The nutrition team, led by dedicated nutritional adviser (and organic farmer) Sonya Riche, work closely with the chefs here to create
menus for each guest, depending on their needs.
Many guests book one of the New You programmes. These focus variously on weight loss, microbiome health, detox and health cleansing, yoga, smart ageing, sports rehabilitation (excellent for post-injury), power, and endurance training. Each programme centres around lifestyle elements designed to get you back on track by the time you leave, covering food, physical fitness, mental health, beauty and relaxation.
Expensive yes, but price does not always equal value. I would say the resort offers great value in the truest sense. It's no wonder that so many of the guests here are returning regulars. I intend to be one of them.
Book a stay at Grand Resort Bad Ragaz
Read more reviews from Liz Earle Wellbeing