Ellenborough Park Hotel – a five-star jewel in the Cotswolds
Lifestyle Editor Camilla Cary-Elwes reviews Ellenborough Park Hotel, a country house hotel steeped in history.
Ellenborough Park Hotel review – a five-star jewel in the Cotswolds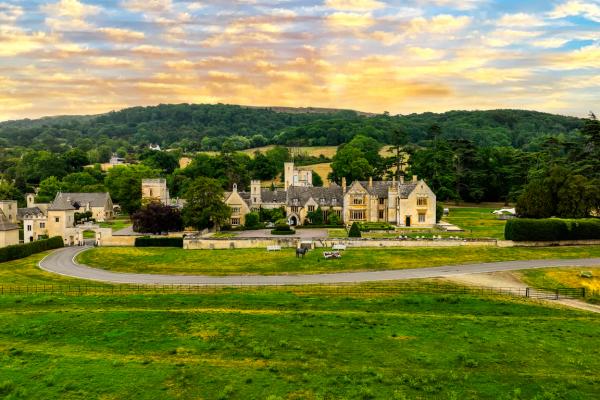 If walls could talk, Ellenborough Park's would have plenty to tell. Over its 500-year history it's been caught in the crossfire of the English Civil War (the old front door still has musket ball marks rumoured to have been fired by Oliver Cromwell); hosted King George III in the 18th century during his recuperative stay to take Cheltenham's spa waters; was home to aristocrat Jane Digby, who scandalised Victorian society with her beauty and promiscuity; operated as a hospital for soldiers coming back from the World Wars; was a girls' boarding school; and is now a widely acclaimed five-star hotel.
Even without the backdrop of history, the honey-hued Cotswold-stone house is a show-stopper. Nestled in 90 acres of parkland at the bottom of Cleeve Hill, overlooking Cheltenham racecourse, it's a glorious mass of turrets, towers, arches and intricate stained-glass windows – all added by different owners over the centuries.
Inside Ellenborough Park Hotel
Inside, although there are wood-panelled rooms and huge stone fireplaces that befit its past, the hotel doesn't feel formal or austere. The interiors are fresh, and the gilt-framed portraits and antiques are offset with a vibrant, modern colour scheme and furniture.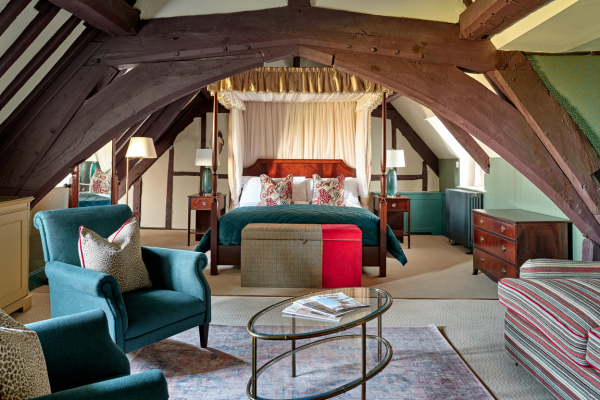 There's all you'd expect of a 21st-century luxury stay – a heated outdoor pool (kept to a balmy 30°C all year round), tranquil spa, well-stocked bar and world-class food.
The 61 bedrooms are spacious and elegant, most offering far-reaching views of the surrounding countryside. The hotel benefited from a refit during lockdown, and the rooms were updated with contemporary country house-style furnishings and fabrics.
You could easily stay without leaving the grounds. And if wellness is the aim, there's a state-of-the-art fitness centre stocked with Pelotons, pool, and Elemis spa that offers a range of indulgent and rejuvenating treatments. Try a Pro-Glow Brilliance facial to energise and detoxify stressed, dull skin, or go for a freestyle deep-tissue full-body massage to take pampering to the next level. Linger afterwards in the Jacuzzi, sauna and steam room, or doze off in the Indian-inspired relaxation room.
An indulgent menu
When it comes to dining, Ellenborough Park pulls out the stops. The hotel's two restaurants offer a range of inventive dishes, many made with locally sourced ingredients.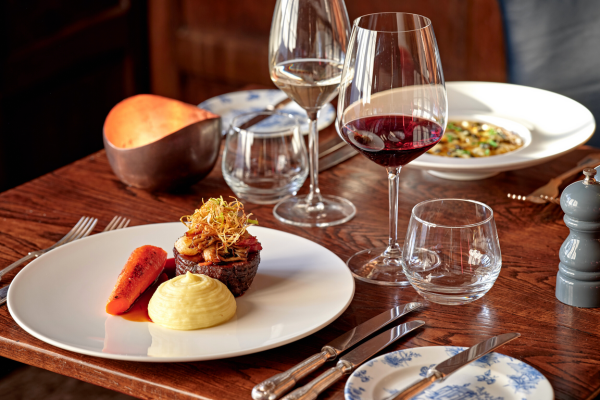 Mornings start in the wood-panelled dining room. Enjoy a huge breakfast buffet spread (including an epic milkshake station for kids), as well as enticing cooked options. In the evenings, it's the setting for laid-back fine dining. Don't miss the Creedy carver duck with pomme Anna, shallots, rhubarb and Pedro Ximenes, or the cep risotto with pine nuts, aged Parmesan and fresh truffle.
The Horse Box Brasserie has a more easy-going feel, with a menu offering classic British dishes. Opt to dine outside on the terrace when the weather allows – or bag a glass pod if the British summer lets the side down.
For something special, try a Taittinger Champagne flight. Sample three canapés perfectly matched to three champagnes, served in the Great Hall, built in 1485. The Hall is also the location for afternoon tea. Take your pick of teas, homemade infusions or coffee, before tucking into a sumptuous selection of sandwiches and savouries, handmade sweet treats and scones fresh from the oven. A word of advice: come hungry. The cake stand is stacked high and impossible to resist.
Plenty to explore
For those keen to embrace the Cotswold lifestyle, the hotel organises country pursuits, from husky driving to archery. And don't forget to visit the boot room, with its neat rows of wax coats and Dubarry boots – grab a pair in your size and live out Downton fantasies with a stroll around the grounds. For more sedate pleasures, keep an eye out for pottery classes or seek out the giant chess board.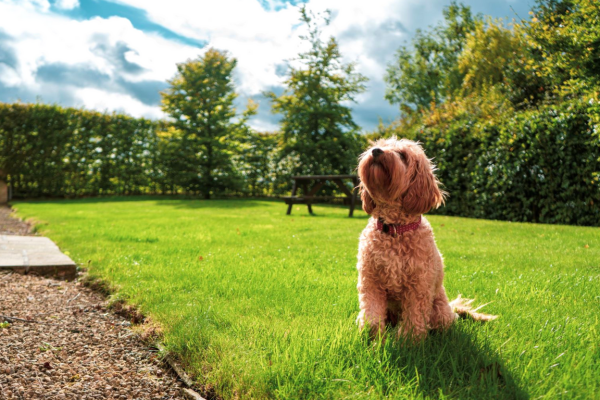 Can't bear to leave the dog at home? Four-legged friends are welcome at Ellenborough. Not only are there dog-friendly rooms and walks around the grounds, but pooches get their own Paw Spa. The Horse Box Brasserie even has a dog menu offering a range of doggy dinners, tapas and treats, washed down with a bowl of Bark Brew.
During Cheltenham Festival the hotel is the epicentre of the off-track racing action. A short trot from Cheltenham racecourse, walk to the track through the hotel's parkland in just 30 minutes – in a pair of Dubarrys borrowed from the boot room, of course.
Ellenborough's idyllic setting, old-world charm and impeccable service make it the perfect venue for a wedding, celebration or special weekend away. And the echoes of its past can be felt in every nook and cranny.
Rooms from £299 for two people including breakfast, ellenboroughpark.com
Read more features like this