Down Hall Hotel, Spa & Estate review – Escape London for a luxury 4* break
Just 45-minutes from central London, Down Hall promises a relaxed and luxurious spa break amongst stunning Essex surroundings. Editor Ellie Smith reports back after an overnight stay. 
Down Hall Hotel, Spa & Estate review
The estate
Sitting proudly on the Hertfordshire and Essex border, you'll find Down Hall – a four star hotel, spa and estate whose history dates back to the 11th century.
Throughout its impressive history, Down Hall has been many things including an upmarket boarding school for girls and a Red Cross Auxiliary hospital during World War I. It's hosted the likes of Winston Churchill and Anthony Eden but is today more commonly graced by cross-countr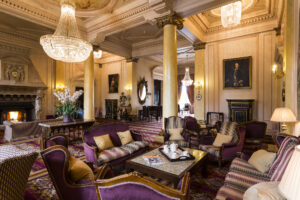 y commuters (it's just 25-minutes from Stansted) and those looking for a picture-perfect location for weddings and events. But, just a short 45-minute trip from central London, it's also the perfect location for frazzled Londoners looking to swap grey cityscapes for acres of woodland, rolling lawns and Austen-worthy architecture for a blissful 48-hours.
The approach to Down Hall does indeed take your breath away. The grand tree-lined approach bears right onto a gravelled drive overlooking beautifully landscaped gardens and a statuesque stately hall. Think Downton Abbey or Darcy's Pemberley – you half expect a sandy Labrador or suited-and-booted, 20th century gent to saunter down the drive at any minute. The interiors are similarly impressive combining both modern and traditional elements. Sweeping staircases and grand halls (decked with lofty portraits, chandeliers and bronze statues) roll with ease into the more intimate, softly-lit Fox Bar and spill out onto a modern and comfortable outdoor terrace. The staff are warm, friendly and approachable but don't fuss. Within minutes you know you're in safe hands for a relaxing weekend.
The rooms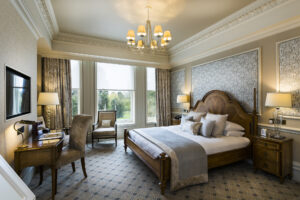 There are 98 bedrooms to choose from at a variety of price points. None are formulaic – instead they've been individually designed to reflect the character of this historic property. Ours was located at the very front of the hall overlooking the beautiful fountain and croquet lawn. There's nothing overly luxurious about the facilities (don't expect aromatherapeutic bath oils or an espresso machine) but everything is practical and comfortable with elegant design elements that reflect the stately style of the rest of the building. A bowl of fresh fruit delivered on our arrival was also a nice touch.
For my partner and I, the bed was the crowning jewel of our stay. Back-to-back busy weekends combined with demanding work weeks had left us both exhausted and me with a sniffly head cold. We were long overdue some time to relax and the soft and spacious super-king was just what the doctor ordered. My partner is a very light sleeper – easily disturbed by the teeniest peek of light between curtains or sounds of other guests stomping up and down the stairs – but the blackout curtains worked their magic and we both slept soundly and woke feeling really well-rested. Dreamy!
The grounds and Eden Spa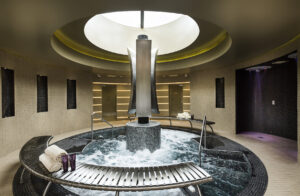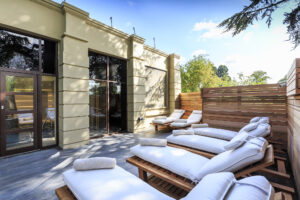 There are 110 acres of surrounding woodland, parkland and landscaped gardens to enjoy in the day, as well as tennis courts, a croquet lawn and well-equipped gym. We decided to head straight to the Eden Spa for some tranquil TLC. The spa is small and intimate. Like the rooms it's not the height of luxury but everything is very comfortable and the friendly, laid-back approach taken by staff makes it easy to kick-back, relax and unwind. The facilities include a hydrotherapy pool, cold and warm showers, sauna, steam room and relaxation room. The sauna was fiercely hot but – looking for that invigorating icy cold contrast – we were a bit disappointed to discover the cold showers were on the mild side. The relaxation room is a lovely place to set up shop with a book or magazine and fresh juices are available as well as plenty of water to rehydrate. In warmer months, the relaxation space extends out onto the terrace with plenty of beds to relax on in the open air under a grand fir tree. Use of the spa is not complimentary. Access for two hours costs £25 Monday – Thursday and £28 Friday – Sunday.
There are also a range of treatments on offer including massage, facials and mani-pedis. These make use of luxurious ESPA products as well as Jessica nail care. We enjoyed a 20-minute back and shoulder couples massage with a small-but-mighty therapist who pummelled my tight and knotted shoulders into relaxed submission. Fear not – you're in complete control of massage pressure. I like a firm touch to undo damage done hunched over a computer.
The food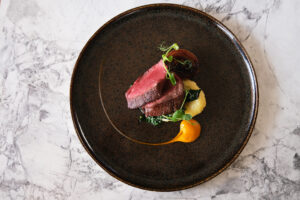 Dinner in The Garden Room was a highlight. Here they serve modern English fare with fresh, seasonal ingredients grown in the on-site vegetable garden. We'd been to a very fancy restaurant just a couple of weekends before our stay at Down Hall (think foams, gels and deconstructed desserts) and loathed the stuffy, quiet atmosphere and fussy food.
We were pleased to discover, then, that the dining atmosphere at Down Hall is relaxed, and the food hearty and traditional. There were couples dressed up to the nines sipping colourful cocktails, children nibbling at pizzas and big family parties erupting into laughter every minute or so. We settled into a table towards the back of the restaurant,  grateful once again for the opportunity to kick back, chat and enjoy being taken care of.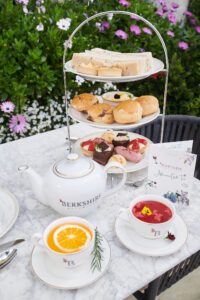 To start I had the Parsnip velouté – a deliciously creamy soup served with crispy parsnip crisps. My partner had Orkney scallops served with charred sweetcorn, smoked scallop roe and a crispy black pudding bon bon – utterly delicious, he reported. For mains, I had a root vegetable Wellington served with mini roast potatoes, carrot puree, winter greens and a deliciously rich, dark gravy. Proper comfort food. My partner had rump of beef which was similarly sumptuous and perfectly cooked.
Almost full to bursting, we gave way to our encouraging waiter and agreed to sample the desserts (it would be rude not to!). We opted for a chocolate ganache with sweet pickled cherries, Chantilly cream and a morello cherry sorbet. A sweet and sour explosion of flavours and textures, it was the perfect end to a truly lovely meal.
Lunch in the Fox Bar is a similarly hearty and laid back affair. We sampled a fresh stone-baked pizza (delicious) as well as the Ploughman's – this comes as an open sandwich with slices of crusty bread, a wheel of Camembert and heaps of sliced meats, as well as olives and pickled onions. A real crowd pleaser. At approximately £16-£18 for a pizza or sandwich it's reasonable pricey but the portions are very generous.
The following day, our buffet-style breakfast was disappointing when compared to the excellent experience we'd had at both lunch and dinner. The scrambled eggs were overcooked to the point of being inedible and – if you're not a bacon, sausage or hash brown enthusiast – there's little else to impress.
I longed for a wedge of sourdough, a poached egg, some of the wilted greens I'd so enjoyed at dinner and perhaps even a dollop of smashed avocado – something fresh and delicious before we hit the road back to London. We discovered as we were leaving the restaurant that there's a cooked-to-order menu available for an additional charge. I would opt for this next time. Sadly, we didn't have time (or stomach space!) to sample the Afternoon Tea during our stay but I'm told it's delicious and I can't think of a more picturesque setting to enjoy a scone or two.
Our verdict
All in all we had a really enjoyable stay at Down Hall and, thanks to the convenient location, we'd return without a moments thought for a good night's sleep and plenty of creature comforts in a beautiful setting.
Overnight stays at Down Hall start from £140.
Find out more about Down Hall Hotel, Spa and Estate.
Read more features like this