Calcot & Spa: A serene retreat blending luxury and nature in the Cotswolds
Lifestyle Editor Camilla visits Calcot & Spa, a hotel and spa taking rejuvenation to the next level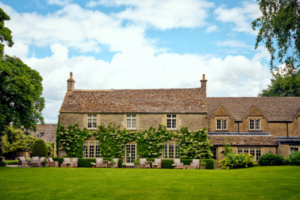 The fields are a tapestry of colour for as far as the eye can see. An ocean of petals shimmering in the breeze – from vibrant yellow rattle to delicate oxeye daisies, campion and bird's-foot trefoil. Skylarks, song thrush, finches and yellow hammer trill, chirp and warble overhead.
This abundance of nature is not a sight one typically associates with a luxury hotel. But in a pretty corner of the Cotswolds, Calcot & Spa is leading the charge in environmental conservation with its ground-breaking rewilding project.
Restoring nature
For the past 25 years, the hotel has been on an ambitious mission to revitalise the woodlands, hedgerows and wildflower meadows across its expansive 240-acre estate. This has transformed the land into a haven for local wildlife, breathing new life into the delicate ecosystem.
UK wildflower meadows have decreased by a staggering 97% since the 1930s, but Calcot & Spa's rewilded meadows now stand as a vigorous and ever-changing blanket of wildflowers, which in turn attract all manner of wildlife – and guests of the hotel too. A nature trail around the fields can be walked (grab a map and pair of wellies from the hotel porch) or cycled (the are plenty of bikes to borrow). Charismatic local wildlife expert Ed Drewett also leads tours around the estate – sharing his vast knowledge of the natural world.
Rejuvenating stay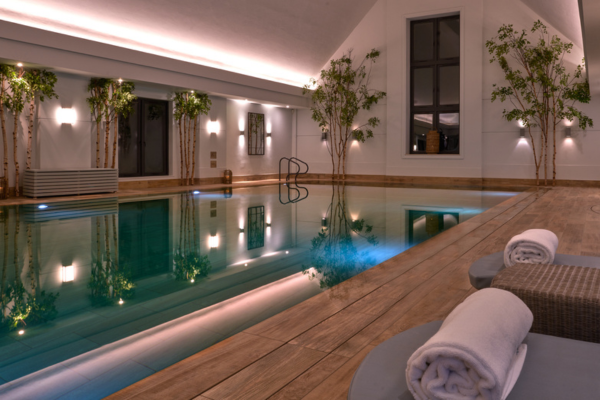 The theme of rejuvenation extends beyond Calcot's picturesque surrounds, into the hotel and spa itself. From the outside, it is quintessential Cotswolds charm – a classic 16th-century manor house, tithe barn and outbuildings with herb borders, dry stone walls and honey-hued stone. Step inside, and you'll find an ambience reminiscent of a smart but unpretentious members' club, with squishy sofas, crackling log fires and low tables. The 34 bedrooms, suites and cottages are thoughtfully designed and exude comfort, equipped with enormous beds and free-standing bathtubs.
The huge spa is a major draw. Here you'll find an array of invigorating massages, facials and holistic therapies, using Elemis and Aromatherapy Associates products. Spend an indulgent afternoon in the warm indoor pool, sauna and steam room. And, for the Instagram shot of dreams, seek out the outdoor hot tub next to a fireplace that wafts smoke over the bubbles.
Want to up the step count? A wealth of outdoor fun awaits at the croquet lawn, outdoor pool and tennis courts. And don't miss disc golf – a flying disc sport with targets scattered across the estate. Families will find respite in Calcot's onsite Ofsted-registered kids' club, providing four hours of childcare daily – a godsend for frazzled parents.
Creating a buzz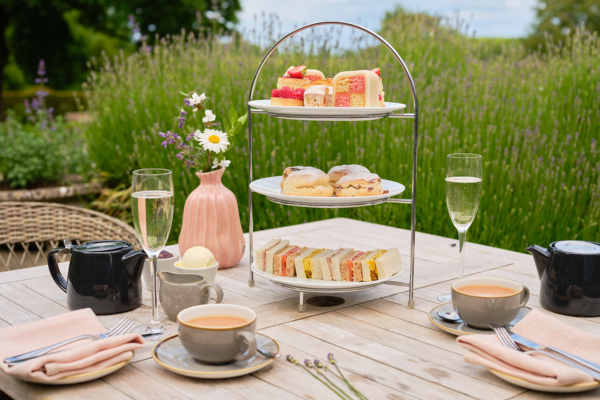 Last year, Knight's Beekeeping added beehives to Calcot's ecological mix, and the benefits have already begun to bear fruit. Not only do these pollinators play a vital role in the reproduction of the surrounding meadows, but the honey from the beehives finds its way into the restaurant and bar, lending sweetness to signature creations like the Beehive martini. Plans are also underway to incorporate this golden elixir into beauty treatments, adding a unique twist to the wellness experience.
True to its eco-conscious ethos, Calcot offers top-notch food created with the best local produce – whether it's an afternoon tea or memorable celebration meal. Take in the relaxing atmosphere of the laid-back Hive café/bar or opt for the refined elegance of the Brasserie. Whatever you choose, don't leave without savouring the famous Westcombe Cheddar and truffle soufflé. That alone is worth the journey up the A46.
While you're there…
Making a weekend of it? Nearby Tetbury has enough antique shops for even the most dedicated bargain hunter. Westonbirt Arboretum's awe-inspiring collection of 15,000 tree specimens is spectacular all year round – but especially magnificent in the autumn.
For a true taste of Gloucestershire, visit Stroud's Saturday Farmers' Market. Find stalls are laden with locally produced goodies, from small-batch cheeses to award-winning wines.
Bed and breakfast from £319 a night, calcot.co
Read more features like this