5 reasons why you must visit Blyth Rise Stays
Nestled in the Suffolk countryside, just a stone's throw from the village of Laxfield, you'll find Blyth Rise Stays.
This tranquil retreat is home to a small and exclusive collection of luxurious cabins and pods dotted throughout 10 acres of land. Each is a self-contained haven that's surrounded by trees, shrubs and wild flowers. Plus, with a private lake and trickling stream, there's high chance you may spot an otter or two throughout your stay.
Get your weekend bag at the ready. Here we reveal why you'll soon be booking an escape to Blyth Rise Stays.
5 reasons to book a break at Blyth Rise Stays
The accommodation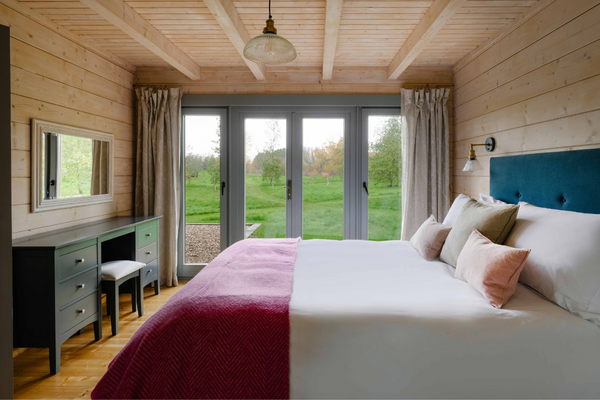 Blyth Rise Stays strikes the perfect balance between immersing yourself in the great outdoors, and the luxury of a gorgeous base to retreat to come nightfall. Which, let's face it, you won't find camping.
The cabins, known as the Lake Lodges, feature two bedrooms (each with their own private bathroom) and an open-plan living room and kitchen-dining space. Floor-to-ceiling windows in each room provide expansive views of the sweeping Suffolk countryside and Blyth Rise's stunning landscaped lake.
The lodges are ideal for a weekend away with friends, with space for up to four people. The kitchen is fully equipped for making nourishing home-cooked meals. On sunnier days, head outside where you'll find a fire pit, barbecue and outdoor dining space.
The smaller pods – or Igluhuts as they're known – are ideal for couples or those travelling solo. These small-but-perfectly-formed spaces provide accommodation for up to two people. Each features a double bed and bathroom, along with a comfortable living space and fully-furnished kitchen.
Just like the Lake Lodges, each Igluhut has its own private terrace, complete with a barbecue and fire pit. Perfect for enjoying a glass of sparkling kombucha on a sunny afternoon.
Surprise wellness gems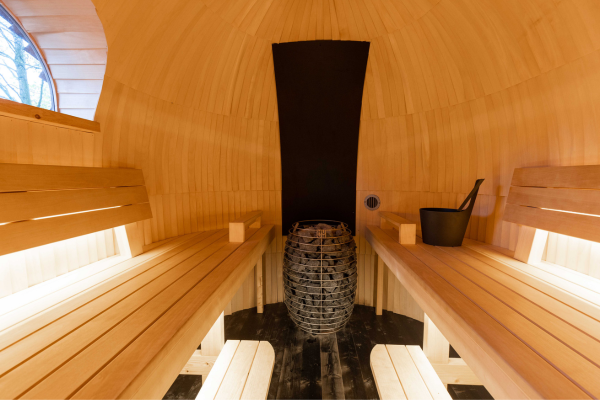 Wellness enthusiasts won't be disappointed with the offerings at Blyth Rise Stays. Along with the opportunity to fully immerse yourself in nature with stargazing, bird watching and long countryside walks, there are also secluded on-site saunas and an outdoor deck for morning vinyasa sessions with on-site yoga teacher, Katie.
Plus, there are also plans (as of April 2023) to install outdoor cold-water showers close to the saunas. Embrace the benefits of hot and cold therapy throughout your stay!
Wholesome eating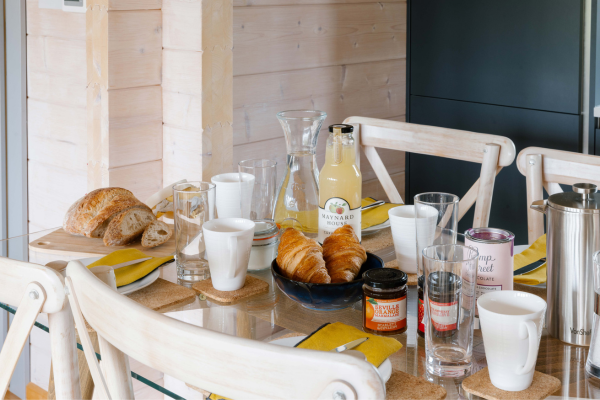 The accommodation at Blyth Rise Stays is fully self-catering, but you won't have to venture far to find supplies.
The on-site Honesty Shop is ideal for picking up essentials like milk and eggs, but also provides delicious, local offerings like Pump Street Chocolate (sea salt is our go-to flavour), and raw, cultured Bungay butter. Rich and creamy, it's best enjoyed smothered on a slice of warm, crusty sourdough. Heaven.
The Honesty Shop also has a tempting offering of ready-made meals – ideal for putting in the oven after a long day exploring. Choose from creamy pasta dishes, warming curries and even indulgent pastries.
Once you've stocked up, note down what you've taken and you'll be invoiced at the end of your stay.
The lake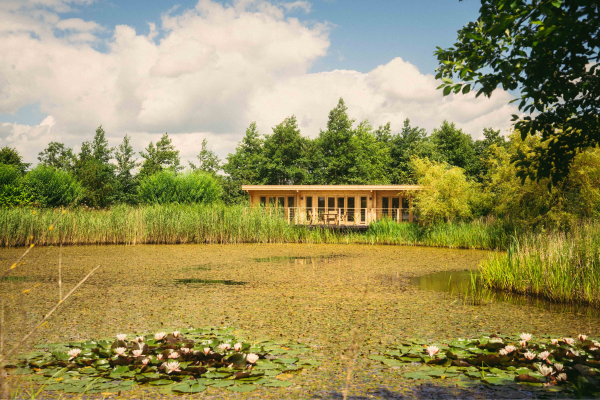 Blyth Rise Lake is the main focal point for the lodges and is the perfect spot for enjoying tranquil views and the occasional splash of a carp or hunting otter. Plus, herons are known to stalk the waters, looking for a tasty catch.
Take a good read and a glass of something chilled down to the table and chairs on the lake bridge. It's the perfect spot to enjoy a lazy afternoon surrounded by the water.
Looking for the best lake views? Book a stay in the Russet Lake Lodge.
The location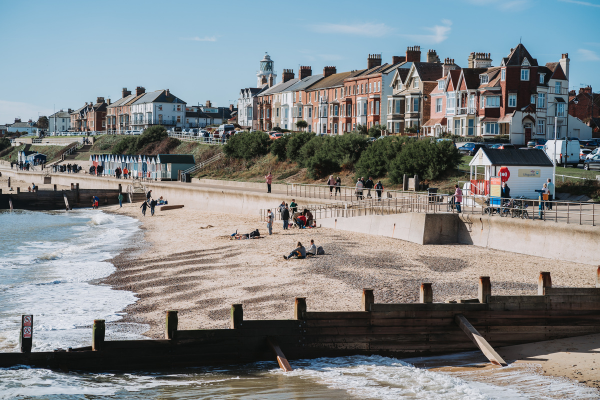 Blyth Rise Stays is based on the outskirts of the village of Laxfield and is an easy 10-minute stroll from the heart of the community. Here, you'll find a couple of pubs (the Low House, in particular, is excellent for cosy evenings and hearty grub), and a supermarket for stocking up on supplies.
Plus, you're also within easy reach of a number of Suffolk's top spots. The seaside towns of Aldeburgh and Southwold are less than a 30-minute drive away. Framlingham (complete with its own castle) is well worth exploring too.
From £430 for a 3-night weekend in an Igluhut.
Book your break at Blyth Rise Stays
Read more features like this