Simply Healing Detox Retreat Review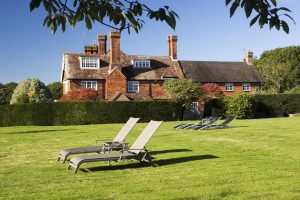 The Simply Healing detox retreat claims to offer effective residential detox diets and weight loss juice programmes, set in the relaxing West Sussex countryside. We went along to find out exactly what's involved and whether it had any benefits.
As I walked up the sweeping driveway, I felt I was approaching a grand old mansion-house hotel. Once I stepped through the front door, however, I found myself in the (still grand!) but far more relaxed sitting area. Vivien Kay, Simply Healing's founder and owner, welcomes each guest personally and I am taken up to my room to settle in before the day began in earnest. First on the agenda was a one-to-one consultation, followed by a fresh juice and my first treatment.
Simply Healing is a family company, run by Vivien and her daughter Caroline who both, in Vivien's words, come from a long line of healers and herbalists. Vivien herself has a long history of practising and teaching healing, including working from consulting rooms in London's Harley Street. She's also travelled the globe, working with shaman and healers in Peru, Canada, Mexico and Egypt. It was back in 1985, while she was in San Diego, that she first undertook a detox. She tried many different programmes and eventually developed her own, combining "Fresh Juice, herbal supplements, colonic hydrotherapy, massages and tender loving care."
Simply Healing detox
Relaxation is central to the retreat experience at Simply Healing, but that is not necessarily achieved by sitting around doing nothing. My days were packed with treatments and juices as well as the regular walks and low impact exercises all visitors are recommended to undertake each day. The relaxing experience is maintained by Vivien, the family atmosphere and the work of the staff, who could not be friendlier or more determined to meet all your needs. Vivien states her aim is to "nurture visitors and make it easy for them to make a lifestyle change."
My first treatment was an Outer Glow Body Scrub. Dry body scrubbing is an ancient practice that is said to help stimulate the lymphatic system as well as exfoliate skin. The brushing is brusque, but I am then covered in Temple Spa's comforting 'Duvet' body cream, which quickly returns me to my previous state of quietude.
Detox juice cleanse
After this I'm given my first full Simply Healing detox juice lunch. A green concoction of vegetable juice with a side of fresh apple juice and bentonite clay; a bowl of psyllium husks; and tablets of cleansing herbs. I am asked to pour the psyllium husks into the apple juice before drinking (quickly before the husks start to soften); swallow the tablets with a glass of water; before finally enjoying the vegetable juice. It's not the most enjoyable meal I've ever consumed, but it's not completely unpalatable.
By the end of my time at the retreat, however, I began to feel I couldn't face another psyllium husk. Luckily the accompanying juices improve, as if in recognition of how difficult these meals become over time. Beautiful juices of fresh peaches (from the retreat garden) and seasonal berries manage to keep me on track. Just as well as Vivien is keeping a close eye on who is polishing off all of their juices, and who is leaving their psyllium husks to coagulate into an undrinkable gel.
Another obstacle to getting your juice down quickly is the friendly and surprisingly open conversations happening across the dining table. The family atmosphere continues here, despite the absence of Vivien and her team. With 68% returning visitors to the retreat, there is inevitably someone who has a success story to share.  Not to mention those who are nearing the end of their time and are extremely candid about their experience. The Simply Healing website promises an 'exclusive' experience, and with a maximum of 10 visitors at a time, it does feel that way. It also attracts more than its fair share of celebrities. During my visit I found myself chatting casually to an extremely recognisable sportswoman, who told me she visits Simply Healing at least once a year.
In the evenings we are welcomed to the dining room by the smell of cooked food which, after a day of juicing, is extremely welcome. Being told to help yourself to a cup and a half of the deliciously thick homemade vegetable soup is the most exciting part of the day. It also provides a hint of the kind of foods we could be making ourselves at home to introduce more healthy plant-based foods into our diets.
Whether you're a true believer in 'detox' or not, removing all caffeine, sugar, alcohol, and eating nothing but vegetable juice and soup does have an effect on your body. Headaches are likely (which is why we are encouraged to drink plenty of water), and exhaustion inevitable, so bedtime is early. After dinner, we're invited to select a DVD from the shelf to watch in our rooms but I'm asleep the moment my head hits the huge fluffy pillows on my ginormous bed.
Detox treatments
The treatments at Simply Healing are what really makes the experience. From the colonic hydrotherapy to the reflexology, the therapists are extremely skilled and very affable. The aromatherapy treatments are especially enjoyable. During the detox massage, I was treated to a deep (but not too intense) full body massage with a refreshing scent of patchouli, grapefruit and sweet orange. The next day I receive a more forceful Indian head massage, which really helps relieve the tension I'd been experiencing.
There are a vast number of treatments to try including a range of Temple Spa face and body treatments, plus acupuncture, hypnotherapy and one-to-one time with Vivien in addition to those recommended in your consultation. Vivien is also on hand before you leave and return to a world filled with temptation. She provides lots of pointers on how to maintain progress and what you should and shouldn't eat as you ease back into everyday life. And I have to admit since I've returned home, feeling far more serene, I have eaten the odd spoonful of psyllium husks!
Simply Healing detox programmes start at £1475 for a 5 Day Juice Cleanse Detox Plan.
Watch Liz's Detox and Exfoliation video from week one of her SKIN book series.
By Lou Howells