Best healthy food delivery services
Are you looking to try one of the many food delivery services? These handy deliveries take the stress out of shopping for food and cooking, and can even help with weight loss if you opt for calorie-controlled options.
The appeal of food delivery services has boomed in recent years, with a huge number of options now available, offering a variety of plans and recipes delivered straight to your door. Whether you're looking for something vegan, want a protein boost or just want to shake up your usual midweek meals, there's a plan for you.
To take the guess work out of it all, we've reviewed the best food delivery services to help you find the right plan for you.
Mindful Chef
Mindful Chef delivers fresh, delicious and nutritious recipes and pre-portioned ingredients to your doorstop. Each week, you'll choose two to five recipes from a constantly updated menu of 16 meals (all gluten and dairy-free, plus six are vegan).
As we write, recipes include harissa salmon, mango salsa and black rice;  beef bolognese with sweet potato mash; pork with honey roasted carrots and cabbage; as well as vegan tofu pad Thai with courgette noodles. All recipes can be whipped up in 30 minutes or less. 
The brand aspires to be mindful of their suppliers, ingredients and the health of their customers. Their beef is 100% grass-fed, their chicken free-range and they only stock UK-landed fresh fish. Mindful Chef sources all produce from small family-run British farms. Their apples, apricots and asparagus, for instance, come from the 250-acre Mudwalls Farm in Warwickshire, run by the Beach Family for the last 50 years. 
Nutritionists design the meal kits and are free of refined cards and cheap filler ingredients. Expect whole foods, seasoned well and cooked simply — no strange diet food here!
Finally, Mindful Chef is mindful of its impact on the world, earning a prestigious B-corp or 'better corporation' accreditation. They encourage customers to return insulation and ice packs for re-use free of charge. They also donate one school meal to children living in poverty for every meal sold.
How much does Mindful Chef cost?
1 person – from £8 per portion
2 person – from £5.50 per portion
4 person – from £5 per portion
Find out more about Mindful Chef
Allplants
Allplants is a fully plant-based meal service. Packed full of veg, these balanced meals help going meat-free so much easier, busting the myth that vegan food is boring or difficult to make.
Each week choose six meals, in portions that serve one or two people. The selection of 22 meals changes regularly, so you won't get bored. All recipes arrive in frozen cardboard portions and all microwave in eight minutes or oven cook in 30 mins. They're especially convenient for mid-week suppers when time is of the essence. 
If you're after a comforting meal with none of the guilt, we recommend Allplants' Mac + Greens. This vegan take on macaroni cheese includes added greens and wholegrain pasta. A dairy-free and healthier twist on a comforting classic.
Other dishes available on the website at the time of writing include the Supergreen Risotto, BBQ Burrito Bowl and Teriyaki Udon.
Allplants is also mindful of its impact on the world and has B-corp accreditation. Additionally all the packaging is either recyclable, compostable and/or reusable. The brand also works with a carbon-neutral delivery partner.
How much does Allplants cost?
Cost for six single serves (one person): £40.50 on subscription, or £46.02 for a one-off box
Cost for six double serves (serves 2): £59.88 on subscription, or £68.04 for a one-off box
Balance Box
We loved tasting Balance Box. Nutritionists design each meal plan to give you a nutritious and balanced diet that leaves you feeling satisfied.
Balance Box offers two different portion sizes depending on whether you want a balanced meal of 1800 calories, or if you're planning to lose weight with their 'lighter' option of 1200 calories.
Each order comes with its own weekly menu, printed on recycled paper. This outlines the breakfast, lunch, dinner and healthy snacks planned for each day.
Balance Box meals are free from refined carbohydrates, refined sugars and unnecessary additives or preservatives. All the ingredients are free-range and sourced locally and organically where possible. Balance Box offer a variety of plans, from the classic range, to their vegetarian, pescatarian and free-from programs.
We trialed the Pescatarian four-day meal plan. Our favourites were the Teriyaki Salmon and a delicious mango & chia seed yoghurt that came with a crunchy granola muesli.
Every meal comes with fun facts and nutritious tips about what you have in store, making it feel like a truly personalised experience.
How much does Balance Box cost?
Lighter plan (1200 calories) daily cost from £22.99
Market plan (1800 calories) daily cost from £27.99
Delivery in London is free, outside of London and the M25 it costs £4.95
Enjoy £20 off Balance Box by using the code LIZ20 at checkout
Find out more about Balance Box
Detox Kitchen
Detox kitchen is designed for those striving for a healthier and 'cleaner' diet. The brand offers two types of plans; the Cleanse and Maintain plans. These also come with options for specific dietary requirements, leaving you with nutritionally-balanced, healthy meal plans. Additionally, Detox Kitchen have recently launched Fridge Fill which offers any 6 dishes for £45.
It's one of the more vibrant healthy meal options, but it's also one of the most expensive.
The Cleanse plan is a low-calorie option designed for those who want to reset from bad habits or lose a few pounds. Each day consists of 1000-1500 calories and comes with breakfast, juice, tea, snack lunch and dinner.
The Maintain option is designed for those who want to keep a balanced healthy diet without any of the hassle.
And if you aren't ready to commit to a full plan, take a look at the Flexi option. This plan is ideal for those who can't commit to meal plans for an entire day. Instead, you'll receive breakfast, lunch a snack pot and some seriously good-for-you juices. We love this option for making the working week healthier.
The rich colours and vibrant greens each dish contains are impressive. You can really see beautiful veg and protein showcased in their fresh and exciting meals. Our highlight? The vegan aromatic sweet potato massaman curry served with quinoa. It was just delicious!
Each week has a set menu that you can view in advance to discover the delicious juices, snacks and meals you have in store.
How much does Detox Kitchen cost?
Fridge Fill, any 6 dishes for £45
Maintain starts from £34 per day
Cleanse starts from £31.45 per day
Find out more about Detox Kitchen
KBK (Kettlebell Kitchen)
KBK is a meal plan delivery service that aims to coincide with an active lifestyle. Whether you want to stay lean or build muscle, KBK aims to make its meal plans accessible and affordable for those who purchase.
Each plan is flexible and you can choose between a two- or three-meal day to fit around your schedule for six days a week. KBK offers a minimum four-week subscription.
The Get Lean plan has lower calorie meal plans, which help you lose weight. Stay Lean provides meals designed to keep you from putting weight back on, while the Build plan is for those looking to put on muscle weight with protein-packed meals to keep your body fuelled.
Menus are set in advance and you can preview the next week's offering via the website before you order. You also have the option of marking any foods you don't like to personalise your menu.
We trailed the Stay Lean plan and were impressed by the healthy fast food, the meals packed a flavour punch. The creamy fish laksa, which left us feeling full and sustained for the day. And if you like the food, they offer catering for larger scale events too.
How much does KBK cost?
Starts from £15.96, with a minimum commitment of four weeks
Find out more about Kettlebell Kitchen
Love Yourself 
Love Yourself is a diet-focussed delivery service. Its offerings span include the Balanced diet, Vegetarian diet, Keto diet, Gluten free diet, and Performance diet.
For those looking to shed some pounds, Love Yourself has an online calculator where you can load your details, including your weight and goal weight. Love Yourself then matches the meal plans that are best suited to your personal goals. You can also link your meals to MyFitnessPal App to keep track of your nutrition.
The food is designed to be packed full of flavour, with the meals being prepared by a Michelin trained chef and his team who use locally sourced ingredients. The team ensure their meals are seasonal and change regularly so that you aren't left bored. 
This is one of the few services that offered a keto option, which we tested as a team. We loved the salmon fishcakes and the delicious omelettes with salad. All the low-carb meals were packed full of protein and healthy fats.
Like the rest of these delivery services, it's designed to make a balanced and healthy diet quicker and easier. The food contains no processed meats, no additives or preservatives and is designed by leading London dieticians. The meals are made daily and delivered to your home each evening  (Sunday to Thursday) between 7-10pm ready to enjoy the following day, which means there's no need to clear out masses of fridge space each week.
How much does Love Yourself cost?
Keto diet plan starts from £30 a day
Find out more about Love Yourself
Jane Plan
Created by nutritionist Jane Michell, the Jane Plan is a healthy-eating plan that focusses on providing meals that are carefully portioned and calorie controlled.
You can choose your own weight-loss plan depending on how much weight you intend to lose. With this, you'll receive 28 breakfast, lunches, dinners and snacks to enjoy throughout the month. You can choose your own meals, with full nutritional information available on the website. Alternatively you can select the "weekends off" plan and receive meals for 20 days.
Another benefit of the Jane Plan is that you'll also have access to phone or email support to a qualified nutritionist when you sign up. They'll teach you the skills needed for long-term weight maintenance.
We sampled a few of the dishes from Jane Plan and was pleasantly surprised by these tasty dishes.  One favourite was the smoky bean chilli hot pot, a veggie option for lunch that was full of flavour.
We also liked that the meals came with a comprehensive booklet. This book features advice to enhance your wellbeing and boost your weight loss.
The plans provide an average of 1200 calories per day, which some of us found low. However Jane Plan allow you to adapt your plan to include more or fewer calories per day. They also recommend adding fresh vegetables or salad to the meals provided, which we found helped make their lunches more fulling.
How much does Jane Plan cost?
From £199 per month for a four-month subscription
Receive £25 off your first order by entering the discount code LEJP at check out. Offer available from 28 February 2020 to 31 August 2020.
No1 Food Prep
Born out of the kitchens of No1 Boot Camp's residential weight management and fat loss events, No1 Food Prep offers recipes designed for maximum nutrition, optimum health and ultimate taste. That's a big promise!
Choose from three different portion sizes of either meat and fish or plant based foods. The Balanced plan is designed for people who aren't focussed on their weight, offering healthy, nutrient dense meals. Their Lite plan provides portion sizes 20% smaller than the Balanced plan, while their Max plan is designed for those with increased calorie needs, whether that's because they are building muscle or simply have a larger appetite.
You can either order individual meals, or subscribe and enjoy a 10% discount. Breakfast subscriptions are ordered separately so you can choose whether or not to indulge in the mornings with the likes of banana and salted caramel pancakes with yogurt and honeycomb or chocolate orange protein porridge. Great if you're giving intermittent fasting a go.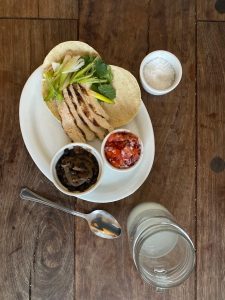 For lunch and dinner you can currently choose from nine different meat and fish dishes and six different plant based meals. We enjoyed their tarragon, lemon and black pepper chicken with roasted celeriac and carrots, and their plant based foods were even more delicious, especially their black bean tacos, chipotle sauce, avocado and red onion salad with coriander and lime.
They also offer sweet treats and snacks, including strawberries and cream protein balls, salted caramel flapjacks, as well as smoothies and gut friendly kombucha. So you have the opportunity to build your own daily meal plan, packed with tasty treats.
How much does No1 Food Prep cost?
Subscription packages start at £84 per week for 14 Lite meals.
Find out more about No1 Food Prep
Read more features like this
If you make a purchase via any of the links above, Liz Earle Wellbeing may earn a small percentage of the money you spend. For more information please read our Affiliate Policy.