Escape to the Seaside: The Schoolroom Cottage, Pembrokeshire
We continue our tour of British seaside getaways with this quaint schoolroom cottage in Pembrokeshire.
Cliffs, golden beaches and limestone stacks make up the textured landscape of this corner of Wales. It's here, in the picturesque village of Bosherston, that you'll find the self-catered sanctuary that is The Schoolroom Cottage. Located just a hop, skip and amble from the National Trust's famous Bosherston Lily Lakes, this small and perfectly formed Georgian-built cottage was once the schoolroom for the adjoining Old Rectory.
Today, the cottage is a two-person, dog-friendly holiday home – perfect for couples or friends looking for a dose of fresh sea air and Mother Nature. Its interiors are rustic, modern vintage and feel like an ode to quiet coastal life: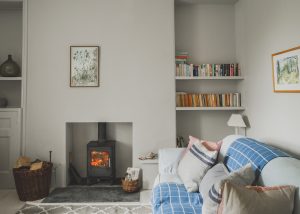 shelves are lined with books – old and new. And the lovely desk and snug sofas are purpose-made for writing sea-inspired poems and reading classic literature – in between long walks and homemade cake at Ye Olde World Cafe. The sense of 'local living' is everywhere – eggs from the family hens sit in the kitchen, fresh flowers from the garden are dotted around the house, and there are salad leaves from the veg patch.
The cottage sits within the UK's only coastal national park – Pembrokeshire Coast – so you don't have to go far to enjoy nature at her most enchanting. The lily lakes, just minutes from the cottage, are a real-life Monet-esque watercolour painting. Set among wooded valleys and in a Special Area of Conservation, these freshwater lily ponds come to life with flora and fauna in May and June. The blooming carpets of floating waterlily pads provide a safe home for a cornucopia of wildlife – from bats, otters, swallows and 'robbing robins' (known for their mischief!), to over 20 species of fireflies.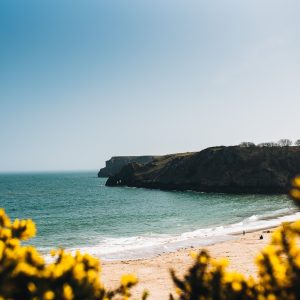 Just spending time surrounded by so much rich wildlife and vegetation is good for the soul. But if you want to venture a little further and clock up some miles, the footpath winds its way over the hill to Broad Haven Beach, with its blustery and dramatic cliff-top walks, and the 16th-century St Govan's Chapel, tucked into the cliff-face. Barafundle Bay, often described as one of the most beautiful beaches in the world, is also a short walk away. And that's the best bit about this cosy bolthole: everything you'd possibly need for a restorative, feel-good weekend by the sea is within walking distance.
Sleeps two. Prices from £325 for a three-night stay, schoolroomcottage.co.uk