How to make your house cleaner and greener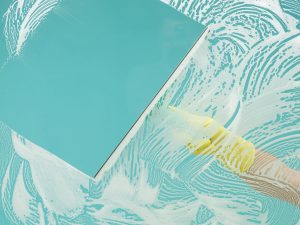 There are few things as satisfying as a freshly cleaned home with everything in its place – a spotless kitchen all set for the next big cook, crisp laundered sheets to slip between at the end
of a long day. Furthermore, tidying, sweeping, hoovering, mopping and polishing are all useful forms of exercise – and can actually boost wellbeing, too.
It appears that clutter can affect more than just the aesthetics of a living space – it may also impact our health and happiness. Studies show we produce more of the stress hormone cortisol
in an untidy house, and that women especially associate having a tidy home with a happy, successful family life.
However, some of the methods used to make our homes spick and span aren't so 'clean' after all, with potentially harmful chemicals lurking in the cupboard beneath the kitchen sink.
One to watch out for is ammonia. It's a common ingredient in glass cleaner, as it doesn't leave streaks. However, it is an irritant and may cause coughing and throat problems – important to note especially if you or someone in your family has asthma or another respiratory condition. Asthma UK notes on its website that ammonia can cause irritant-induced asthma.
Another potentially harmful chemical is triclosan, used in some dishwashing products as an antibacterial and antifungal agent. Some products containing triclosan have been banned by the FDA in the USA, as studies have suggested it may impact on thyroid hormones and contribute to antibiotic resistance. Research is ongoing into its possible effects on skin.
There are plenty of products that help reduce our use of some of these potentially harmful chemicals. Tried and tested traditional methods are also worth a try. Vinegar makes a cheap and natural cleaner that works on bacteria, mildew and dirt – use it to wipe down kitchen counter-tops, bathroom surfaces and hard floors. Baking soda can serve as a gentle abrasive – handy for dirty dishpans – and the juice of a lemon makes for a good deodoriser poured down your sink with a glass of water.
These environmentally friendly and traditional methods of cleaning are also better for our waterways, as the use of chemicals can damage flora and fauna in rivers and seas, especially when they contain unbiodegradable microbeads that have recently been found to have made their way into the food system.
Loved this? Read on here: