The best fitness equipment for home workouts
As leisure centres and gyms once again close their doors, it can be difficult to stay motivated on your fitness journey. The good news is, there are plenty of ways you can stay active and well at home. A little imagination and a few pieces of at-home fitness equipment can really enhance your workout.
Here, we explain some of our favourite ways of staying fit at home, plus a few of our top tips for the best fitness equipment too.
Cardio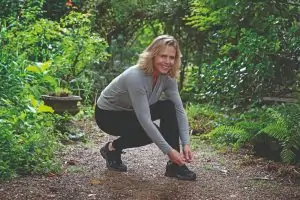 If cardio and fat burning are the aim of the game, there's little better than getting out in the fresh air for a run. Government advice says we can currently get out of the house to enjoy exercise, so make the most of it and get outdoors.
Liz loves to strap on her favourite running shoes and head out on a run first thing in the morning. Good shoes make all the difference to your routine. For the best performance, change them every year or so, as their support and inner padding reduces with wear. Liz loves to wear the Ultraboost running shoes/trainers.
Skipping can also be another fantastic form of cardio if you have access to the outdoors. All you need is a comfortable pair of trainers and a rope and you're ready to get started. Liz loves this skipping rope – it even has a built-in calorie counter. Skipping also brings with it a number of health benefits. In fact, research suggests that 10 minutes of skipping can be just as effective as a 30-minute run for our cardiovascular system.
If outdoor space is an issue, there's still plenty that you can do to get a sweat on behind closed doors. Purchasing a rebounder can be a fun way to bounce back into fitness. These small trampolines are a great option for aerobic exercise indoors. Pop on your favourite playlist and combine jumping, jogging and dancing for an effective fat-burning workout.
Seated cardio can be an excellent option if you're struggling with mobility. Practising your best boxing moves can be an effective way to up your heart rate while targeting your upper body. Adding a pair of wrist weights can also up the ante while increasing your arm strength.
It's important to keep hydrated during your workout. We especially love the water bottles from SHO. In a range of gorgeous designs and convenient sizes, the SHO bottles keep your water cool while helping you cut down on single-use plastic.
Strengthen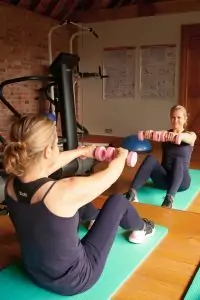 Adding a little resistance to your workout can work wonders for building stamina. If you're heading out for an afternoon walk, it's worth wearing a weighted jacket or ankle weights to increase the difficulty and build your strength. Similarly, wearing these around the house can help to up fitness ante to usual household chores!
A pair of dumbbells are always handy to have. Incorporate them as part of your workout or add in a few bicep curls while you're waiting for the kettle to boil. These short bursts of exercise – or exercise 'snacks' – all add up and you'll notice an improvement in your strength in no time at all.
Yoga and Pilates can also be excellent for building strength too. While yoga is often seen as a good opportunity to stretch (see more on this below), heat-building flows that use your own body weight are excellent for gradually building strength. Similarly, Pilates focusses on working both small and large groups of muscles, with a special emphasis on engaging your core. Using a resistance band can also increase the difficulty of your workout.
Stretch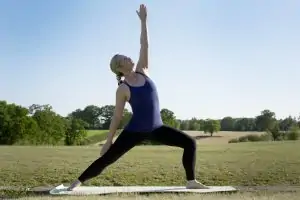 Taking the time to mindfully stretch your muscles at the end of a workout will not only soothe your tired body, but encourage your mind to wind down too.
A gentle yoga flow can be the perfect antidote to a busy workout. What's more, you only need a small space to practice, with minimal equipment. A yoga mat with plenty of grip is a good place to start – we particularly like the ones by Liforme, but Yogi Bare yoga mats are also a great option.
You may also wish to purchase yoga blocks and a yoga strap to support your practice and make poses more accessible. Bolsters can be especially welcome for yin and restorative practices – we love this buckwheat one from Yoga Matters.
All the gear but no idea? If you're in need of some yoga inspiration, it's well worth checking if your local yoga teacher is streaming classes online. This is a great way to support local business while finding inspiration your practice. Alternatively, online streaming platforms, such as Alo Moves or Yoga International, have a whole range of classes taught at a number of levels and in a variety of styles.
We also have a number of yoga articles online. From a gentle sun salute to a sequence of standing yoga postures, there's plenty of inspiration to get you started.
Recovery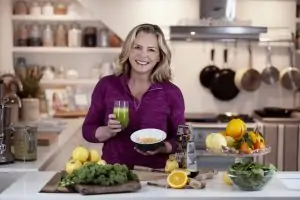 Enhance your recovery after exercise with a number of supportive products.
Foam rollers are a handy item to use both before and after your workout. They help to target and massage tight muscles and knots in your body, easing soreness and improving your range of movement. We particularly like the Casall Bamboo Tube Roll. Made from bamboo fibres and rice husks, it's more sustainable than your typical foam roller. The ridges help to massage your muscles while easing tightness.
Another option that we've recently started reaping the benefits from is an acupressure mat. Based on acupuncture, acupressure mats work by applying pressure to various points on the body. These help to stimulate and release tight or sore muscles. Digital Editor Amy finds lying on an acupressure mat for 20 minutes a day, three times a week, makes a real improvement to tight back muscles.
Read more articles like this